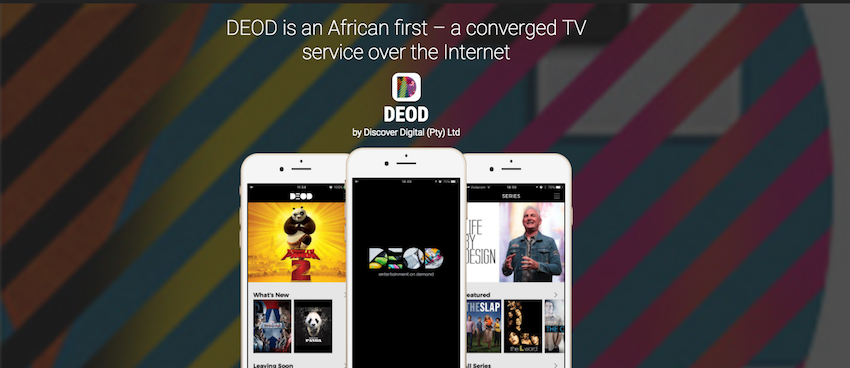 I'm a huge fan of streaming services. They allow me to consume all kinds of series and movies legally, bingeing entire genres of entertainment if I so choose. However, whenever I talk about the joy of Netflix or how I cancelled my satellite TV, friends will reply with the usual "yeah, but I watch sport". Sure, TV contracts are expensive, but if you're a serious sporting fan, it still works out cheaper than going to a local pub to watch "the game". Now, a new streaming competitor is coming to South Africa, and it just might solve that problem.
DEOD is a converged TV service over the internet. Here is some PR I copied and pasted:
DEOD offers a variety Subscription packages to suit your needs and you can unsubscribe at any time. Sign up to our growing catalogue of premium entertainment, from Hollywood to Nollywood and Bollywood – a mix that includes movies, series, music videos, kids programs, educational and inspirational content, sports, and news.
A bit of a series junkie? DEOD On Demand lets you catch up and binge on all those series you might have missed on TV or have never been featured on satellite TV. Enjoy hundreds of episodes as well as a selection of your favourite classic movies and the latest trending music videos.
With DEOD, you can also get you daily fix of Sport and News with DEOD's TV Channels – never has sport and news TV been so accessible, flexible and convenient.
Love being connected to your entertainment stream all the time? Want something for everyone in the family? Then choose both with DEOD Premium – Unlimited access to ALL content in our subscription packages including sport, news, series, kids shows, documentaries, cooking shows, music videos, TV channels and more. You can have it all and put always, anywhere access in the palm of your hand.
The app is currently available on iOS, although it is getting a Smart TV app and IPTV Box. Sure, the ability to watch series or rent movies is appealing, but I think it's the sports offering that will make or break the service for South Africans.If they actually offer streaming of the matches, this could be a, um, game changer for local streaming.
DEOD is partnering with Sun International, so depending on your Most Valuable Guest (MVG) level, you could get a discount or even free use of the service. Each package is under R200 per month according to the packages tab on the app, though, so even if you sign up for the premium service (R189 per month), you're not going to break the bank.
DEOD features on demand capabilities as well as TV channels and rentals for feature films. I've loaded up the app and there are some decent movies on the list, including the latest Star Wars films, Disney movies and action titles. Looking at the Sport subscription (R99 per month), it says:

Live on the edge withe DEOD Sports. For only R99 per month, you have access to the best of extreme sports, fight sports, sailing, sports tuition, daily sports news from DEOD Sports Network (DSN) and so much more.
Hm, so no Rugby or Premier League, which means most of the people I know who have kept TV subscriptions to watch sports will still need to do so. Still, if you just need the latest sporting news or you are a big fan of motocross, boxing or martial arts, this could be the perfect streaming app for you.
Check out the full DEOD offerings over on their official page here – DEOD
Last Updated: May 4, 2017