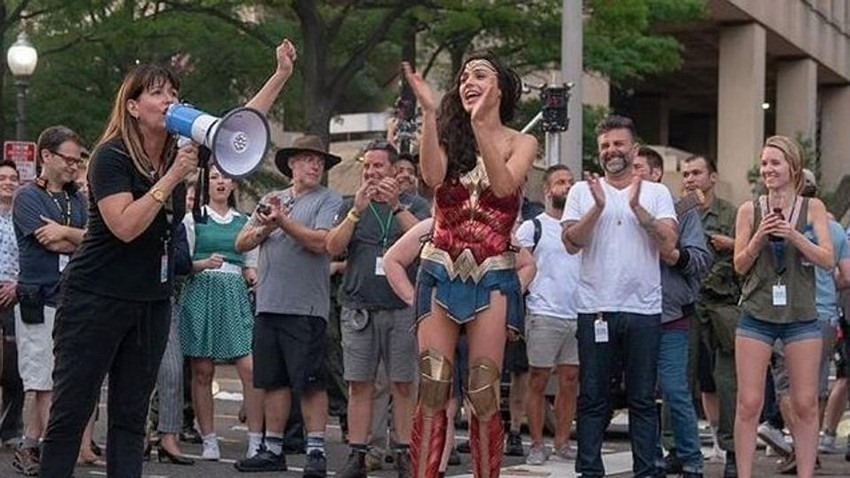 2017's Wonder Woman gave us some incredible action sequences, most notably the "no man's land crossing" and the assault on the town of Veld as star Gal Gadot's DC Comics superheroine showed off all her demigod skills. For the film's upcoming 1980s set sequel, director Patty Jenkins wanted to go bigger and larger than life, true to the excess blockbuster culture of those times. But also true to those times, the filmmaker wanted to go light on the modern digital effects where possible and instead use a whole lot more practical effects this time around, as she told THR:
The thing that excites me the most is we literally set out to do something that I may never get to do again, which is to say, let's not make a movie that's 'funny ha ha, the '80s.' Let's make a grand tentpole like they made in the '80s so it's as if you, I want it to feel like you're seeing a movie in the '80s.
Gadot continued, explaining how they pulled off some of the practical special effects.
We shut down Penn Ave. in Washington DC, which was just [by] itself incredible. And then we had wires, rigs, for kilometers, for miles, so I can run in the same speed that Usain Bolt ran in the Olympics.
The actress added that these physical stunts took their toll on her body, but she was willing to soldier through mostly due to close relationship with Jenkins and her vision for the film.
She's one of my very best, closest friends and it's hard for me to say no to her. Also, she has a great will. I'll find myself trying to negotiate my stance with Patty and she'd be like, 'yeah, yeah yeah, I see what you're saying, I know, but don't you think it's going to be so much better if…' Those were the moments where I was like, 'argh…!' The physical moments, because it is hard, and I have found myself with many different spine injuries because shooting this movie, for real. But at the same time, it's worth it. And watching the movie now a few times, it's totally, totally worth it.
You always have to give credit to actors who put their bodies on the line for their roles instead of just phoning it in. Now I'm just waiting for the official confirmation that Gadot was really swinging from lightning bolts in the sky.
Wonder Woman 1984 will release in cinemas on 5 June 2020.
(On-set pics courtesy of JustJared)
Last Updated: December 12, 2019