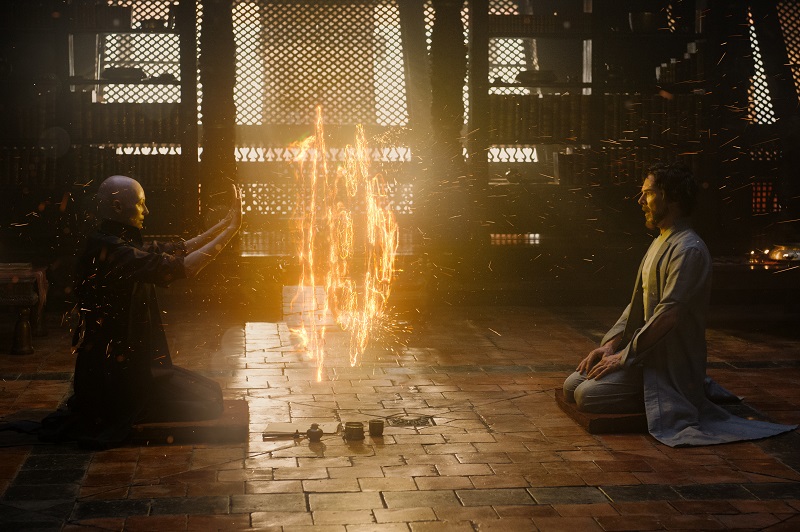 We're only about six weeks away from the release of Marvel's Doctor Strange which means that the marketing is kicking into overdrive. I've already noticed all kinds of nuggets of info for the upcoming comic book movie being dropped all over the Internet, with the latest being actor Benedict Cumberbatch himself confirming that the Sorcerer Supreme will indeed be showing up in Avengers: Infinity War.
Cumberband Cabbagepatch Snozcumber Cumberbatch was asked by Empire (via Express) as to what was next on the cards for Strange after this film, and he revealed that it would be "logistical challenge of aligning his schedule with those of Robert Downey Jr, Chris Hemsworth, Elizabeth Olsen and Paul Bettany."
"To get us all together will be quite something. That's why this character is being introduced, to open up the next chapter."
And just to drive home that potentially awesome team up even more, the Avengers even get a name drop in a new TV spot that's just been released for Doctor Strange. It's a combination of new and old footage, and one previously unheard gag that's actually quite hilarious.
Check it out below.
A lot of that crazy new world-bending footage was actually shot natively on IMAX, which appears as if it's going to be a sight to behold! And Marvel are actually giving fans an opportunity to experience just how cool looking it will be with a 15-min sneak peek next month. Correction: Marvel are giving fans in America an opportunity to experience the IMAX coolness. Drat! While US fans can head over HERE to get their tickets to the event, the rest of us will have to make do with this soundbite from director Scott Derrickson as he spoke about the IMAX screening at a press event.
"As a movie fan, I am thrilled to take audiences along on the visual journey of 'Doctor Strange' and give them an early peek at what we've been working on.  The completed film will feature more than an hour of specially formatted IMAX sequences that will provide audiences with a totally immersive—and mind-blowing—film-going experience and I'm excited to share a taste of that with our fans on 10/10."
More than an hour of IMAX for those magical effects? Damn that sounds really good! Not that the movie only boasts Inception-esque supernatural civil engineering though. Thanks to some new pics that have been revealed, it would appear thatCumberbatch's Sorcerer Supreme will more than likely also be getting up to some kung fu fighting (those spells were fast as lightning!).
BUT WAIT! THERE'S MORE! Besides for the Infinity War confirmation, new TV spot and IMAX details, Marvel have also revealed a trio of new character posters, as well as their motion poster counterparts, focusing on Cumberbatch's Strange, Benedict Wong as Wong (seriously) and Rachel McAdams as Christine Palmer.
Discover a new hero. Benedict Cumberbatch is Doctor Strange. See Marvel's #DoctorStrange in theaters November 4th! pic.twitter.com/kWvIPce6me

— Doctor Strange (@DrStrange) September 27, 2016
Be careful which path you travel down. See Marvel's #DoctorStrange in theaters November 4th! pic.twitter.com/hEJ18O8LN0

— Doctor Strange (@DrStrange) September 27, 2016
There are other ways to save lives. Rachel McAdams is Christine Palmer. See Marvel's #DoctorStrange in theaters November 4th! pic.twitter.com/GJipwTt09F

— Doctor Strange (@DrStrange) September 27, 2016
Doctor Strange also stars Chiwetel Ejiofor, Mads Mikkelsen, Michael Stuhlbarg, Scott Adkins and Amy Landecker. Derrickson (Sinister) directs off a script from Jon Spaihts (Prometheus). It is scheduled for release on November 4, 2016, while Avengers: Infinity War releases on May 4, 2018. Here's the full Doctor Strange synopsis:
From Marvel comes "Doctor Strange," the story of world-famous neurosurgeon Dr. Stephen Strange whose life changes forever after a horrific car accident robs him of the use of his hands. When traditional medicine fails him, he is forced to look for healing, and hope, in an unlikely place—a mysterious enclave known as Kamar-Taj. He quickly learns that this is not just a center for healing but also the front line of a battle against unseen dark forces bent on destroying our reality. Before long Strange—armed with newly acquired magical powers—is forced to choose whether to return to his life of fortune and status or leave it all behind to defend the world as the most powerful sorcerer in existence. Join Strange on his dangerous, mystifying, and totally mind-bending journey when Marvel's "Doctor Strange" opens in U.S. theaters on November 4, 2016.
Last Updated: September 28, 2016