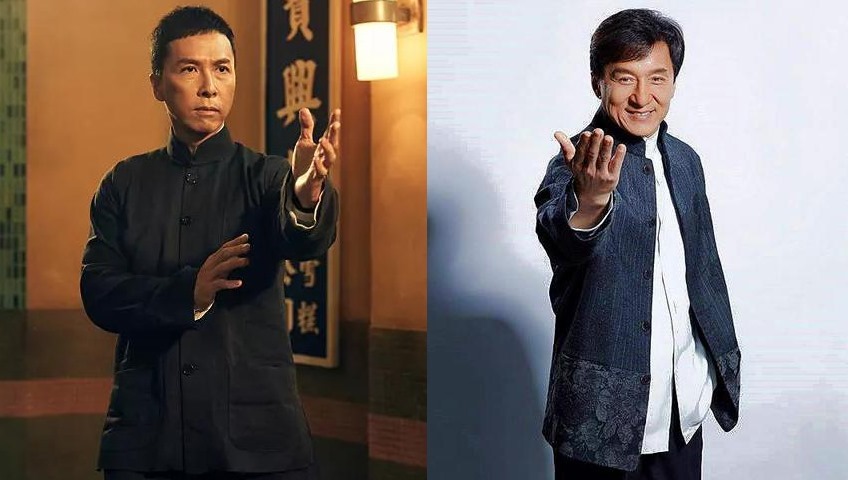 Two of the greatest names in martial arts movie history are set to throw down in Ip Man 4 and I haven't been more excited about two men pretending to fight since Nick said something about Darryn's bat-nipples and Darryn asked him to step outside. Luckily for me and my sanity though, this time around there will be a lot less hair pulling and cat-scratching as the two martial arts legends I'm referring to is Donnie Yen and Jackie Chan!
Yen revealed on Chinese social media site Weibo (via JayneStars) earlier in the week that principal photography has just completed on the upcoming fourth film in his fan-favourite Ip Man series which sees the 54-year old action star play the titular real life master of Bruce Lee. The previous films have all been set against backdrops of political or social unrest and required the otherwise peaceful Wing Chun grandmaster to have to resort to fighting against violent enemies even when he didn't want to. While the original 2008 film still held to some historical accuracy in its story, the subsequent sequels have strayed more and more into filmmaking fancy – although they all maintained a strong focus on realistic drama – and 2015's Ip Man 3 saw Yen having to face off against Mike Tyson who played an American boxer turned property developer in late 1950s Hong Kong.
Now for Ip Man 4, the action is being transplanted to America itself for the first time as a young Bruce Lee (introduce by actor Danny Chan in Ip Man 3) moves to San Francisco to open his own kung fu school, but sees his plans halted when he offends the locals. Ip Man ventures over to help his student deal with the strife in Chinatown, which is where he runs into Chan who is set to play a "respected Big Brother" in the community. While it doesn't sound like Chan will be playing a straight-up antagonist like Tyson did, it has been reported that his and Yen's battle will be the highlight of Ip Man 4.
Although it hasn't happened often despite their prolific careers, this isn't the first time Yen and Chan will go toe to toe on screen. Most notably Yen actually played the bad guy in Chan's Shanghai Knights in 2003. Outside of Chan appearing in a cameo role in 2004's The Twins Effect II in which Yen co-starred, that would be the last collaboration between the two though.
As for Ip Man 4, Yen and Chan aren't the only big names in martial arts on the bill though as English-born B-movie action superstar Scott Adkins is also in the mix, while Taiwanese star Vanness Wu has also been revealed as part of the cast. Veteran Wilson Yip returned to direct while the legendary Yuen Woo-ping also served as the action choreographer once again. It's unclear when Ip Man 4 will release but it will have have quite the task ahead of itself if the film wants to top the success of Ip Man 3 which was not only the highest-earning entry in the franchise with around $156 million worldwide in earnings, but was also nominated for and won a number of major Asian film awards. Bringing together Yen and Chan is definitely a good way to do that though.
Last Updated: July 19, 2018