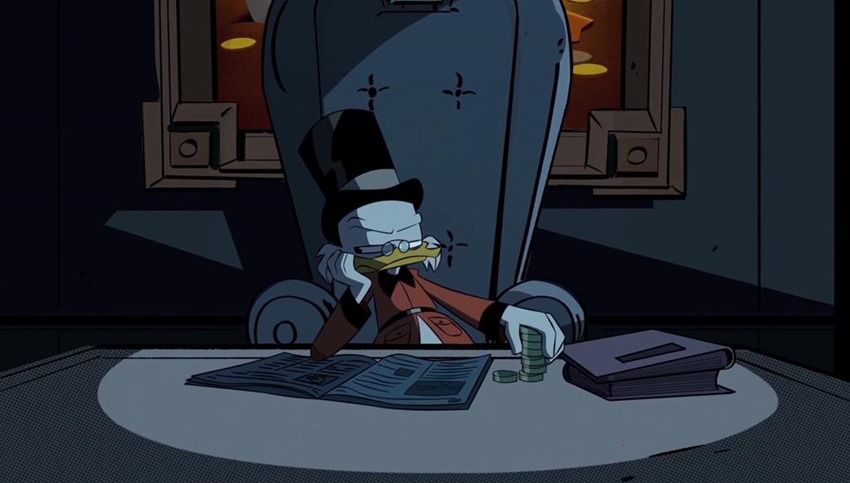 When Duck Tales returns to TV screens this year, it's going to be missing a key voice actor: Scrooge McDuck's longtime voice, Alan Young. Young played the character for decades, popping up in all manner of cartoons, games and films to give life to the Scottish miser. Young unfortunately passed away last year, leaving some big shoes to fill.
Fortunately, Disney may have found the perfect replacement in the vocal pipes of everybody's favourite time-travelling Time Lord: David Tennant. And with a chance to flex that natural Scottish accent of his, Tennant simply sounds amazing. Check it out below in the first trailer below that reunites the quack-pack at long last:
There's something a bit…quackier about this new version of Duck Tales, and I love it. The original cartoon series may have been a Sunday M-Net Open Time classic, but look back and you'll notice that it's lethally sweet on attitude and hijinks. This slightly crazier bend to Scrooge's quest to prove that greed is good, kind of fits the show perfectly.
Also on the voice actor line-up? Danny Pudi, Ben Schwartz, and Bobby Moynihan as Huey, Duey, and Louie, respectively, while Toks Olagundoye as Mrs. Beakley, Beck Bennett as Launchpad McQuack and Kate Micucci as Webby Vanderquack round out the usual cast. I'm hoping that Sharlto Copley turns up to voice Flintheart Glomgold, Scrooge's original South African rival. Whose place of birth was changed to Scotland as well to further reinforce the broken mirror image of Scrooge, and because having a character come from an Apartheid state in the 90s may have been too dark even for Disney.
Or to sum up the words above in a far more simple catch-phrase: Woo-hoo! The new series kicks off later this year on the DisneyXD channel.
Last Updated: March 3, 2017