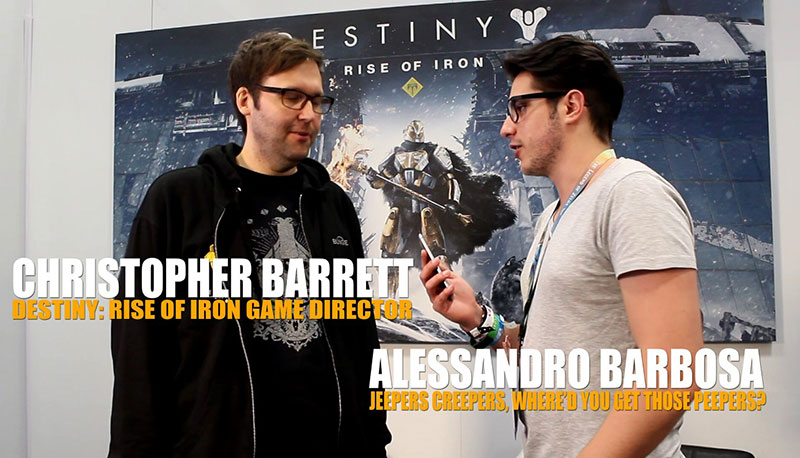 I haven't played Destiny in a long, long time, but I know that Bungie's shooter-MMO is still going strong with a large, dedicated user base hungry for more content. Rise of Iron is the next substantial expansion for the online title, bringing with it a host of content that will hopefully sustain the game until the supposed sequel being worked on. It's an important content package for the game, because it's going to set the tone for what could decide the franchise's future.
At least, that's the impression I got speaking to the game director behind Rise of Iron, Christopher Barrett, at E3 last week. Barrett spoke a lot about how Rise of Iron is both learning from the massive success that was The Taken King, by incorporating a lot of the story elements that made the adventure far more engaging for lore hungry players. Rise of Iron is aiming to deliver a tale just as compelling, and one that could take Destiny forward narratively towards a bigger sequel.
Rise of Iron also changes things up thematically in terms of setting, even though it's taking players back to Earth. It's been a while since you've probably set foot there, and Rise of Iron wants to make that very clear. Visiting Russia, for example, will reveal a different landscape than you're used to – with an emphasis on the harshness of snowy blizzards changing the landscape in more ways than one. It also breathes life into the more coat like armour choices you'll have, which certainly look stylish.
Outside of that, Rise of Iron really is about delivering for the thousands of fans that have helped keep Destiny alive over the past few months, which is why Bungie is bringing back some fan favourite weapons and listening directly to feedback when crafting their game. Barrett was mum about how this expansion links up directly to the future that Bungie is planning for Destiny, but it's probably safe to assume that this is the last big push before a massive numbered sequel. It's out this September.
Last Updated: June 22, 2016