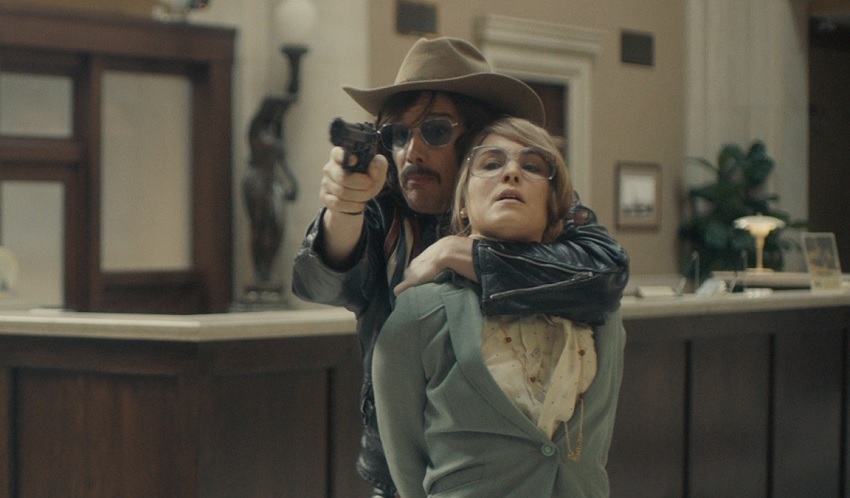 Stockholm is the upcoming comedy drama from writer/director Robert Budreau (Born to Be Blue – which didn't star Will Smith) that stars Ethan Hawke, Noomi Rapace, Mark Strong, and Christopher Heyerdahl.
It draws its inspiration from the 1973 Norrmalmstorg Kreditbanken robbery in Stockholm, Sweden – an event which gave rise to the term 'Stockholm syndrome', which is the psychological phenomenon wherein hostages bond with their captors and feel more positive towards them.
The plot synopsis is as follows:
STOCKHOLM is based on the absurd but true story of a 1973 bank heist and hostage crisis documented in the 1974 New Yorker article "The Bank Drama" by Daniel Lang. The film follows Lars Nystrom, (Ethan Hawke) who dons a disguise to raid a central Stockholm bank. He then takes hostages in order to spring his pal Gunnar (Mark Strong) from prison. One of the hostages includes Bianca (Noomi Rapace), a wife and mother of two.

Negotiations with detectives hits a wall when (at the request of the Prime Minister) the police refuse to let Lars leave in a getaway car with the hostages. As hours turn into days, Lars alternates between threatening the hostages and making them feel comfortable and secure. The hostages develop an uneasy relationship with their captor, which is particularly complex for Bianca, who develops a strong bond with Lars as she witnesses his caring nature. This connection gave rise to the psychological phenomenon known as "Stockholm syndrome".
I don't think you get to say your movie is based on a true story if you don't even use the real names of the protagonists. Anyway, let's take a look:
I think this looks like a fun, quirky movie and if this had been a straight work of fiction I'd be perfectly happy. But whenever it comes to "true" crime stories I get put off by the criminals being portrayed as loveable goofballs because it just doesn't sit well with me – real people were affected by their actions.
I think the best way to watch this movie, and it does look worth watching if only for Mark Strong's amazing wig, is to treat it like an action comedy/drama vaguely inspired by true events but beholden to none. What do you think?
Stockholm is due for release in the US later this year.
Last Updated: March 1, 2019