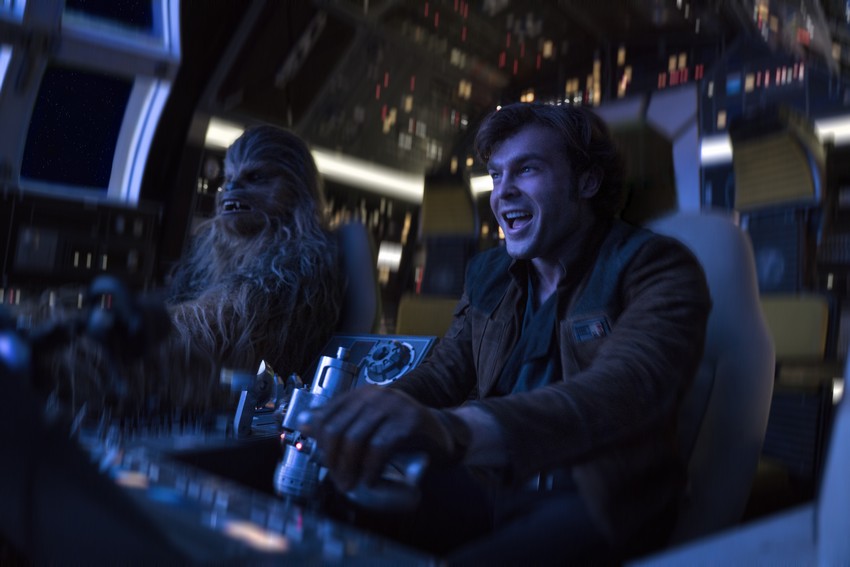 Despite all the critical praise it ended up receiving, Rogue One: A Star Wars Story was an absolute production nightmare. It was still a breeze in comparison to what transpired on the set of Solo: A Star Wars Story as Lucasfilm fired original directors Phil Lord and Chris Miller due to them wanting to deviate too much from the studio's plans, forcing new director Ron Howard to reportedly redo most of what had been shot up to that point (recent reports indicate that 70% of the movie is all Howard) at a massive cost and on a very fast schedule.
But, like Rogue One, would it all be worth it in the end? That appears to be a pretty resounding "YES!" according to most of those who have now seen it. The first press screenings were held last night, and while critics in attendance are still under a very strict embargo preventing them from doing full reviews, they were allowed to post their reactions on social media, with many exclaiming how much they enjoyed this action-packed, highly entertaining origin story for Han Solo.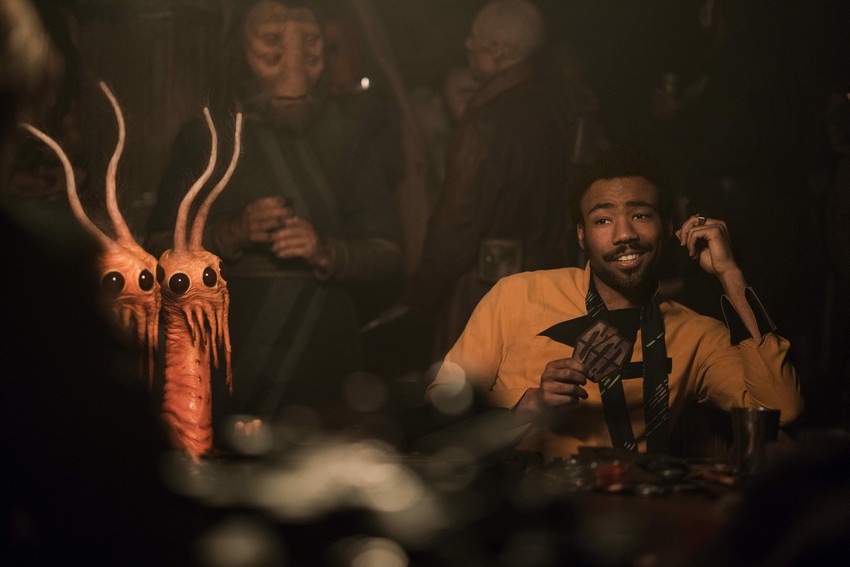 Obviously, the biggest question here though is how Alden Ehrenreich handles the title role famously originated and turned into a beloved movie legend by Harrison Ford decades ago. Well, despite the concern of many, it appears the young actor has done a bang-up job, even bringing some of that trademark Solo swagger to it. In fact, the cast overall drew lots of praise, with Howard receiving his own share for staging some really amazing sounding action set-pieces.
What stands out the most to me though are some mentions that the story goes to some very unexpected places. This was a big issue to me as I – like many fans – just didn't think we needed to see this tale. Turns out that veteran screenwriters Lawrence and Jonathan Kasdans had some tricks up their sleeves which proves us wrong.
Check out the reactions below.
I figured if @DisneyStudios was willing to show 'Solo: A Star Wars Story' a few weeks before release it must be good and it absolutely is. Film is a blast and a welcome addition to the Star Wars universe. @RealRonHoward you did a great job. Congrats. pic.twitter.com/1pkWH2y6qE

— Steven Weintraub (@colliderfrosty) May 11, 2018
Another thing about 'Solo: A Star Wars Story' that really stood out are the action set pieces. They were GREAT and so well choreographed.

Also thought Alden Ehrenreich was perfectly cast as Han Solo. Trust me entire cast was fantastic. Can't wait to see it again. pic.twitter.com/Sh5IC8qnSF

— Steven Weintraub (@colliderfrosty) May 11, 2018
Alden Ehrenreich is the real deal, Thandie Newton is who I want to be when I grow up, and Phoebe Waller-Bridge's L3… well we'll talk about that later. ? #SoloAStarWarsStory

— Angie J. Han (@ajhan) May 11, 2018
Solo: A Star Wars Story has a light tone and has some great action sequences. There were great moments but some were a bit too on the nose for me. The Chewie/Han bromance is the thing to watch for.

— Wendy Lee Szany (@WendyLeeSzany) May 11, 2018
This is the grungiest, most grunt-level blue collar #StarWars ever and I am here for it. #Solo

— Chris Taylor (@FutureBoy) May 11, 2018
SOLO was SO much better than I was expecting! It balanced fan service w/ meaningful storytelling, and it's an absolute blast. Full of Easter eggs & deep cut references. The cast oozed charisma, especially Donald Glover as Lando & Phoebe Waller-Bridge as L3-37. #HanSolo #StarWars pic.twitter.com/xzXNWleU15

— Dan Casey (@DanCasey) May 11, 2018
There's some fun to be had with #SoloAStarWarsStory. Ehrenreich was solid and really enjoyed Glover and Waller-Bridge as L3, but not convinced we needed a young Han Solo movie. Was really hoping for higher stakes, more energy and depth.

— Perri Nemiroff (@PNemiroff) May 11, 2018
Ooo @StarWars fans you are in for a friggin TREAT w/ #Solo. Killer cast. A great adventure. So much fun. #hansolo

— Kara Warner (@karawarner) May 11, 2018
#SoloAStarWarsStory: It takes a bit for it to find its feet and for AE to turn on enough charm to make you forget he's not HF. But once it kicks into its hey-let's-make-a-crew and yes-also-do-a-heist stuff, it totally flies.

— Kate Erbland (@katerbland) May 11, 2018
Solo: A Star Wars Story is a goddamn delight. It's a non-stop adventure packed with way more emotion than your expecting. You'll have a smile on your face the whole time and leave eager for more. pic.twitter.com/fOsF7Tr95L

— Germain Lussier (@GermainLussier) May 11, 2018
#SoloAStarWarsStory is reaaaaalllly good. Fun as hell. It's a straight intergalactic heist movie, kind of refreshing to see a Star Wars movie w/o a Death Star or the rebellion's fate at stake. Alden Ehrenreich is super impressive as Han, but L3 might be my favorite new character.

— Kevin Polowy (@djkevlar) May 11, 2018
Boom. #SoloAStarWarsStory Loved it. Stay off the internet! Avoid spoilers! Great job @RealRonHoward and cast!

— Clayton Sandell (@Clayton_Sandell) May 11, 2018
Wow. Just come out of #SoloAStarWarsStory and can confirm it's kinda a blast. @donaldglover was as perfect as expected, but Alden Ehrenreich has swagger to match, and spare.

— Joel Meares (@joelmeares) May 11, 2018
Pleasantly surprised by #SOLO! A cute, fun, stylish #StarWars adventure. Would absolutely watch more Han and Chewie, which is not what I expected going into this AT ALL. Excited to see it again. pic.twitter.com/rpwaZCNevC

— ✨ Rachel Heine ✨ (@RachelHeine) May 11, 2018
Tonally it feels more in line with the TV shows than the core Skywalker films, specifically in the way it introduces colorful new characters you immediately believe have been in the sidelines all this time. Phoebe Waller-Bridges absolutely steals the show. #SoloAStarWarsStory

— Terri Schwartz (@Terri_Schwartz) May 11, 2018
#Solo feels surprisingly unlike any Star Wars movie before, yet perfectly captures the tone, adventure, characters and humor of the #StarWars franchise. Also, I need a Lando movie in my life.

— Peter Sciretta (@slashfilm) May 11, 2018
The first act of SOLO: A STAR WARS STORY can be hit and miss clunky. But once Donald Glover's Lando shows up (who is legit fantastic) and the Kessel Run heist plot kicks in, it's a whole lot of fun. (And those who've always wanted a Han and Chewbacca shower scene are in luck.)

— Mike Ryan (@mikeryan) May 11, 2018
Oh, and this is for sure now the Solo Franchise. It's not really hiding the fact it's setting up more Han Solo movies.

— Mike Ryan (@mikeryan) May 11, 2018
Solo is straight-up overflowing with winks, but lots of great action. And just when I was thinking, "There's no way to spoil this movie," well — enjoy that bit.

— Kristopher Tapley (@kristapley) May 11, 2018
#Solo was fantastic. Rock solid, straight-down-the-middle #StarWars movie. If you're looking for a palette cleanser after #TheLastJedi, this is it!! pic.twitter.com/2Qjbk4UWcQ

— Jesse B. Gill (@jessebgill) May 11, 2018
Solo: A Star Wars Story also stars Donald Glover, Emilia Clarke, Woody Harrelson, Phoebe Waller-Bridge, Paul Bettany and Jonas Suotamo. It is scheduled for release on 25 May.
Last Updated: May 11, 2018