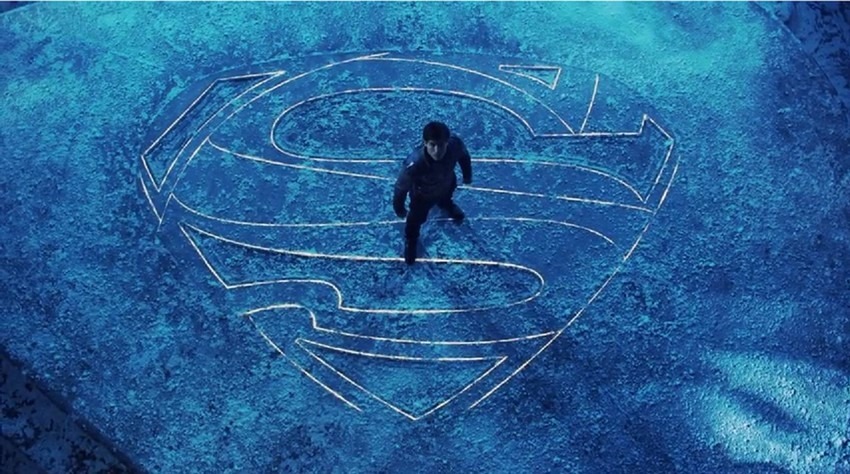 Look, in the sky! Is it a bird? Is it a plane? No, it's Superman….'s granddaddy! Yes, the first full trailer for SyFy's upcoming prequel series gives us our first real look at the adventures of ol' Pappy El aka Seg-El (Cameron Cuff) "as he fights to redeem his family's honor and save his beloved world from chaos" after the "House of El was ostracized and shamed". We have no idea what caused said shaming, but I won't be surprised if it's revealed that the whole El clan has a penchant for wearing their underwear on the outside.
We do know now though that Seg-El is going to have to deal with some time travel shenanigans as the planet Krypton is apparently threatened by an enemy from the future, and a shady guy in a hoody (reported to be classic comic book favourite character Adam Strange dressed in the default Shady Guy uniform) shows up to hint at Seg-El's very famous grandson from the future.
Throughout Superman's many years in pop culture, outside of the comics we've never really spent much time on his home planet of Krypton before it went kablooey and sent the Baby of Steel flying off to Earth in a rocket ship. The only real look at it was in 2013's Man of Steel in which it was portrayed as a heavy sci-fi culture full of armoured badass scientists and fantastical creatures and technology. It was easily one of the most thrilling sequences in the entire film, so it bodes well that SyFy appears to be taking some inspiration from the aesthetic used in the movie, despite there being no relation between this series and the DC Comics Cinematic Universe.
This should, of course, come as no real surprise though, as one of the men behind Krypton is none other than Man of Steel and Batman v Superman: Dawn of Justice scribe David S. Goyer, who developed this show along with Stargate-SG1 alum Damian Kindler. After some of the scripting idiocies of BvS, as well as the not-so-great work he did on The Dark Knight Rises, and Ghost Rider: Spirit of Vengeance, Goyer's stock is not exactly high with fans right now. However, that is on the movies side of things. When it comes to his TV work, I was a gigantic fan of Da Vinci's Demons as well as his criminally cancelled-too-soon Constantine. Throw in Kindler, who helped shepherd one of my favourite sci-fi franchise of all time, and consider me optimistic.
Actually, make that more than optimistic. This trailer shows off the big-budget polish that SyFy is bringing to this, much like they've doing lately with some of their other sterling efforts (see: The Expanse) in an attempt to get back to their science-fiction roots. If Goyer can curb some of his more sillier writing tendencies, and the cast of mostly unknowns (which includes Da Vinci Code's brilliant Blake Ritson as Brainiac) actually delivers, then Krypton can definitely be something to look forward to. It is scheduled to premiere on SyFy on 21 March.
Last Updated: January 10, 2018