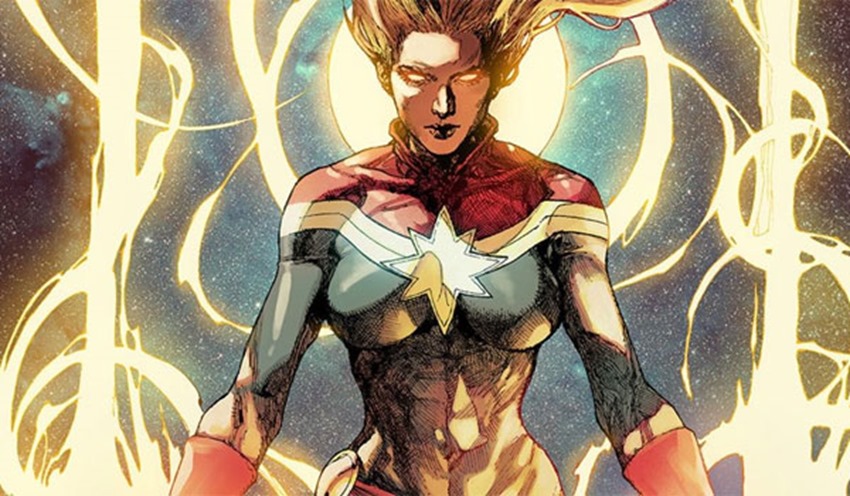 If you read the article I wrote yesterday about the Russo bros. addressing rumors surrounding the upcoming Avengers: Infinity War and its still-untitled sequel, you will have noticed that when it got to the part about Brie Larson's Captain Marvel potentially debuting in the upcoming film, I had to make do with a grainy, low-res piece of concept art. That's simply because that has been all we've seen of the Marvel superhero. Until now that is.
Captain Marvel officially kicked off filming in Atlanta in the USA this week, and it hasn't taken long for the first on-set snaps of Larson in costume as the cosmic superhero to surface (via PageSix) . For the most part, the design of her outfit is sticking to the concept art, drawing inspiration from the more modern comic book iteration of her look. The glaringly obvious difference here though is the colour palette, as the costume is decked out in shades of blue and green instead of the traditional red, blue and gold.
I have to say, colour scheme changes aside, that this is not the best costume we've ever seen. It looks a tad bit ill-fitting in places, lending it an amateurish cosplay look. However, history has taught us that these things almost always look way better when shown in action and using the correct lighting and camerawork, so I'll reserve my judgement until such time.
As for that colour scheme change, you may recall, thanks to Darryn's mumblings, that Larson's Carol Danvers isn't the only hero to bear the name Captain Marvel. In the Marvel comic book universe, the alien Kree hero Mar-Vell is the original, and Carol's modern comic book costume is a homage to his appearance. However, if you know your comic book history you would know that both Mar-Vell and Carol Danvers initially wore Kree military uniforms before getting their respective costumes. And yes, those Kree uniforms were green in colour.
Don't forget the first Kree uniform! Then she upgraded it to the iconic red/yellow/blue!!!! MY HEART ITS HAPPENING #CaptainMarvel pic.twitter.com/zJLq78wnd6

— Captain Marvel News? (@CaptMarvelNews) January 25, 2018
Over in Marvel's Ultimate Universe – the now-defunct imprint that saw to modernise and contemporise the comic publisher's classic characters, and from which the Marvel Cinematic Universe has taken most of its visual cues – the version of Mar-vell introduced there in the pages of Ultimate Secret never donned the red, blue and yellow. Instead his costume kept had blue-green colorization and added a more modern padded armour look, just like Larson's costume above.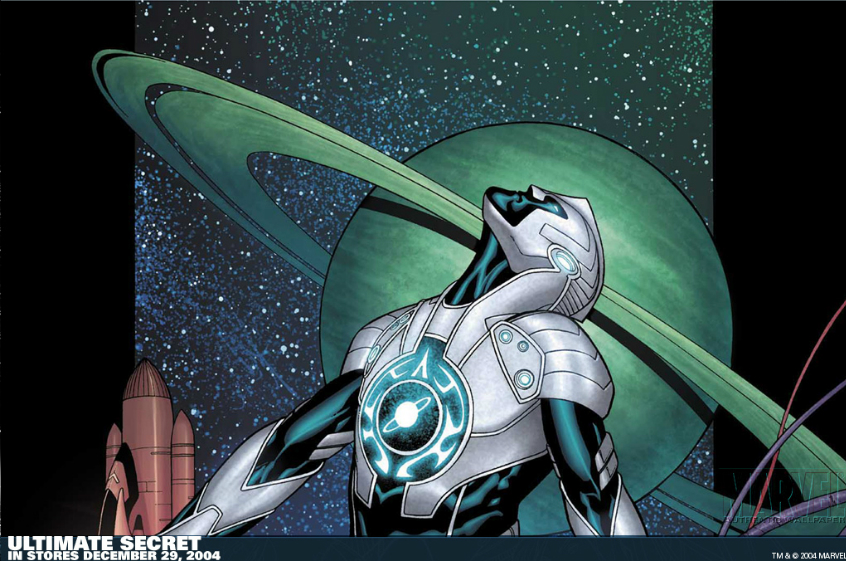 If I had to hazard a guess, I would say that the costume seen in these set pics is just an early one for Larson's Danvers and we will eventually see her in the red and blue look. In the comics, Danvers is an Airforce officer who gets her powers from coming into contact with some Kree technology. Maybe that encounter in the movie results in her having to don a Kree uniform as well, at least initially. Marvel Studios has shown a continued willingness to not just rush a character out fully formed, but rather letting their look and personality evolve over time till they eventually get very close to the comics. Iron Man, Captain America, Thor, Spider-Man and more have all gone through multiple costume changes, looking different just about every time we see them.
It also has to be pointed out that Jude Law has been cast in the role of Mar-Vell in the upcoming film. I would not be surprised in the least to see him sporting the traditional red, blue and yellow and then to see Danvers adopt the same colour scheme by the end of the film when [POTENTIAL SPOILER ALERT BASED PURELY ON THE COMIC BOOK HISTORY] Mar-Vell dies and she is inspired to continue his legacy.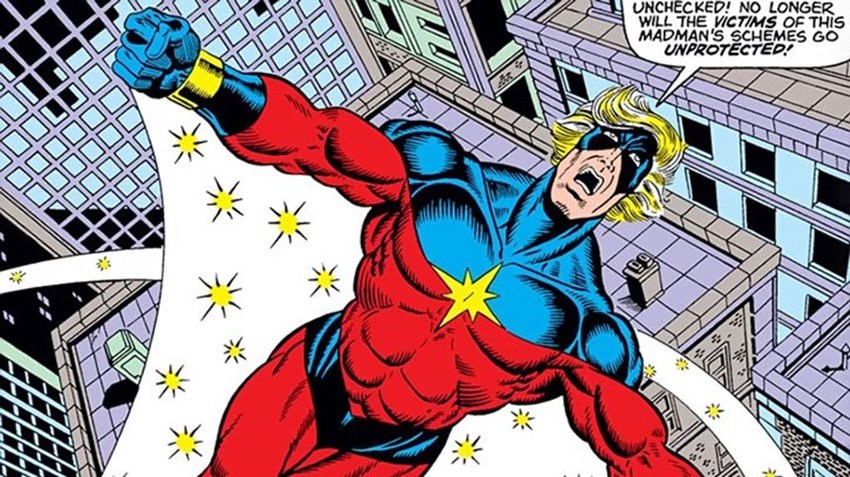 Mississippi Grind's Anna Boden and Ryan Fleck will direct the solo Captain Marvel film which will be set in the 1990s and features the shape-shifting alien Skrull race as the primary villains. Samuel L. Jackson will play a young, still-two-eyed version of Nick Fury while Rogue One: A Star Wars Story's Ben Mendelsohn has been cast in an undisclosed lead role, believed to be a villain of some sort. Captain Marvel is scheduled for release on 8 March 2019, though we may just see the character sooner in a surprise cameo in Avengers: Infinity War on 25 April 2018.
Last Updated: January 26, 2018