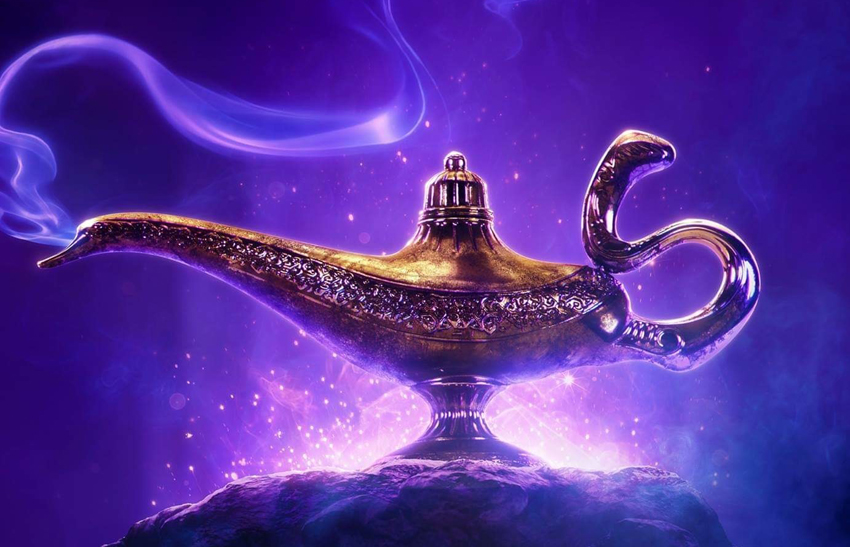 When the first teaser trailer for Disney's upcoming live-action adaptation of their 1992 animated classic Aladdin was revealed recently, there was one glaring omission: Characters. Besides for a brief glimpse of Mena Massoud in the title role, we never got to see any other characters in director Guy Ritchie's remake. That all changed last night though when Entertainment Weekly debuted the first proper looks at Massoud, Naomi Scott as Princess Jasmine, and Will Smith as Genie. And of course, what with this being the internet, people were angry.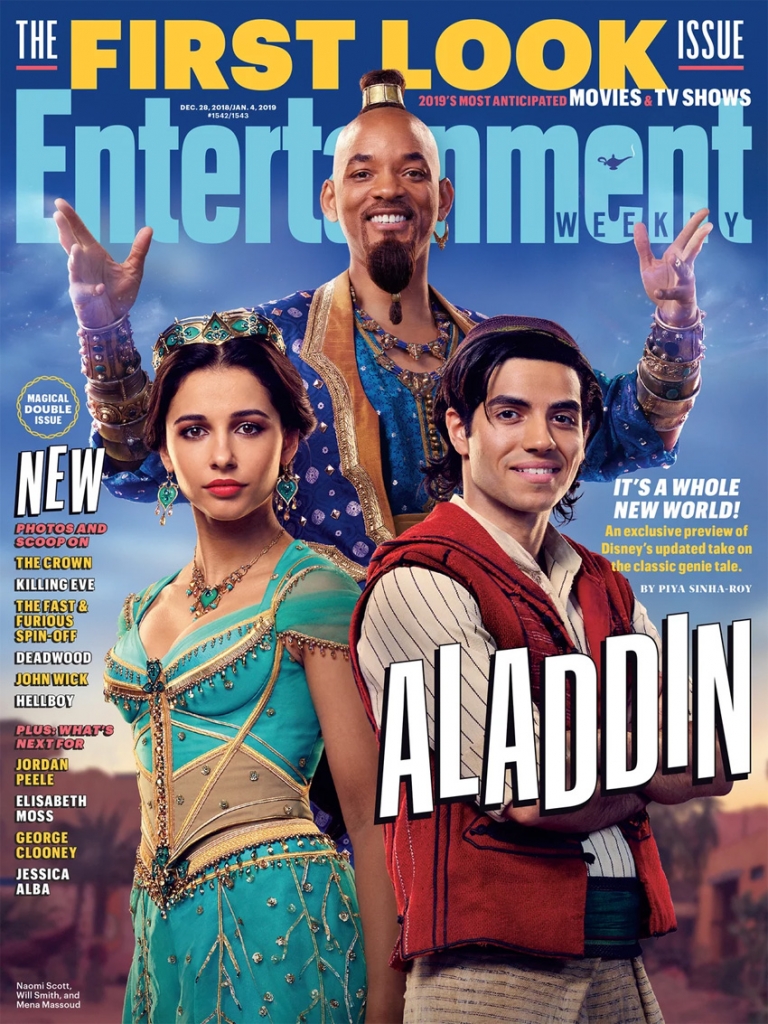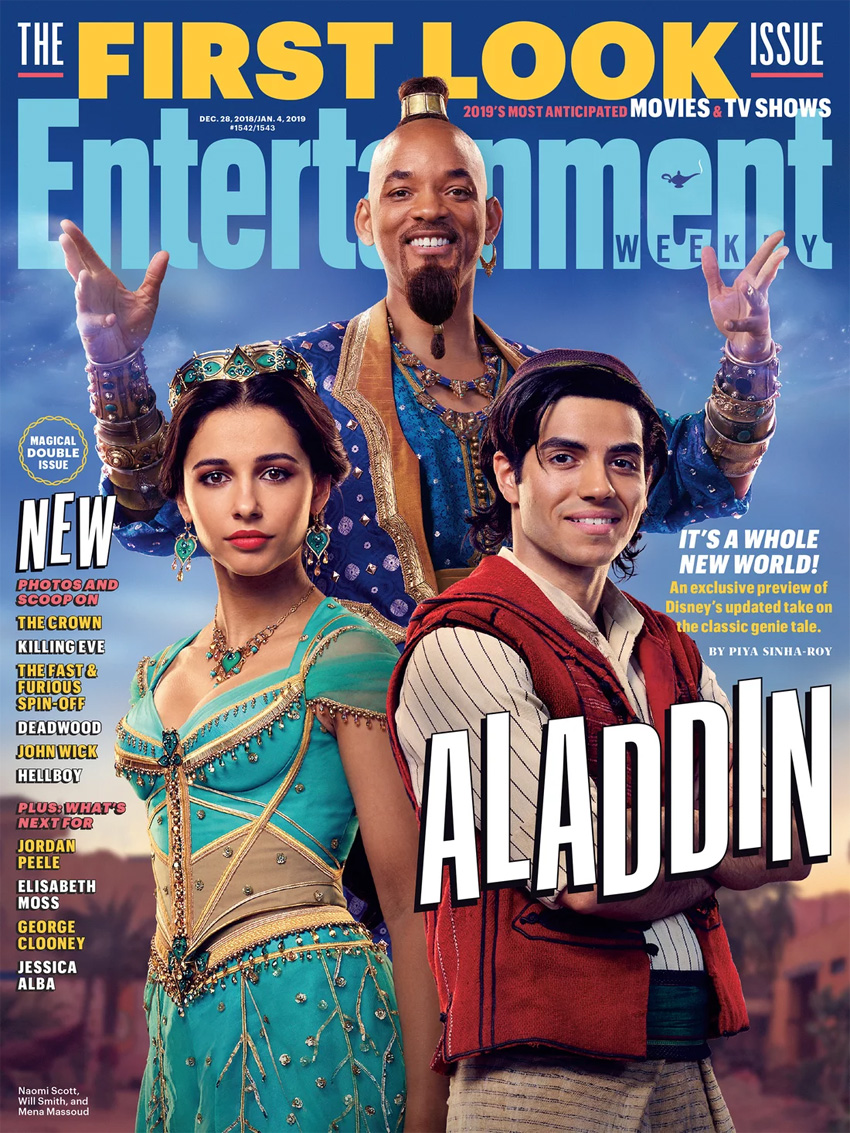 The source of this anger was Smith's Genie, the beloved fast-talking goofball wish-granter immortalized as one of Disney' most popular characters when he was brought to life in the original by the late great Robin Williams. The genie, most pertinent to this conversation, was also blue and had no legs. As you can clearly see in the pics above, while Massoud and Scott are fairly accurate representations of their animated counterparts, Smith looks like himself bedecked in questionable hairstyles and gaudy jewellery, so you could almost understand the vitriol. Except, what with this being the internet, this anger was totally unfounded.
If these upset folks actually read further than the headline before breaking out the pitchforks and torches over these childhood-ruining pics, they would see that "The final version of Will Smith's Genie in his blue floating lamp form isn't quite finished". Smith himself also explained in a Facebook post that "yes, I'm gonna be BLUE! This is how the Genie is in Human / Disguise Form. My character will be CGI most of the movie". As you may remember, in the 1992 original, Genie did spend a section of time looking fairly human so as to blend in when out with Aladdin, and this is actually a decent representation of it.
There will be some tweaks though as Smith, who has recorded his own versions of some of the originals most beloved songs performed by Genie, indicated that "Whenever you're doing things that are iconic, it's always terrifying."
The question is always: Where was there meat left on the bone? Robin didn't leave a lot of meat on the bone with the character. [He] infused the character with a timeless version of himself. I started to feel confident that I could deliver something that was an homage to Robin Williams but was musically different. Just the flavor of the character would be different enough and unique enough that it would be in a different lane, versus trying to compete.
Ritchie went to elaborate on how Smith's Genie will differ from that of Williams, indicating that he is more self-aware as will be evident when he first appears and discovers that Aladdin doesn't know who he is.
I like the fact that our Genie has an ego and is a little bit vain and he cares about how he's presented because he's been doing this for a very long time. I think it'll stand out as unique even in the Disney world. There hasn't been a lot of that hip-hop flavor in Disney history.
As for what the finished blue CGI Genie will look like, we may need to wait a while as everything is still in production, however teased his idea of the character.
I wanted a muscular 1970s dad. He was big enough to feel like a force — not so muscular that he looked like he was counting his calories, but formidable enough to look like you knew when he was in the room.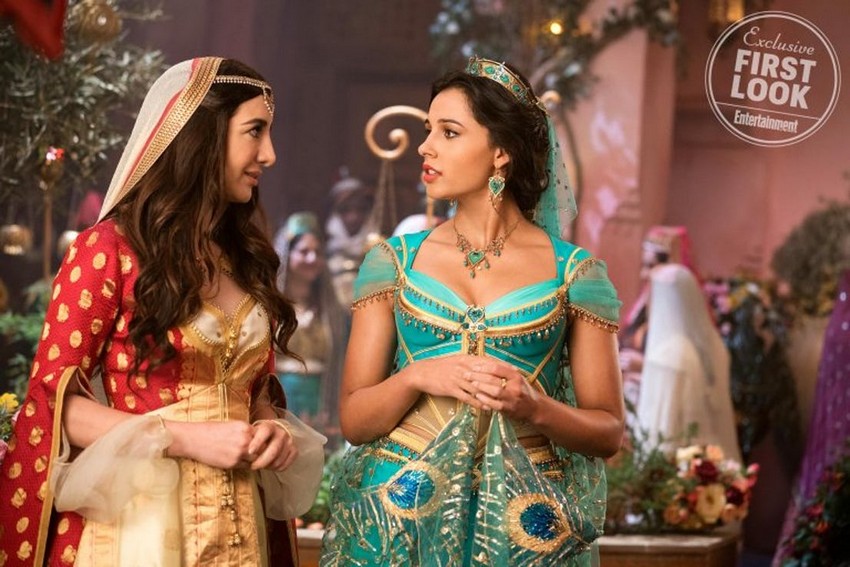 Genie isn't the only one getting a tweaking. While Massoud's Aladdin should be pretty much how fans remember him, Scott's Jasmine is being upgraded to modern sensibilities to be "a more rounded character and maybe not being such a stereotype of the time".
Jasmine's main objective at the beginning is to really protect her people and to do right by them. She definitely isn't a finished article at the beginning of the movie, but she has this beautiful arc and progression, and she goes from asking for what she wants to just taking it, and displaying that she is a leader.
And yes, this Aladdin should pass the Bechdel test as SNL alum Nasim Pedrad has been tapped to play a brand new character named Dalia, one of Jasmine's handmaidens who is also her confidant. You know, because talking to nobody but your pet tiger is a little weird today.
Along with the film's main trio, EW released further pics giving us a look at Marwan Kenzari as the villainous Jaffar, Aladdin's beloved monkey companion Abu, and even a glimpse of some of the action beats we will see in the film. That last bit is rather important, as one of the biggest question marks of this production was how Ritchie – who made his name on fast-talking British gangster action-comedies – would transition to the world of Disney.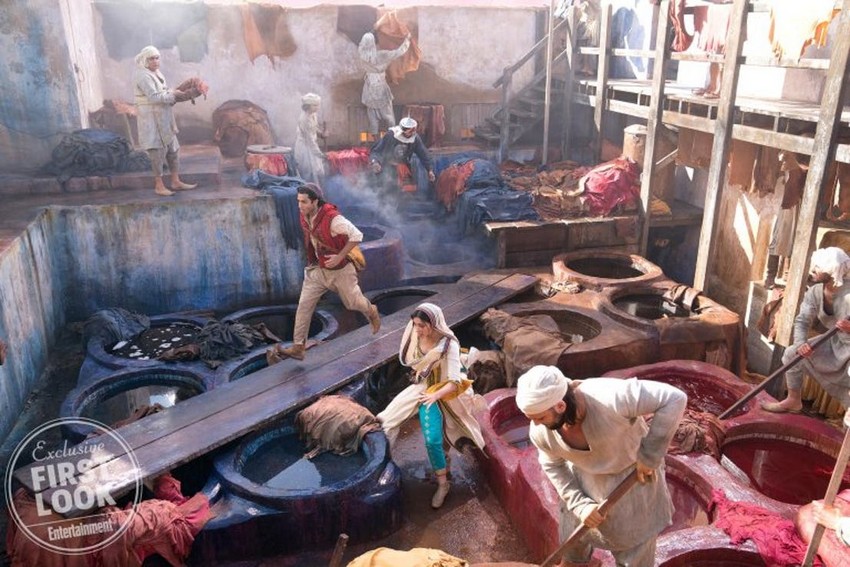 If you think about it though, the original Aladdin featured a heist (to get the lamp) and a series of high-speed chase scenes through the city. Both are things that Ritchie excels at. The director stated that "My skills and experience could add enough to make it feel fresh and worth it, but not so much so that it would wash away nostalgia. [Because I have five children] making a kids' film was very appealing to me."
Smith also continued by saying that "When you think timeless Disney classic, you're not really thinking Guy Ritchie. But he brings a beautiful edge to the look and feel and imagining of Aladdin." We'll see if that turns out to be the case when Aladdin arrives in cinemas on 24 May 2019.
Last Updated: December 20, 2018