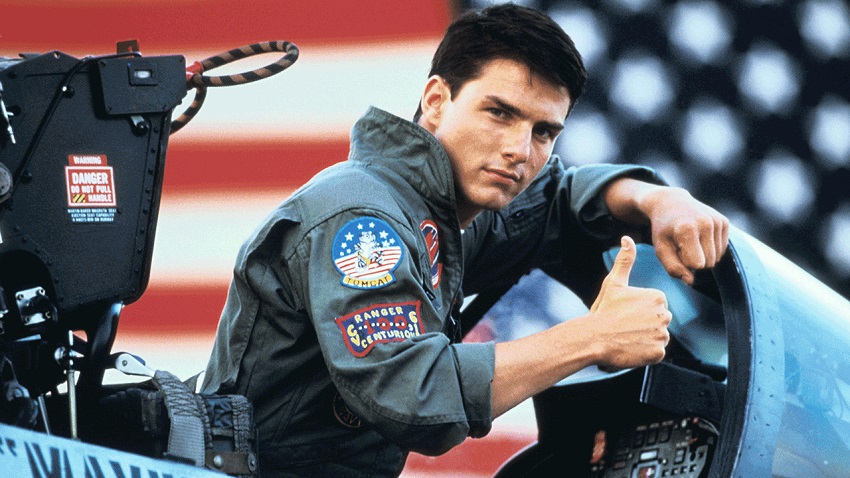 Tom Cruise has officially ridden his Kawasaki Ninja 900/GPz900R back onto the highway to the Danger Zone. After being nothing more than talk for three decades since the release of the late Tony Scott's original 1986 action/drama classic, Top Gun 2 has now finally entered production. And to prove it, Cruise posted a pic from the film on Instagram, giving us our first look at his iconic flyboy Pete "Maverick" Mitchell with one half of his famous catchphrase.
Very little is known about Top Gun 2, which has been unofficially operating under the working title of Top Gun: Maverick. Joseph Kosinski, the Tron: Legacy and Only the Brave director who also previously directed Cruise in Oblivion, will be taking the reins here, while Peter Craig (The Hunger Games: Mockingjay – Part 1 & 2), Justin Marks (The Jungle Book), and Eric Warren Singer (American Hustle) are penning the script. Said script has probably changed since this project first started gaining steam back in 2015, but last we heard this sequel will find Maverick as an instructor at the same elite Navy Fighter Weapons School where he was once training to be a pilot. We also know that the advent of drone warfare and the fact that aerial dogfighting doesn't really exist in the fashion it used to in the time of the original movie will be playing a part of the story.
Kosinski, who may have started his career with full-blown CGI-fests but has since moved away from it rapidly, has also previously spoken about they will be trying to do as much of the film's action practically as possible. So yes, we're probably going to see Tom Cruise doing barrel rolls in fighter jets for real, because he's loony like that. Although, based on some of his recent, more insane stunt exploits (like jumping out of a plane going over 350kph at 30,000ft with a cameraman falling backwards just a meter or so from your face), sitting in a cockpit to pilot a fighter jet will be a walk in the park for him.
Top Gun 2 – or whatever it will be called eventually – is scheduled for release on 12 July 2019.
Last Updated: June 3, 2018