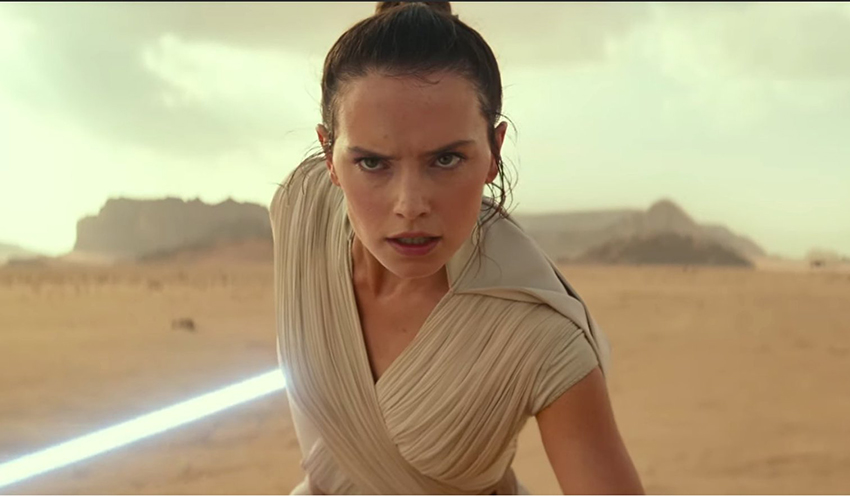 Guys, it's been about 20 minutes since the trailer for Star Wars: Episode IX… oops, sorry… since the trailer for Star Wars: The Rise of Skywalker (SQUEEEEE!) got revealed and I'm still fanboying hard! To use the phrasing of today's kids: I'M SHOOK!
While that teaser trailer is undoubtedly all most of us fans will be thinking about for a while, the hour-long panel preceding its release was actually rather entertaining. Hosted by Stephen Colbert, the panel saw director/co-writer JJ Abrams and Lucasfilm President Kathleen Kennedy joined on-stage by the primary cast of Daisy Ridley (Rey), John Boyega (Finn), Oscar Isaac (Poe Dameron), Billy Dee Williams (Lando Calrissian), Kelly Marie Tran (Rose Tico), Joonas Suotamo (Chewbacca), Anthony Daniels (C-3PO) and newcomer Naomi Ackie (Jannah).
During the presentation we got a look at everybody's characters, while some screencaps were released after the trailer dropped as well. You can check them all out in the gallery below.
With this being Star Wars, everybody on the panel was rather tightlipped about dropping any major plot details (Abrams glancing at Kennedy for permission before answering any question was hilarious), but we did learn a few more things not necessarily shown in the trailer.
Kennedy reaffirmed that this is the end of the Skywalker saga that began in 1977.
Describing this final chapter in a trilogy of trilogies, Abrams said that "This movie, in addition to being the end of three trilogies, it also has to work as its own movie. It's about this new generation and what they've inherited, the light and the dark, and asking the question as they face the greatest evil, are they prepared? Are they ready?"
It's been confirmed by Abrams that "some time has gone by" between the end of The Last Jedi and the start of The Rise of Skywalker.
While The Last Jedi saw the main cast split up on their own missions in different parts of the galaxy for the most part, this will be an "adventure" that everybody goes on together.
Abrams confirmed that the late Carrie Fisher could be in this film through the "miracle" of all the unused scenes they of her from the previous two films. Abrams and co wrote around Fisher's existing scenes so that they could give her a proper story in this film.
Ackie would not confirm the rumours that her Jaanah was the daughter of William's Lando, but laughing added that "Lando is a very charming man, so he could have children all over the universe, that's all I'm saying." And all we're saying is that the cape and colour scheme she's wearing looks very Lando-esque to us.
When asked about whether Rey repairs Luke Skywalker's old lightsaber after it was cut in half, Ridley simply said that it "lives".
Alas, there will be no topless Kylo Ren scenes in this movie.
John Boyega wouldn't confirm that Finn and Rose are romantically involved (he jokingly implied Finn was in a relationship with everybody), but he seemed to suggest that they've had an on again/off again relationship by the time we catch up to them.
While trying to dodge the question about whether Rey develops some more brand new Force abilities in this movie, Abrams and Ridley seemed to hint that she will be pulling off some rather spectacular moves in this movie. We eventually got a hint of that with her incredible lightsaber flip at the start of the trailer.
Droid BB-8 is getting a droid friend in the form of Dio, who I would like to believe was named after the legendary rock vocalist and whose design was based on Spy vs Spy. I could be wrong.
Along with the pics, we also got the first official teaser poster for the film.
Star Wars: The Rise of Skywalker is scheduled for release on 20 December 2019.
Last Updated: April 13, 2019