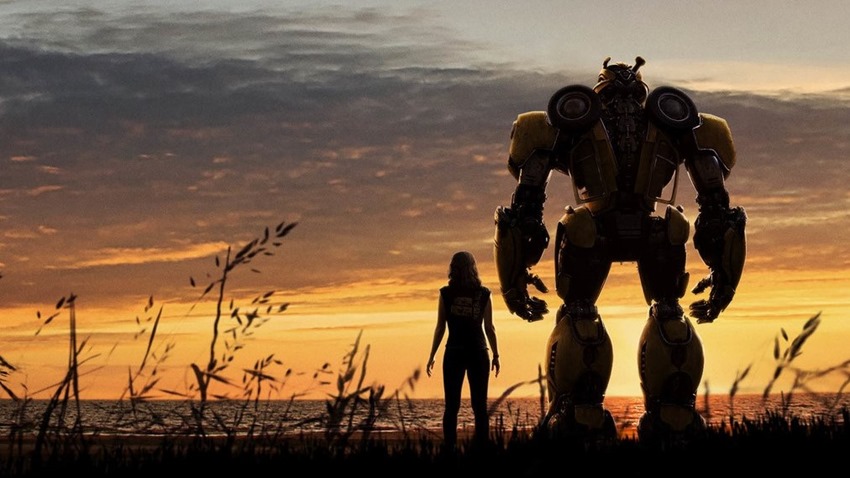 Being called the "best" in some regard, is usually a sign of excellence, but I'm sure that some of you reading that headline above are snorting because being the best in the Transformers movie franchise is not exactly a high bar to cross. Yes, Michael Bay's Transformers franchise has its fans, but few can deny that the giant robot franchise has gotten worse with each entry after the admittedly enjoyable first film. Now though, we have our first film free of Bay as Laika animation maestro Travis Knight gets given the directing reins for Bumblebee, the first prequel spinoff for the franchise.
With his work on movies like Kubo and the Two Strings, Paranorman, Coraline and more, Knight is known for tender heartfelt storytelling full of great characters, and many (read: me) were hoping he would finally do the same for a franchise that had become increasingly loud and chaotic with laughable storylines and annoying characters. And by all accounts, this is exactly what Knight has done as the first press screenings for Bumblebee were held over the weekend and early reactions have hit the net.
With a staggering 100% Fresh rating on Rottentomatoes after 17 reviews, praise has been heaped on how Knight has managed to give the 1980s-based movie a distinct Spielberg-ian tone, full of charm and wit. Lead actress Hailee Steinfeld has also been singled out for her performance, though the entire cast and writer Christina Hodson's script all get high marks, which is a marked departure from the usual Transformers approach of sticking as many grating human characters into the movie as is possible. Besides for the humans though, the real stars are the robots that have been brought to life far more coherently than ever before, with many claiming that fans of the original animated movie will find a lot to love here.
Here are some snippets:
#BumblebeeMovie got everything right – the characters, treatment, heart and even explosions pic.twitter.com/MPp4VYz5a8

— Chris Sylvia (@sylvioso) December 8, 2018
Man, BUMBLEBEE: I kinda loved it. I honestly can't believe I'm saying that! Also, for anyone who has wanted to see Gen 1 designs in a movie, the first five minutes is Transformers porn.

— Mike Ryan (@mikeryan) December 8, 2018
#BumblebeeMovie is one of the year's best and most heartfelt blockbusters. Travis Knight expertly directs a coming of age story about a girl and her robot. Impressive visuals, well rounded characters, and G1 greatness. Need to see more from THIS Transformers stat. #Bumblebee pic.twitter.com/dXfS8OhlLF

— Nicholas Whitcomb (@Whos_Nick) December 8, 2018
#Bumblebee is the best Transformers movie – BY FAR. Beautifully shot, tons of spot-on humor and absolutely brimming with heart. No surprise here but Hailee Steinfeld is fantastic. The whole thing is just an utter delight!

— Perri Nemiroff (@PNemiroff) December 8, 2018
#Bumblebee is the best #Transformers movie and my favorite, too. Hailee Steinfeld elevates every scene she's in, and the older look of the robots makes it easier to follow and enjoy the action. pic.twitter.com/cAWWQLKfB9

— Erik Davis (@ErikDavis) December 8, 2018
Well done Christina Hodson. Leave it to a woman to finally bring humanity to this series. I love Michael Bay, but I'm not a fan of his Transformers movies. #Bumblebee, I am a big fan of. Kudos to Hodson for a solid script and Travis Knight for giving this franchise a voice

— Erik Davis (@ErikDavis) December 8, 2018
#Bumblebee is the best Transformers since the first one and the best movie they've done. What I thought was gonna be another dumb film filled with millions of explosions, turned into an emotional, hilarious, perfectly written Transformers movie. Blown away. Wow.

— Nathaniel Brail (@NateBrail) December 9, 2018
Wow! #Bumblebee is an absolute delight! @HaileeSteinfeld is wonderful. So many fun throwbacks to films like ET, Duel and other great 80s family films. My daughter and nephews (ages 13, 11, 7) are absolutely giddy right now and we can't wait to see it again.

— Yolanda Machado (@SassyMamainLA) December 8, 2018
#Bumblebee is TOTALLY an 80s movie in the BEST way possible. Has major Spielberg and John Hughes vibes. There's like 4 running Breakfast Club gags and @HaileeSteinfeld (who is great) spends half the movie trying to make Bumblebee appreciate The Smiths. Holy crap I loved that. pic.twitter.com/ZiyLfO2XOo

— Mike Rougeau (@RogueCheddar) December 8, 2018
Bumblebee stars Hailee Steinfeld, Pamela Adlon, John Cena, and Jorge Lendeborg Jr. It is scheduled for release on 21 December 2018.
On the run in the year 1987, Bumblebee finds refuge in a junkyard in a small Californian beach town. Charlie (Hailee Steinfeld), on the cusp of turning 18 and trying to find her place in the world, discovers Bumblebee, battle-scarred and broken. When Charlie revives him, she quickly learns this is no ordinary, yellow VW bug.
Last Updated: December 10, 2018