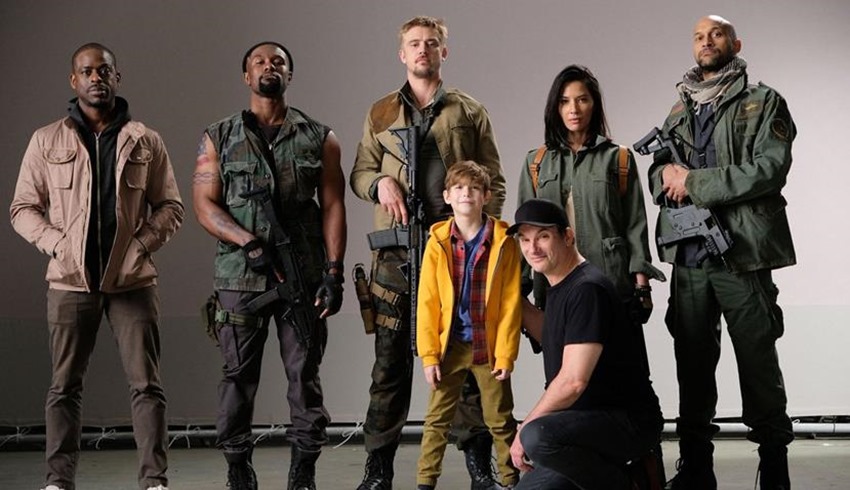 You may not have time to bleed, but I sure as hell hope you have time to check out the first trailer for The Predator, the latest film in the long-running sci-fi franchise initially kicked off by director John McTiernan and Arnold Schwarzenegger with the testosterone-heavy original 1987 classic Predator. This new movie comes from director/writer Shane Black who actually acted in and did some uncredited script work for that first film back when he was just a struggling screenwriter. A little movie by the name of Lethal Weapon would soon launch his career though, eventually culminating many movies and years later in his biggest project ever in 2013's Iron Man 3, and now he's back to where it all began for him.
Boasting one hell of a cast in Boyd Holbrook (Narcos, Logan), Thomas Jane (The Punisher), Olivia Munn (X-Men: Apocalypse), Trevante Rhodes (Moonlight), Jacob Tremblay (Room), Yvonne Strahovski (Dexter), Alfie Allen (Game of Thrones), Sterling K. Brown (This is Us), Keegan-Michael Key (Key & Peele), and Edward James Olmos (Battlestar Galactica), this new film will take place in the timeline between the events of 1990's Predator 2 and 2010's future-set Predators. This time around there's no Ahnuld or bicep crushing handshakes, but in true Shane Black fashion, we have a clever kid right at the heart of it. Don't be surprised if the movie is set at Christmas either.
Judging from the trailer though, it's more likely that it will be chilling screams and body parts falling from the sky rather than yuletide cheer and snow. And that's exactly the way we want it, as The Predator will be going back to the franchise's original R-rated roots. According to a recent statement from Sterling K. Brown to EW though, the movie does have that trademark Shane Black "really wicked sense of humor to it", which sounds like one potentially great mix. There have been some concerns as the film reportedly had most of its third act reshot (hence why we've been waiting so long for this trailer) but as movies like Rogue One have shown us in recent times, reshoots can make a good movie even better.
I'm a gigantic fan of everything Black has ever done, so I'm rather hopeful, but time will tell if that is the case here. In the meantime, check out the trailer below!
From the outer reaches of space to the small-town streets of suburbia, the hunt comes home in Shane Black's explosive reinvention of the Predator series. Now, the universe's most lethal hunters are stronger, smarter and deadlier than ever before, having genetically upgraded themselves with DNA from other species. When a young boy accidentally triggers their return to Earth, only a ragtag crew of ex-soldiers and a disgruntled science teacher can prevent the end of the human race.
The Predator was co-written by Black's Monster Squad partner Fred Dekker, and it is scheduled for release on 14 September 2018.
Last Updated: May 10, 2018