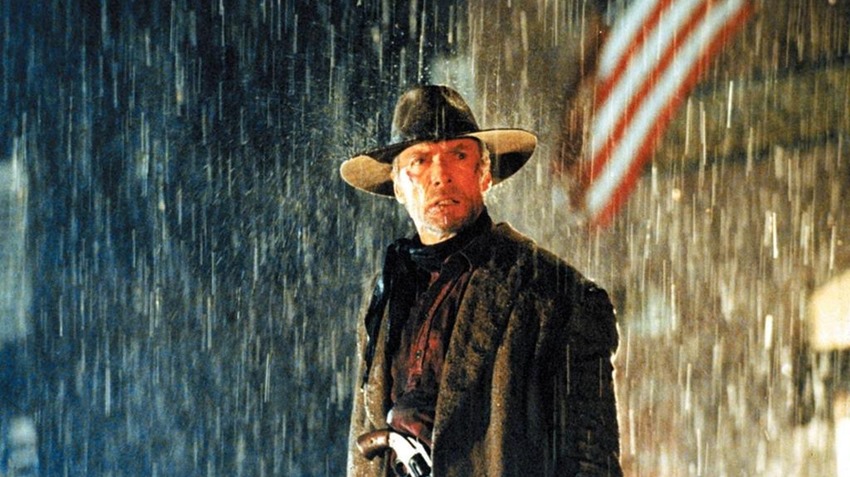 This week, the hottest game of the year goes back to a simpler time. An age of an untamed frontier, where the only law around was the iron in your hand. The American wild west was a time of strife, hardship and sacrifice, centuries of expansion that saw legends rise and gun battles romanticised forever in popular media.
Was there a darker and sometimes more mundane truth to the exploits that were told and immortalised in film and video games? Probably, but the legends that were created in that turbulent time are still worth telling a couple of times. Red Dead Redemption 2 seeks to capture that essence, giving players their own chance to establish themselves as one of the last outlaws alive before the West was truly won.
It's out this week at long last, but if you're hungry for some of that trademark cowboy action, you can't go wrong by saddling up and riding on into your nearest saloon to watch some of the best films that the western genre has ever produced. There's no shortage of them either (as I'll probably hear about in the comments below when I'm asked why I didn't include X film in the short list), but if you're looking for specific movies which sum up Red Dead Redemption's tale of adventure, tragedy and revenge, then you can't go wrong with the following examples below:
The Outlaw Josey Wales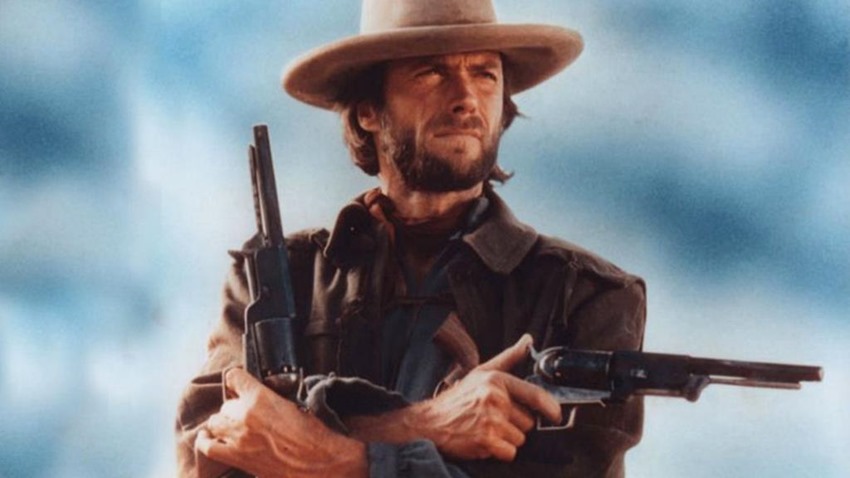 It just wouldn't be a western list without the quintessential cowboy Clint Eastwood, and in The Outlaw Josey Wales the legendary director and actor more than delivers a stunning performance and presence. While the old west may have been filled with lawbreakers back in the day, many of society's most wanted criminals found themselves forced into less than legal situations that weren't of their own making.
With the American Civil War having finally come to a close, many a wound was still fresh and what was technically legal wasn't exactly a reflection of true justice. If anything, The Outlaw Josey Wales is a reflection of injustice, of a man forced into an unwinnable situation where the only law that he can rely on is the unmistakeable sound of his Colt Dragoons delivering retribution against those who wronged him, even if he damns himself to a life on the run the second that he pulls that fateful trigger.
Unforgiven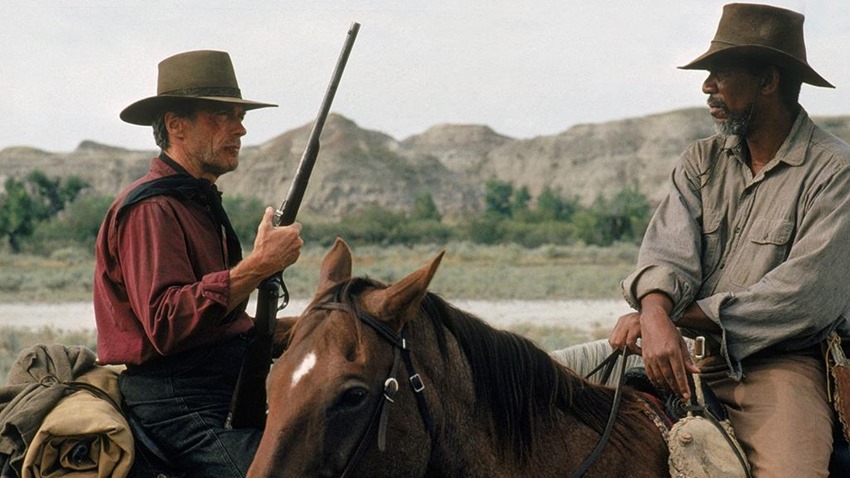 On the other side of the equation, Unforgiven represents a different kind of Eastwood. A man with a dark past, desperate to bury it but finding himself unable to truly lose the darkness that defined his legend. Unforgiven is many things, a tale of revenge and lost potential, but it's also a farewell to an era that was finally giving way to progress, warts and all.
Brutal and unflinching, Unforgiven is a meditation on violence that shines a light on the consequences of a life and crime, a brutal mix of black and white morality that leaves nothing but a more complex shade of grey behind in its wake.
Maverick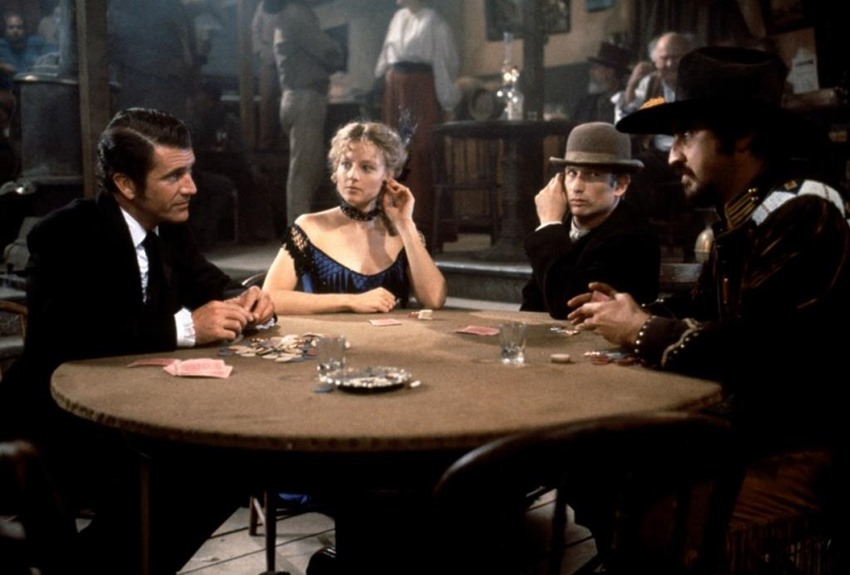 Sometimes, it wasn't the fastest gun that won a fight, but the quicker wit that ended a fight before it even began. Maverick is a fantastic example of this, a rip-roaring chase through North America as Mel Gibson's Bret Maverick finds himself pursuing not only the poker game of his life, but also outrunning a posse of assorted desperados that he has conned along the way.
That's the entire theme of Maverick, a film where you never know who exactly you can trust as swindles, con games and lies cause more damage than an entire bandolier of revolver rounds. Maverick is one hell of a gamble, where the stakes are high and the reward easily outweighs the most fatal rsk possible. It's also the perfect western, for anyone who enjoys seeing wits win out when matched against six-shooters and wily bandits.
Tombstone
As the 20th century was drawing closer and closer, civilisation came knocking on the door of the new frontier. The war between the lawless and the lawmen of America resulted in a line being drawn in the sand, as bandits formed vicious new gangs and justice was an ideal that few towns could enforce. Somewhere along the way, the law began to take back territory that had been lost for years following the fresh wounds inflicted by the American Civil War.
The spark that lit the fire of society reinforcing its ideals? A legendary showdown at the O.K. Corral, where simmering tensions town Marshal Virgil Earp, Special Policeman Morgan Earp, Special Policeman Wyatt Earp and Doc Holliday and a gang comprised of Billy Claiborne, Ike and Billy Clanton and Tom and Frank McLaury saw a shootout that lasted for a mere minute immortalised for all eternity.
While records from that time are spotty at best, the legend of a high noon shootout still stands tall as a tale wrth retelling, and one that was expertly captured on film back in 1993's Tombstone. A slow burn that eventually leads up to an explosion of emotions and gunpowder, Tombstone's third act may be predictable but the tension that it generates in the lead up to that near-mythical gunfight is still the stuff of cinematic legend.
That, and it's a film with the most impressive collection of moustaches this side of the Rio Grande.
Logan
Sure, it may have six Adamantium claws instead of six-shooters, but ignore the more modern setting of Logan and you'll find that the finale of the Wolverine saga is as true grit as a film can be in the genre. Where Logan truly shines, isn't in its unhinged violence, bloody showdowns and an ending where it's totally okay to cry.
It's in the stylish reminder that out in the old west, the only thing that truly mattered was who you had at your side. You may not be able to choose your family, but that doesn't mean that you have to limit yourself to relations of the blood, as Logan proves that real bonds can be forged in the most unlikely of places. Bonds so strong, that the people who hold them are more than willing to lay down their lives for those who matter most to them.
Last Updated: October 22, 2018