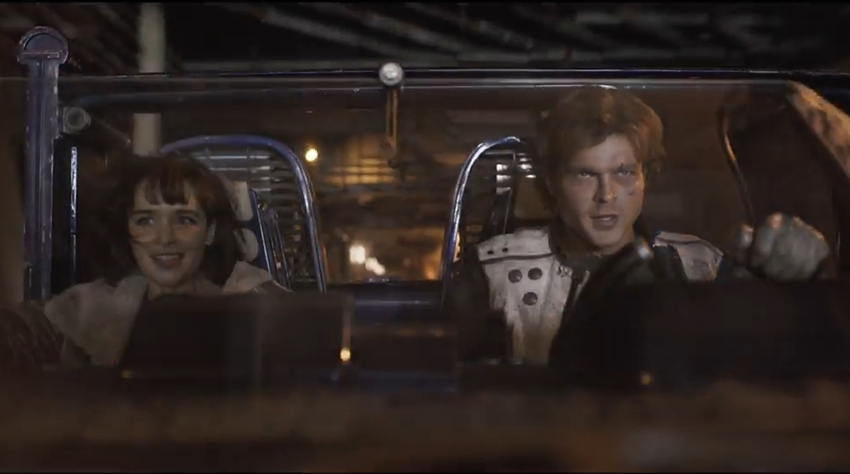 So after almost complete marketing radio silence for a year, we finally got our first glimpse at Solo: A Star Wars Story this morning. Unfortunately, it was just that: a glimpse. We want more, damn it! Specifically, we want more Han Solo! It's his name on the movie after all, and just a shadowy shot of Alden Ehrenreich as the young version of legendary smuggler once played by Harrison Ford is not going to cut it!
Luckily, the folks over at Disney and Lucasfilm know all about our Sarlacc-like appetite for these things, which is why they've debuted a new extended version of the first teaser trailer on Good Morning America as reported earlier today. It's full of all kinds of new footage and gives a bunch more looks at the characters. So what are you waiting for? Check it out below!
Board the Millennium Falcon and journey to a galaxy far, far away in Solo: A Star Wars Story, an all-new adventure with the most beloved scoundrel in the galaxy. Through a series of daring escapades deep within a dark and dangerous criminal underworld, Han Solo meets his mighty future copilot Chewbacca and encounters the notorious gambler Lando Calrissian, in a journey that will set the course of one of the Star Wars saga's most unlikely heroes.
Now that's what I'm talking about! Honestly, I don't need Ehrenreich to do a pitch-perfect young Harrison Ford impersonation. Just like what Chris Pine did with James T. Kirk in JJ Abrams' Star Trek reboot, he just needs to nail the spirit and swagger of Solo. Unfortunately, I can't really tell if he does from this trailer alone. The rest of it sure as hell looks damn good, but it also leaves me with so many questions.
For a movie releasing in just three months, we still don't know so much about this production. For example, exactly who Emilia Clarke's character Qi-Ra is as she certainly seems to be rather central to Solo's youth despite the fact that we've never heard of her in the film canon. Now her character was originally rumoured to be Sana Starros, recently introduced in the comics as Han's wife (Don't worry, not his actual wife as their nuptials was all a sham for a con job). It was quickly dismissed though that the Game of Thrones actress was not playing Sana at all because there's the obvious thing of her having a different skin colour. There was apparently another reason though: SANA IS IN THIS MOVIE.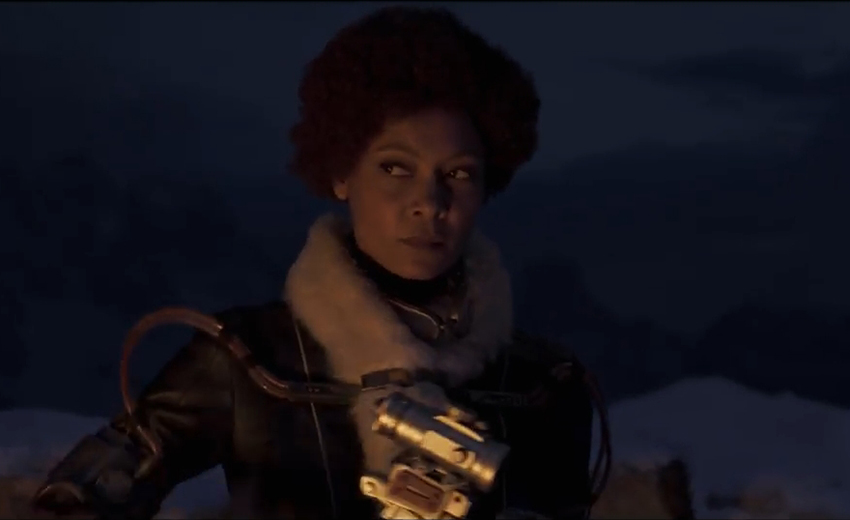 I mean they don't say it outright, but I'll be damned if that's not a shot of her at 0:35 in the trailer. Or its Thandie Newton playing a totally different character. I'll admit it goes by too quick to be sure. If it is Sana though, then it seems like this could be the very con job in which they get hitched that was teased in the comics. How you like that for a shared universe?!
Also, that shot of that droid feels a bit too specific for it to just be some random machine – I already mentioned this morning that some of the cinematography was reminding me of Rogue One, so could Solo be getting its own droid main character as well? There have been some early reports that Phoebe Waller-Bridge is playing some kind of motion-capture character, so I won't be too surprised if this actually her. Other than that I'm really liking the look of this, especially Woody Harrelson as Solo's mentor Becket and of course Donald Glover as a young Lando Calrissian.
EW has already revealed this is essentially Han Solo week for them, and just like they did with The Force Awakens and The Last Jedi, they will be pulling back the curtain to give us a bunch of new details. We'll definitely be reporting on that as soon as they do.
Solo: A Star Wars Story was originally directed by Phil Lord and Chris Miller before they got famously fired after having already shot about 75% of the movie. Veteran filmmaker Ron Howard was tapped to finish the shoot and also reshoot huge chunks of the film. Just who will get the director's credit is probably another of those things we don't yet know about this movie.
It is scheduled for release on 25 May 2018.
UPDATE: Looks like Han Solo week is already kicking off, as Empire Magazine are busy revealing character posters for the film via their Twitter account. They've only put out four thus far, but I'll keep updating as they get released. Click to enlarge.
Last Updated: February 5, 2018