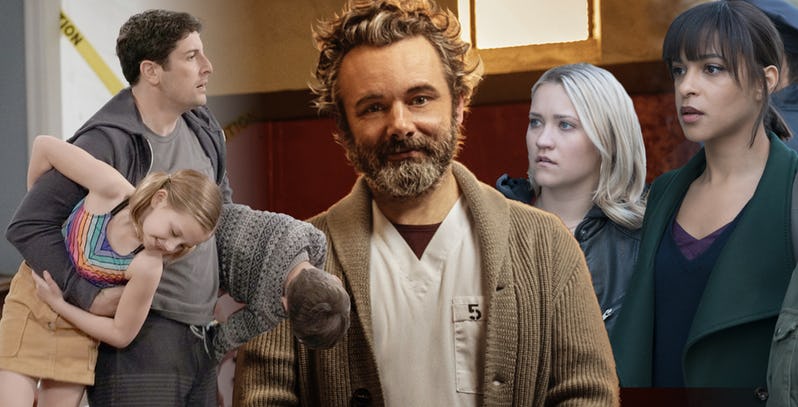 Disney may have acquired 21st Century Fox earlier this year and already started to build out it massive movie pipeline with its now increased line-up of films, but on the TV front, it appears as if it's business as usual, at least for now. One of the big focus areas for Disney late this year is the launch of their new Disney+ streaming service that is looking to compete with Netflix (along with their new wholly owned subsidiary Hulu).
As impressive as Disney's back catalogue is, they know that one of the big draws to both these services is going to be lots of new content and series and this is where Fox's impressive line-up of TV series will come in.  Fox on the other hand, is not going to wait until then as the company has just revealed a set of trailers for new shows that are coming out this year that all look equally impressive in their own right and proves that even if Disney leaves Fox well alone, they will still be very capable of making entertaining and engaging TV content.
The new shows are light on laughs and seem more focused on big drama, but still feature an impressive line-up of good actors and some series that are definitely worth watching. Below is a breakdown of all the new series coming our way this year:
PRODIGAL SON
PRODIGAL SON is a fresh take on a crime franchise with a provocative and outrageous lead character and a darkly comedic tone, from Emmy Award-nominated executive producers Greg Berlanti and Sarah Schechter ("Riverdale," "The Flash") and writers Chris Fedak ("Deception," "Chuck") and Sam Sklaver ("Deception," "Bored to Death"). The series stars Tom Payne ("The Walking Dead") as the son of a convicted serial killer (Emmy Award and Golden Globe nominee Michael Sheen, "Masters of Sex," "Frost/Nixon"), who has made hunting murderers his life's work. The series also stars Bellamy Young ("Scandal"), Emmy Award and Golden Globe nominee Lou Diamond Phillips ("Longmire," "Stand and Deliver"), Halston Sage (THE ORVILLE), Aurora Perrineau ("The Carmichael Show"), Frank Harts ("The Path") and Keiko Agena ("Dirty John").
NOT JUST ME
Executive producer Jason Katims ("Friday Night Lights," "Parenthood") and writer Annie Weisman ("About A Boy," "Desperate Housewives") bring you NOT JUST ME, the story of an unusual family formed through extreme odds, exploring such hot-button issues as identity, human connection and what it truly means to be a family. An only child (Brittany Snow, the "Pitch Perfect" franchise, "Crazy Ex-Girlfriend") finds her life turned upside down when her father (Academy Award winner Timothy Hutton, "American Crime," "Ordinary People") reveals that, over the course of his prize-winning career as a pioneering fertility doctor, he used his own sperm to conceive upwards of a hundred children, including two new sisters (Megalyn Echikunwoke, "The Following," "90210," and Emily Osment, "The Kominsky Method," "Young & Hungry"). As these three young women slowly embrace their new reality, they will attempt to form an untraditional bond as sisters, even as they must welcome a tidal wave of new siblings into their rapidly expanding family. The series also stars Mustafa Elzein ("Sequestered"), Mo McRae ("Big Little Lies," "Pitch") and Victoria Cartagena ("Manifest").
FILTHY RICH
FILTHY RICH is a southern Gothic family drama in which wealth, power and religion collide – with outrageously soapy results. When the patriarch (Emmy Award winner Gerald McRaney, "This Is Us," "24: Legacy") of a mega-rich Southern family, famed for creating a wildly successful Christian television network, dies in a plane crash, his wife (Emmy Award and Golden Globe nominee Kim Cattrall, "Sex and the City") and family are stunned to learn that he fathered three illegitimate children, all of whom are written into his will, threatening their family name and fortune. With monumental twists and turns, FILTHY RICH presents a world in which everyone has an ulterior motive – and no one is going down without a fight. From writer/director Tate Taylor ("Ma," "The Help," "The Girl on the Train"), the series also stars Melia Kreiling ("Tyrant"), Aubrey Dollar ("Battle Creek"), Corey Cott ("The Good Fight"), Benjamin Levy Aguilar ("Straight Outta Compton"), Mark L. Young ("We're The Millers") and Olivia Macklin ("LA to Vegas"), with Emmy Award nominee Steve Harris ("The Practice"). Kim Cattrall also serves as a producer on the series.
NEXT
From creator and executive producer Manny Coto ("24: Legacy") and executive producers and directors John Requa and Glenn Ficarra ("This Is Us"), neXt is a propulsive, fact-based thriller about the emergence of a deadly, rogue artificial intelligence that combines pulse-pounding action with a layered examination of how technology is invading our lives and transforming us in ways we don't yet understand. Starring Emmy Award nominee John Slattery ("Mad Men") as a Silicon Valley pioneer, who discovers that one of his own creations – a powerful A.I. – might spell global catastrophe, and teams up with a cybercrime agent (Fernanda Andrade, "The First") to fight a villain unlike anything we've ever seen – one whose greatest weapon against us is ourselves. The series also stars Michael Mosley ("Ozark"), Jason Butler Harner ("Ozark"), Eve Harlow ("Agents of S.H.I.E.L.D."), Aaron Moten ("Mozart in the Jungle"), Gerardo Celasco ("How to Get Away with Murder"), Elizabeth Cappucino ("Jessica Jones") and Evan Whitten (THE RESIDENT).
DEPUTY
From writer/executive producer Will Beall ("Aquaman," "Gangster Squad") and director/executive producer David Ayer ("Training Day," "End of Watch"), DEPUTY brings the spirit of a classic Western and a gritty authenticity to the modern cop drama. When the Los Angeles County's Sheriff dies, an arcane rule forged back in the Wild West thrusts the most unlikely man into the job: a fifth-generation lawman (Stephen Dorff, "True Detective"), more comfortable taking down bad guys than navigating a sea of politics, who won't rest until justice is served. DEPUTY also stars Yara Martinez ("Jane the Virgin," "True Detective"), Brian Van Holt ("Cougar Town"), Siena Goines ("Andi Mack"), Bex Taylor-Klaus ("Arrow"), Shane Paul McGhie ("What Men Want") and Mark Moses ("Mad Men").
OUTMATCHED
From writer/executive producer Lon Zimmet ("LA to Vegas"), and starring Jason Biggs ("Orange Is the New Black," the "American Pie" franchise) and Maggie Lawson ("Lethal Weapon," "Psych"), OUTMATCHED is a multi-camera family comedy about a blue-collar couple in Atlantic City trying to raise four kids – three of whom just happen to be certified geniuses. The series also stars Tisha Campbell-Martin ("Dr. Ken," "My Wife and Kids"), Jack Stanton ("The Mick"), Connor Kalopsis ("The Grinder"), Ashley Boettcher ("Lost in Oz") and Oakley Bull ("Beautiful Boy").
That is quite an impressive line-up of new shows and I'm especially keen to see Deputy and Prodigal Son and how they work out. Considering I am already behind on my current series backlog, the bigger question I guess is will I even find the time to watch all these shows.
Last Updated: May 15, 2019