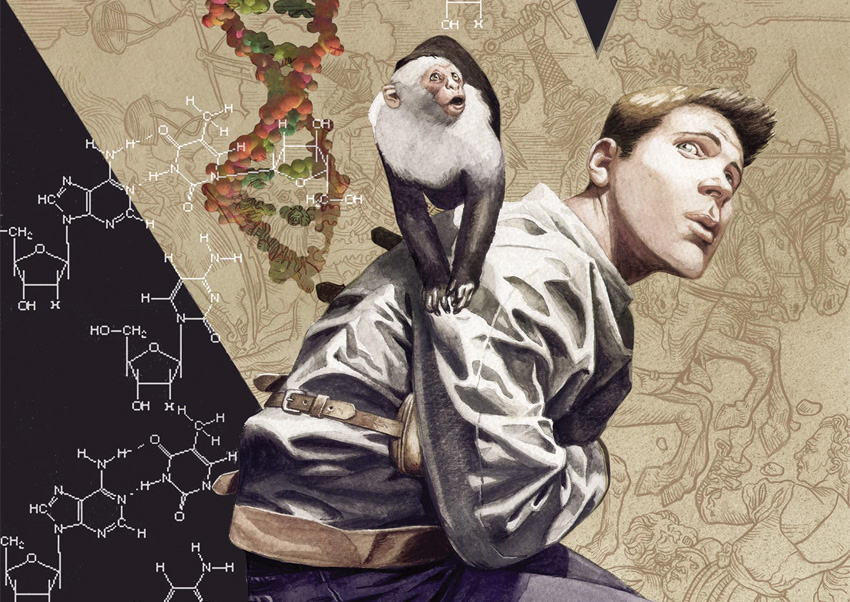 For the entirety of the six years and 60 issues for which it ran from 2002 to 2008, Y: The Last Man was arguably the very best all-around comic book on the market. And I would be the one doing that arguing, thank you very much. Created by superstar writer Brian K. Vaughn and artist Pia Guerra, the Vertigo comic book has won the Eisner Award for Best Continuing Series and was part of the batch of nominees for the very first Hugo Award for Best Graphic Story.
It told the tale of young amateur escape artist Yorick Brown, who – along with his pet capuchin monkey Ampersand – woke up one morning to find that all living mammals with a Y chromosome, including embryos and sperm, have inexplicably dropped dead around the world at exactly the same time. Yorick and Ampersand were officially the last surviving male mammals on Earth. The simultaneous deaths of the male population sends Earth into an apocalypse, first by their actions (planes crashing out of the sky, boats veering off course, etc. as the men controlling them died) and then as huge industries and global infrastructures collapsed.
Then comes the realisation that with no males to reproduce, humanity was doomed to die out. Except, for some unknown reason, there was Yorick whose genes somehow held the key to humanity's survival. With the help of a stern Secret Agent sent to find him and his sister by their US Congresswoman mother, Yorick needs to make a dangerous cross-country road trip to the scientists who can unlock the mystery of his DNA, all while having to avoid the bands of desperate and often dangerous women who are willing to kill to discover his secret.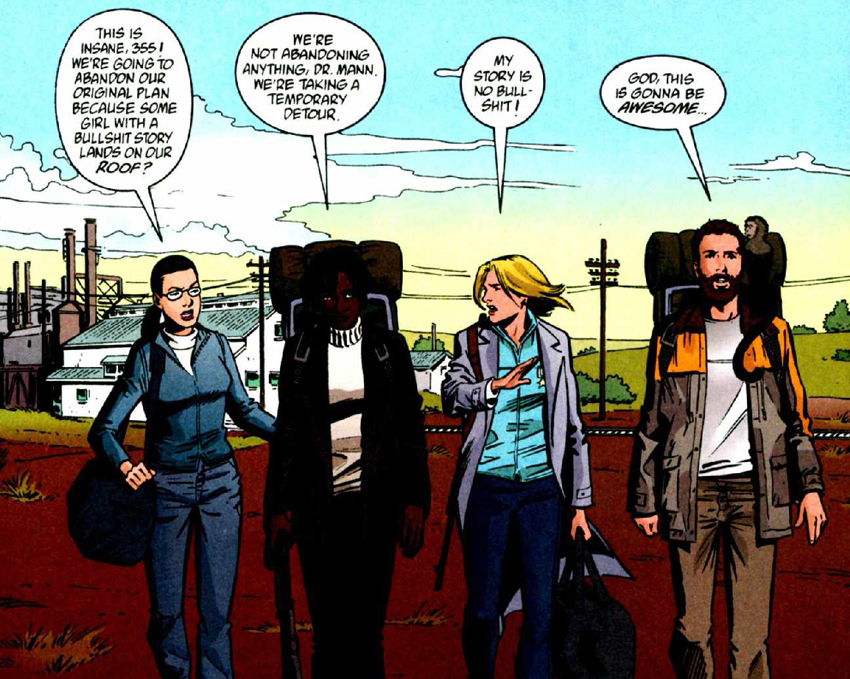 Besides for just being a damn good mystery with a great hook and plenty of thrilling action, Vaughn used Y: The Last Man to tackle social politics, gender inequalities, big scientific ideas, the secrets of US history, nature conservation and even some Shakespearean familial drama with all the wit, insight and staggering imagination that he is acclaimed for. In short, the book was a masterpiece. So of course Hollywood has been trying to bring it to screen for more than a decade now.
Up until now those efforts have all been a series of misfires and false starts, starting with director David Caruso and star Shia LaBeouf's long-running efforts to somehow adapt all 60 issues worth of story into a feature film run-time after New Line Cinema acquired the film rights in 2007. Caruso and LaBeouf would fail in their attempts and other filmmakers would follow suit and in 2014 the rights reverted back to Vaughn and Guerra. The next year though, we heard that FX was now interested in making a TV series adaptation – a way better medium given the original's long-form storytelling – but still there wasn't much else heard since then. So when news came out late last year that the US TV network had rounded up a cast and was shooting a pilot episode, I didn't pay it much attention. This would be just another misfire, right?
No, apparently wrong, as word came out last night during the Television Critics Association's annual winter press tour that FX has now placed a full series order for Y: The Last Man with a confirmed cast including Barry Keoghan (Dunkirk, The Killing of a Sacred Deer) as Yorick, Diane Lane (Man of Steel, Unfaithful) as his mother Senator Jennifer Brown, Imogen Poots (28 Weeks Later, Green Room) as Yorick's sister Hero Brown, and Lashana Lynch (Still Star-Crossed) as Agent 355. Michael Green, who became available following his departure from American Gods, will act as co-showrunner with Luke Cage and Jessica Jones writer/producer Aida Mashaka Croal. The first set pic from that pilot episode has also now been released by Keoghan as seen above, and while it doesn't really show us much other than Yorick's iconic raincoat to hide his identity, it does confirm that this is not just my fever dream and this is actually happening for real.
That doesn't mean we're getting to see the fruits of this long awaited labour right now though, as FX has billed the adaptation to only air sometime in 2020. We've waited this long though, so what's another year? After seeing how brilliantly (surprisingly so) FX adapted another comic book series in Legion, I'm really looking forward to seeing one of my favourite comic book stories of all time finally hitting the screen.
Last Updated: February 5, 2019