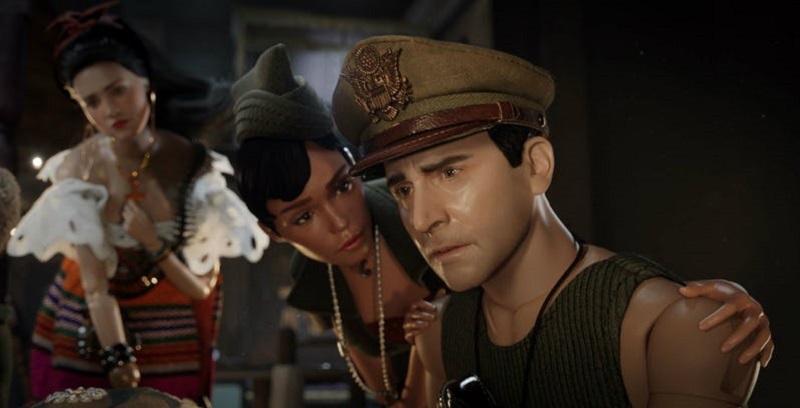 We all escape into our own hobbies and passions to help us feel better and deal with the nastiness of adult life. For many of our readers, its games, movies and books, but then you get people like Darryn who become a little too obsessed with their toys (Editor's note: They're collectibles, you savage). However, who's to say toys are any different in not only providing us entertainment, but also in imagining worlds and stories in much the same way as any other entertainment medium does.
Something which Welcome to Marwen is all about as it tells the true story of Mark Hogancamp (Steve Carrell), an artist who is brutally assaulted outside of a bar by a group of men and very nearly beaten to death. Although Mark manages to survive the attack, he is left with severe brain damage and few of his original memories intact. In an attempt to heal, Mark constructs a miniature WWII village (which he names Marwen) and fills it with figures that are modelled after himself and the women (Leslie Mann, Janelle Monae, Eiza Gonzalez and Gwendolin Christie) who've helped him through his recovery process.
What makes this movie so intriguing though is the excellent visual effects on display and some masterful creativity from Robert Zemeckis in incorporating the imaginary world of Marwen with the real word life and turmoil that Hogancamp is facing. The film promises to not only be an emotionally powerful one, but also a stunningly visual one as a result.
The trailer calls this movie the most original film of the year, something of an embellishment considering it's not an actual quote from anyone specific. Though based on the evidence of this trailer, it is still easy to understand why the studio has such high hopes for the film when it releases on December 21. Whether it has the necessary pulling power to beat off the likes of Aquaman and Mary Poppins when it comes to attracting audiences this Christmas season though remains to be seen.
However, for the five of you who like Darryn, are adults who find therapy in their toys, this is an absolute must-see.
Last Updated: November 30, 2018