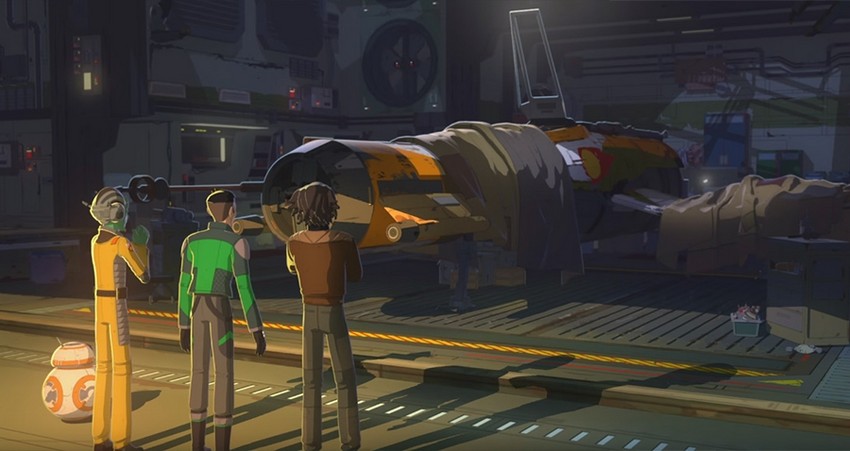 When it comes to Star Wars, the world's largest sci-fi franchise has been a bit divisive as of late. Well, at least where the latest movies are concerned. On the animated series side of things, we've had nothing but back-to-back fan-favourite awesomeness with Star Wars: The Clone Wars and Star Wars Rebels. Clone Wars will be returning to our screens next year to wrap up the story it left dangling back in 2014, but it won't be the only animated Star Wars adventure out there.
Star Wars Resistance was announced by creator Dave Filoni soon after he wrapped up Rebels earlier this year, and while the latter took place between Revenge of the Sith and A New Hope, Resistance will move the action ahead to the years leading up to The Force Awakens. As such, there'll be a familiar face as Oscar Isaac reprises his role as Poe Dameron, but it will be a different hotshot pilot, franchise newcomer Kazuda Xiono, who's the star here. Kazuda will need all his skills as he is recruited by the Resistance to spy on the First Order and uncover what they're up to.
And we got our first taste of that action and the series' anime-inspired cell-shaded visuals courtesy of the first trailer dropped online by Disney over the weekend. Check it out below!
Besides for Isaac's Poe Dameron, Gwendoline Christie will also be reprising her role as Captain Phasma, while Hawaii Five-O's Christopher Sean will voice Kazuda. Also in the voice cast will be Bobby Moynihan, Suzie McGrath, Scott Lawrence, Myrna Velasco, Josh Brener, Donald Faison, Jim Rash and Rachel Butera.
Star Wars Resistance is set to debut on Disney's upcoming streaming service. While an official launch date for the new platform has not been announced yet, we expect it launch sometime around October 2019.
Last Updated: August 20, 2018