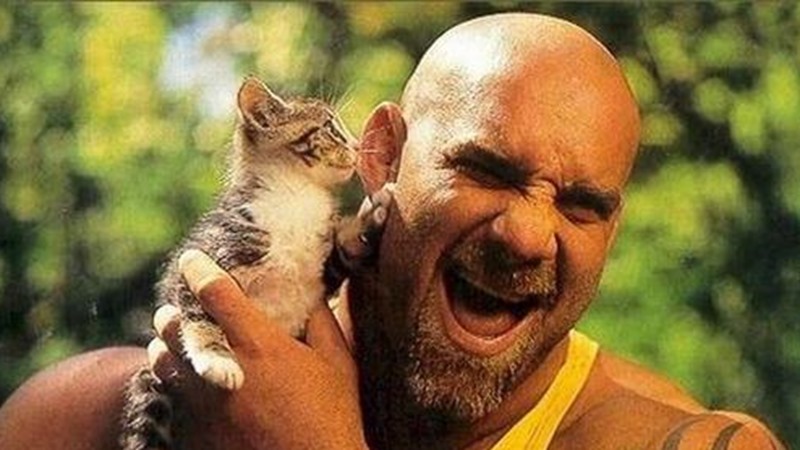 Bill Goldberg is what happens when you splice Bigfoot DNA with a Quake 2 console command for God-Mode into a T-1000 frame, toss it in a vat and wait for the flesh to grow around it before sending it back in time to kill John Connor and conquer the WCW. The wrestler had an amazing winning streak when he was at WCW, built off of a reputation for being massive and the fact that his actual in-ring skills weren't exactly polished enough to do anything more than viciously squash his competition during the early days.
That winning streak eventually came to an end when Kevin Nash pinned the Jackhammer suplex machine at Starrcade in 1998, thanks to some assistance from NWO brother Scott hall who disrupted Goldberg's kill matrix with an electrical jolt. This actually happened, because WRASSLIN'! Still, Goldberg's impressive streak of wins, which according to various WWE sources ranges anywhere from 173-0 and to whatever the symbol is for infinity.
Anyway, WCW folded, Goldberg hopped ship to WWE a few years later, got beaten up in real life by Chris Jericho and took part in the most boring match of all time since I tried to open up a jar of Bovril when he faced Brock Lesnar at Wrestlemania XX. Goldberg vanished, told the WWE to go suck some lemons and vowed to never ever be involved with the company ever again.
Until this morning when 2K Games and the WWE announced that he'll be popping up in WWE 2K17 as a pre-order bonus:
Apparently, there'll be two entire versions of Goldberg available in WWE 2K17, although there's no word yet if Gillberg will be making an appearance as well. It's not the first time that a star has been announced as a pre-order bonus in a WWE 2K game, although last year's carrot on the stick was none other than the Terminator himself, Arnold Schwarzenegger. Who was available in WWE 2K16 in his Skynet mode, from both the first and second films. WRASSLIN'!
WWE 2K17 is apparently out in October for the usual platforms. Hopefully this one builds on the platform that WWE 2K16 improved upon, because that game was actually rather damn good. WHO'S NEXT? SPEEEEEEEEEEAR!
Last Updated: May 31, 2016