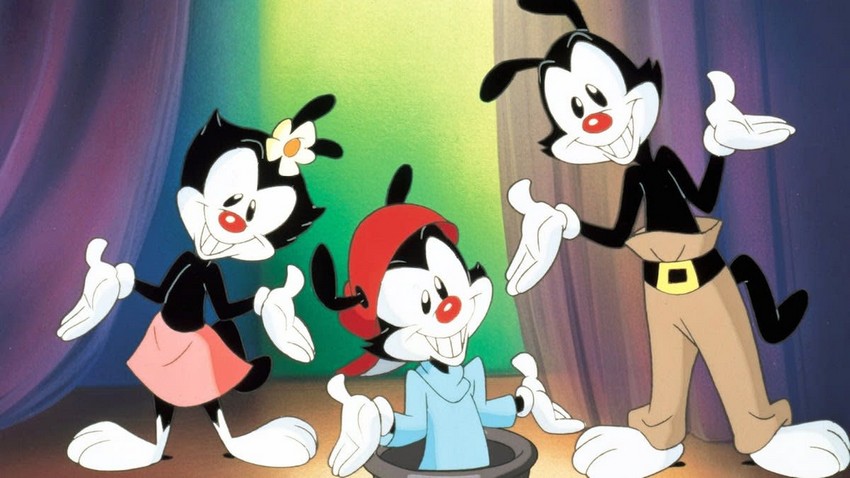 HELLOOOOOOOOO, NURSE!!! No, seriously. Call a nurse, because I am old. One of the advantages of my rapidly advancing years though, was that I was a youngster during what many consider to be the heyday of animated kids entertainment on TV. Among the numerous iconic cartoon shows that emerged during the late-1980s to mid-1990s, Warner Bros and Amblin Entertainment's Animaniacs was a firm favourite among many a kid, myself included. And now the zany adventures of Yacko, Wacko and Dot will be continuing as it's been announced (via THR) that Hulu will be reviving the beloved show!
For the youngsters out there, Animaniacs was a Peabody Award-winning and 8-time Emmy Award-winning animated variety show anchored by the previously mentioned mischievous Warner siblings, which featured numerous comedy sketches starring different characters. The show built on the legacy of the classic Looney Tunes cartoon series and its sequel Tiny Toons, and introduced a whole new generation of cartoon characters and sketch bits including favourites like Pinky and the Brain, Good Idea/Bad Idea, and Wheel of Morality, among others. The show was known for its wacky humour, including several subversive gags the not-so-innocent, totally-adult punchlines of which were only truly understood by many fans much later on in life.
According to the press release, Hulu have ordered two new seasons of the show which will start airing on the streaming service in 2020. Along with the new episodes, the entire current Animaniacs library and its spinoffs Pinky and the Brain, Pinky, Elmyra and the Brain, as well as Tiny Toon Adventures have been made available for viewing on Hulu as well with immediate effect.
Amblin founder Steven Spielberg – yes, that Steven Spielberg – will be exec producing the new Animaniacs show for Hulu, Warner Bros. Animation and Amblin Television and hoping "to bring more sketches, catchphrases, songs and laughs from the Animaniacs to kids and adults everywhere," acccording to Hulu Senior VP of Content Craig Erwich. The Hulu exec continued in an official statement, reiterating that Animaniacs will be joining the streaming platforms already strong animated lineup which includes Teen Titans Go, Curious George, The Powerpuff Girls, Doozers, Adventure Time, Doc McStuffins, Teenage Mutant Ninja Turtles and more.
Now one of the most beloved, inventive and funny animated franchises in history, Animaniacs and its cast of witty characters can live on, on Hulu. This marks yet another big move for us as we continue our efforts to be the No. 1 streaming destination for premium animated content.
AND THOSE ARE THE FACTS!
Last Updated: January 8, 2018