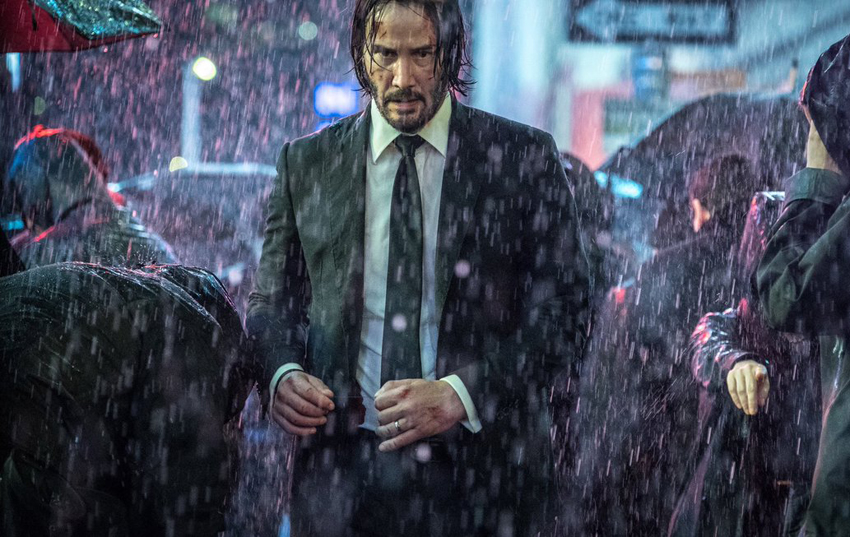 The problem with establishing yourself as the new gold standard when it comes to action-movie gunplay, is that you have to exceed or at the very least maintain that standard. That's what happened with John Wick, hence for the sequel we got longer shootouts and a crazy sprawling chase/fight across Rome. But how do you go from there to top yourself? It's simple. Dogs.
The story of Keanu Reeves' titular badass hitman started with a dog. Now in the upcoming John Wick: Chapter 3 – Parabellum, dogs play a bigger role than ever before thanks to a new character played by Halle Berry whose loyal canine companions are central to the threequel's big action scenes. We saw glimpses of this in the film's full trailer as Reeves' Wick and Berry's Sofia – an ex-assassin and good friend of Wick's – engaged a group of enemies with the dogs running and attacking right beside them.
And those are not computer generated dogs. No, they're very specially trained and bred live animals, who were custom picked for this very purpose as director Chad Stahelski explained to Collider:
When you see a dog attack on screen or in a film, the dog doesn't know it's a movie. It's an animal attacking a human in the mentality of 'I'm gonna bite and chew this person up.' So we wanted to find a trainer who was willing to take younger or adolescent animals or puppies and train them so that…the interaction with the stunt people was fun. It was a game. It wasn't life or death, it wasn't an animal protecting himself or anything like that. Lo and behold, we were able to find [Game of Throne wolf trainer Andrew Simpson] who was willing to go through that. We found these beautiful animals, five Belgian Malinois dogs, five Belgian shepherds, that all had above average intelligence and physical abilities. We actually had dog auditions for a couple months. Found them from all around the United States, brought them to Los Angeles, and for five months trained the dogs to do interactive stunts with stuntmen.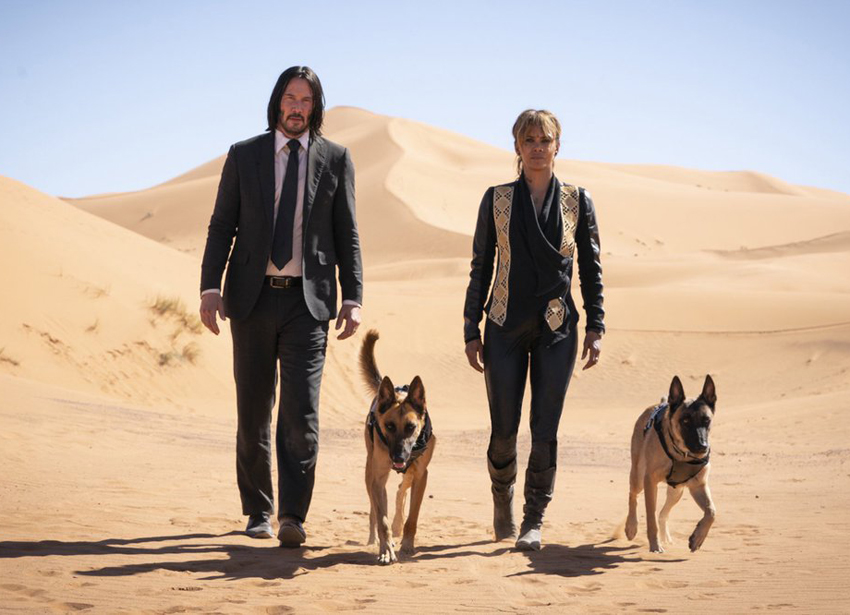 So how do you train a dog to think biting somebody is fun? Well, you make them green. The person being bitten, that is, not the dogs.
Process-wise, what's digitally removed is, the stunt guys put on a special kind of padding. It's colored green. It's almost a really bright green. The dog has been trained, "Go after the green toy. Don't bite anything but the green toy." So wherever the stunt man put the green toy, or our little green chewy toy, that's what the dog would go after. So if we wanted a groin hit, the stunt man would wear a velcro green on the groin. If it was forearm, it's on the forearm. Back on back. We'd come up with all these straps so the dog knew, "When I see green, get green." As long as you didn't wear green on set to work that day, you're doing great. So there was no green allowed on set for the crew…We'd do rehearsal, the doggy would pull off the velcro green chewy toy. He'd have to go in his quiet box. The dog would calm down, it was like a two-minute, 'Woo, okay. It's fun. It's good.' Then he'd come back in and do the second take. Once you realized what was best for the animals, the dog and the process of how to get the most takes and the most precise takes out of him, we just reverse engineered back how to put it into choreography. We wanted to show that in the movie. So just like our John Wick version where we don't cut a lot, we tried to do longer take that track with Halle and see the dogs actually doing it, so you know we didn't just cheat and do an insert of a dog chewing on something.
There was another way that this production didn't cheat when it came to that onscreen canine action. During those five months of special training it wasn't just the dog handler getting these Belgian shepherds ready. Instead, Stahelski had Berry pull double duty outside of her normal pre-production prep to be with the dogs and help to train them so that when it came time to shoot the movie, they would be her dogs doing what she told them to do.
We didn't want a trainer hiding behind a set piece or a prop or something like that. We wanted Halle—or, Sophia, our character—to be our on-screen dog trainer. So it wasn't acting like these were her dogs, these actually were her dogs. When we cast Halle we had the big talk. Halle actually came, after all her fight rehearsals and gun rehearsals, she would go sit, and work, and play with the dogs for months on end so the dogs on-screen actually obey Halle. They're not looking at a trainer. That was really fun.
Stahelski continued explaining how, just like with John Wick, these canines play a very important role in the actual story of Sofia.
The puppy in the first movie, was symbolic of his wife and his loss, the dogs in Parabellum are symbolic of someone that Halle has lost. That's our tie in. Rather than being passive like a puppy, these dogs are a little more active in the storyline.
You can see just how dog's are a hitman's best friend when John Wick: Chapter 3 – Parabellum shoots its way onscreen on 17 May 2019.
Last Updated: January 23, 2019