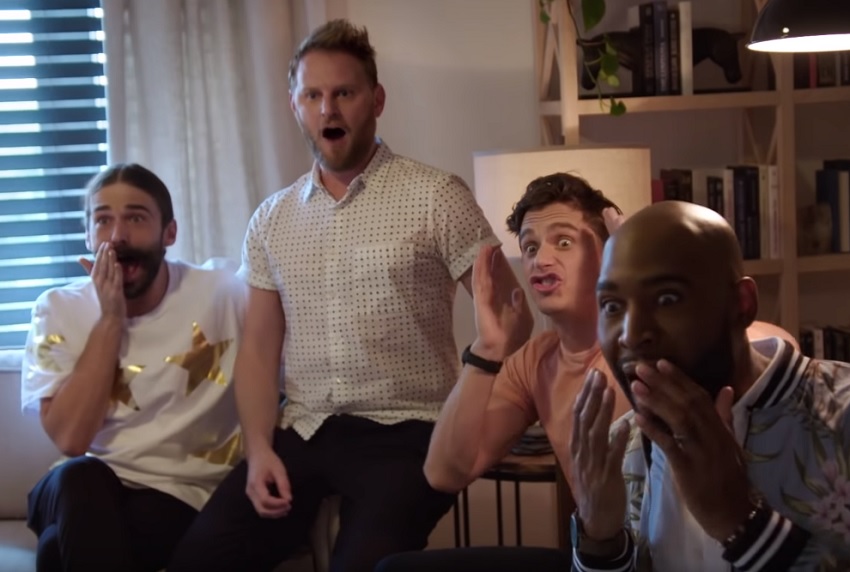 While in between shows last year I was idly browsing through Netflix looking for something to watch and came across this Queer Eye show, which I vaguely knew of as a makeover series with a bunch of gay guys. On a whim I decided to watch an episode to see what it was all about, and then proceeded to binge the hell out of both seasons in the space of a week because it's amazing. I was blown away by just how positive, hopeful, and life-affirming it was, and it was the perfect tonic after a long, grinding day at the office.
For those who don't know, the show began its life on the Bravo network in the US as Queer Eye for the Straight Guy, and ran for five seasons between 2003 and 2007. Five gay men known as the 'Fab Five' – experts in fashion, grooming, design, food, and culture – would makeover some hapless straight guy, improving upon every aspect of his life. In its third season the title was shortened to Queer Eye, which allowed for the show to tackle a variety of individuals, not just straight men.
The show was revived by Netflix in 2018 with a new 'Fab Five' consisting of Antoni Porowski (food), Bobby Berk (design), Jonathan Van Ness (grooming), Karamo Brown (culture), and Tan France (fashion). It also shifted the series from New York City to the American Midwest, specifically Atlanta, Georgia and its surrounding towns, which I imagine was a bit of a culture shock for all involved as it's traditionally a more conservative part of the US.
All of this was a long way for me to get to the point, which is that the third season of the Emmy-award winning series (for best structured reality show, best cast, and best editing in 2018) is nearly upon us and that Netflix have just released the official trailer. The third season will shift its primary location from Atlanta, Georgia to Kansas City, Missouri, but as you'll now see they're still helping a diverse array of people become their best selves:
Queer Eye's third season will premiere on Netflix on 15 March and I for one can't wait, how about you?
Last Updated: March 5, 2019