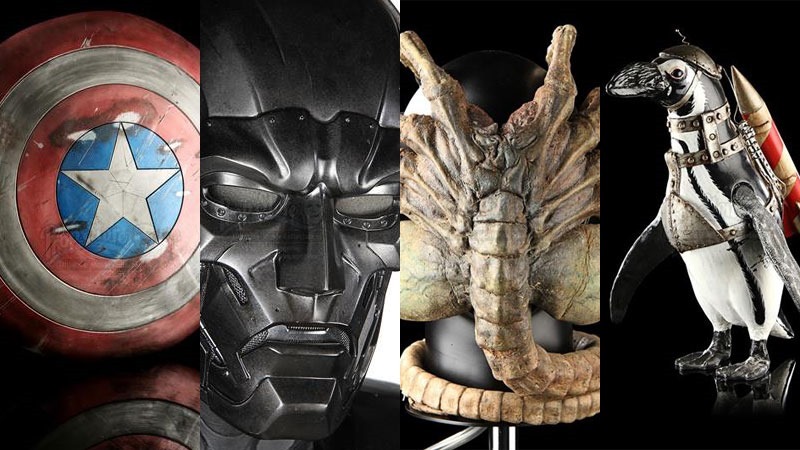 It's not enough to just love a movie. To know every line, the names of the crew who were responsible for the bestest of grips and just how much money was spent on keeping the late great Dennis Hopper sober enough to film a few scenes. That's all great, but actually owning a piece of film history? Now that's some expensive dedication.
It used to be that props from movies were casually discarded and given away to fans as tokens of appreciation. These days though? Everything on a film set has value, from clappers to the promotional underwear that the crew wore while filming under the Tunisian sun for the first Star Wars movie. And Hollywood is ready to have a yard sale with all of these goodies.
Remember when I mentioned one of the original batsuits being up for sale? That was just the tip of the iceberg, as the Prop Store of London readies for the mother of all auctions. Here's a list of stuff that I want from it, because Christmas is around the corner yo:
Help friends overcome their fear of cunning linguists with this piece of nightmare fuel.
Listen, penguins may be the most terrible animals on this planet, but at least Danny DeVito made them useful in Batman Returns.
Knowing Mel Gibson, this blade has probably drawn actual blood, and it's also roughly the size of four mes.
Dress for the job you want, not the one you have. That's what my mother always told me and mother always knows best.
For the love of Spielberg, do not get this prop wet.
Talk about your Sunday best clothing.
There's a very high chance that I'll max out several credit cards just so that I can bust into the office and declare that there can be only one.
Step one towards my goal of creating the South African Jaeger Rugby P-Klap involves at least looking like a capable pilot that is drift-compatible.
AMERICA, F*** YEAH!
And that's just for starters. There is so, so much more stuff that I want and am more than ready to sink into massive amounts of debt for. How much do organs go for lately by the way? And also, don't disturb Matty. Sleeping in a bathtub full of ice is how he relaxes, so just leave him be and ignore the fresh stitches on his side.
Last Updated: September 14, 2016