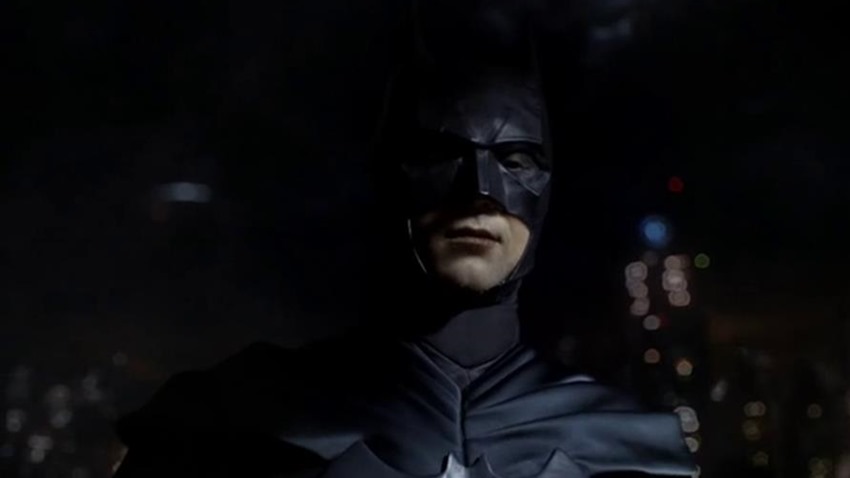 Quick confession: I've never watched Gotham, but I'm still planning to do so because I'm keen to do a proper binge on it because I hear it's madder than a bag of screws. For the uninitiated, Gotham isn't just about the rise of Bruce Wayne and how one awful night sets him on a path to become a symbol of justice. It's also about the villains of Gotham, their rise and fall in a vicious struggle to take over the city while new cop on the block Jim Gordon finds himself caught in the crossfire.
Gotham was always running on a finite clock, with an endgame that would eventually culminate in Batman making his appearance. And ye gods, does he look bad: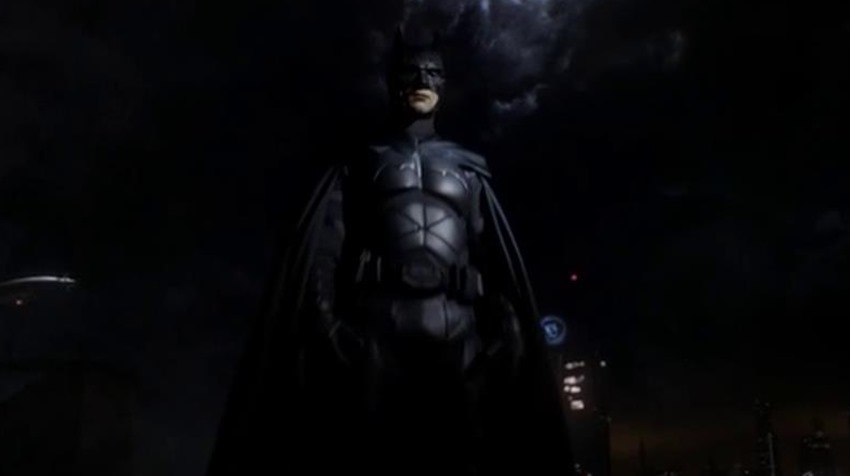 What the hell is that even? The final shot of Gotham's finale, is one of Bruce Wayne all grown up and suited up. The Joker has made his appearance (with some sick scars and wispy strands of hair), Jim Gordon has gotten a promotion and Catwoman is on the prowl. I mean, I think that's Batman? Or it could be a guy in hockey pads.
Point is, that looks bargain basement at best. There's a ton of stuff I'm hating on this suit: It can't decide if it wants to be sleek or armoured. What is there, looks horribly segmented and thanks to Kervyn I can't unsee the fact that the stomach looks like a plastic pizza that is waiting to be eaten. The cape looks like somebody carved up a black dining room table cover, the cowl is stupidly massive and the behind the scenes photos make it look even worse:
Maybe I'm being too critical, and to be fair, this is a costume which works best in the shadows when it can cast a decent silhouette. After all, this costume is barely seen in the light, and the shot is brief at best. Fair points, but c'mon: It's Batman we're talking about here. This is supposed to be the money shot of Gotham, the sum total of five seasons of character development that ends with the dark knight cementing his legend in a year that celebrates 80 years of caped crusader action.
For a television show, you'd think that there'd be some budget to splash out on a decent Batsuit. I mean, just take a look at Cosplay Chris's latest Batman costume, which is built on the Justice League and Batman V Superman designs:
That suit you see there? That's most likely in the ballpark of around $3000 I'd bet, knowing my sellers on the Batman forums. A crapload of cash, make no mistake, but something that a TV budget should be able to easily cover. Heck, for even half the budget, you could have picked up a UD Replicas motorcycle leather replica and told the costume department to make a few alterations so that it could look better. Hell, for even less than that, you could create something which still looks the part with a little bit of upholstery foam and screen-printing.
I should know, because I'm doing just that for my own Comic Con cosplay. Shameless plug, hooooooooo:
Am I raging over something inconsequential in the grand scheme of things? Absolutely, but dammit I don't care. On the plus side, we've got a benchmark for the worst Batman costume decision ever, that has finally dethroned the choice to add rubber nipples to the otherwise superb Panther suits from Batman Forever.
Last Updated: May 13, 2019