A number of big name cinema releases from last year – in addition to the usual little-known circuit skippers – are coming to DVD this month, courtesy of Ster Kinekor Entertainment. These include an all-star remake of a classic Western, a controversial animated comedy and a documentary about South Africa's master satirist. Here's what January DVDs you can snatch up for your home collection now. Oh, and look for more DVD reviews from us in the coming days.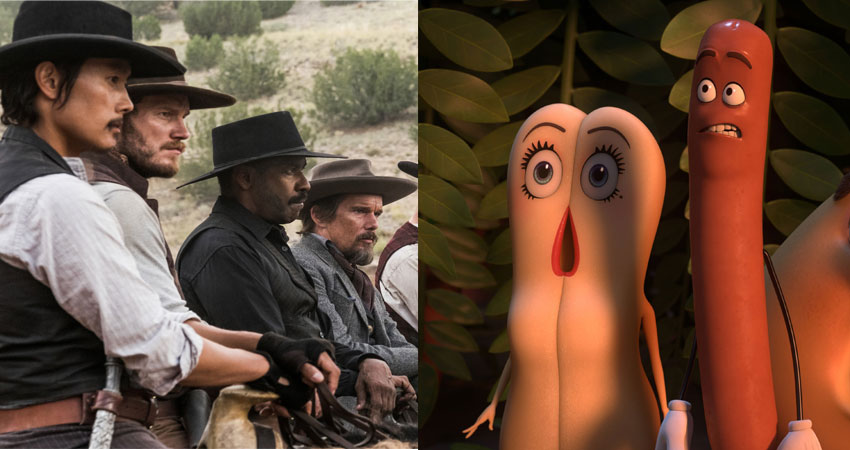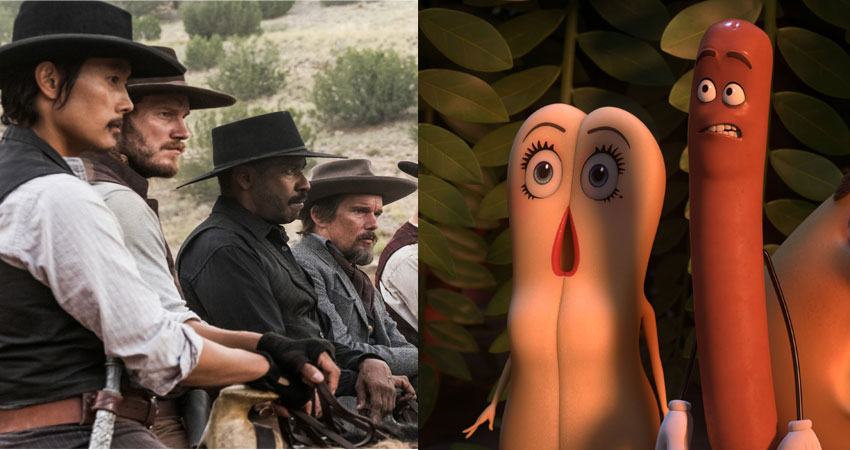 The Magnificent Seven
Genre: Action, Adventure, Western
Age Restriction: 16V
A remake of the 1960 Western classic. An Old West town is besieged by industrialist, Bartholomew Bogue (Peter Sarsgaard), forcing the desperate residents to hire the services of seven gun men, headed by bounty hunter, Sam Chisolm (Denzel Washington). The ragtag outlaws set about preparing for a violent altercation with savage thieves during which time they find themselves fighting for much more than just money.

Also starring Chris Pratt, Ethan Hawke, Vincent D'Onofrio, Byung-hun Lee.
The Magnificent Seven didn't exactly blow away critics on release. Apparently it's an entertaining action movie, but that's pretty much it. Unlike its namesake, it certainly won't stand as a timeless classic that revives the Western genre. It does its job as a fun blockbuster, but its aspirations end there.
Critical Hit: 7/10
Rotten Tomatoes: 63%
Metacritic: 54
Sausage Party
Genre: Adventure, Comedy
Age Restriction: 16LS
Frank is a sausage, whose peaceful existence among various groceries in a supermarket is interrupted when he and his friends are picked by a customer. Once a life goal, they soon discover the disturbing truth when the woman takes them home to prepare a meal. Faced with torture and death, he and his buddies hatch a plan to escape.

With the voices of Seth Rogen, Kristen Wiig, Jonah Hill, Bill Hader, Michael Cera, James Franco, Paul Rudd and many more.
Despite controversy regarding the treatment of its animators, Sausage Party has been well received critically and commercially. It's the most profitable R-rated animated movie of all time. Not for the easily offended, but if you can handle lowbrow and stupid humour, it's apparently a raucously good time.
Rotten Tomatoes: 83%
Metacritic: 66
Cafe Society
Genre: Comedy, Drama, Romance
Age Restriction: 10 – 12 PGV
Set in the 1930s, Bobby (Jesse Eisenberg), a young man from the Bronx finds himself in Hollywood with a little help from his powerful uncle Phil (Steve Carell), an agent to the likes of Ginger Rogers and Fred Astaire. He meets and falls for Vonnie (Kristen Stewart), his uncle's beautiful secretary, before returning to New York where he immerses himself in the razzle-dazzle of high society night club life.
Cafe Society is the latest from writer-director Woody Allen. As usual, it's unlikely to convert non-fans of the filmmaker, who may find the movie talky and boring. However, converts will probably consider it beautifully shot and charming.
Rotten Tomatoes: 70%
Metacritic: 64
Nobody's Died Laughing
Genre: Documentary
Age Restriction: 7 – 9 PGL
In Nobody's Died Laughing a film crew tries to keep up with one of the hardest working artists in South Africa on a journey from Cape Town, Johannesburg, Grahamstown, Stellenbosch to London, Berlin and his home in Darling. The film takes a closer look at the man behind all the famous characters, the humanitarian and his educational AIDS awareness work for which he has received international acclaim.

The film also includes never before seen archive footage, performances and interviews with Desmond Tutu, Charlize Theron, Lizz Meiring, Anna-Mart van der Merwe, FW De Klerk, Janet Suzman, Thoko Ntshinga, David Kramer, Zolani Mahola, Vincent Ebrahim, Professor David Gere, Eric Abraham, Sophia Loren, Jonathan Shapiro and many more, with footage of Tessa Uys and Nelson Mandela.
Nobody's Died Laughing is a definitely a documentary with niche appeal, but South African reviewers have praised it for being an insightful, poignant and dynamic look at one of the country's most iconic entertainers.
Life on the Line
Genre: Action
Age Restriction: 13LV
Life on the Line is an action thriller and family drama centered on Beau (John Travolta), his beloved niece Bailey (Kate Bosworth) and the hardworking men who risk their lives to work "on the line" and keep the electric grid running. These unsung heroes brave raging storms and dangerously dizzying heights in their dedication to keeping the populace safe. Toiling hundreds of feet in the air on wires carrying as much as 500,000 volts of electricity, tragedy is often inches away.
With Sharon Stone, Devon Sawa and Gil Bellows joining Travolta and Bosworth, Life on the Line doesn't have a bad cast. However, the movie is riddled with cliches, and ultimately feels like a painted-by-numbers TV movie.
Rotten Tomatoes: 0%, OUCH!
Metacritic: 24
The Meddler
Genre: Comedy, Drama
Age Restriction: PG
Marnie (Susan Sarandon), a lonely and heartbroken widow, moves across America from New York City to Los Angeles to be closer to her daughter, Lori (Rose Byrne), following the death of her husband. Relocating in the hope of starting a brand new chapter, she begins interfering with Lori's life, only to meet a number of people who are in need of her special skill set.
The Meddler's plot synopsis may provoke eye rolls, but apparently the movie is delightful – if you enjoy this kind of indie comedy drama. It's been called a moving character study that explores the topics of grief and family with surprising authenticity. Sarandon is in top form.
Rotten Tomatoes: 84%
Metacritic: 68
Genius
Genre: Drama, Biography
Age Restriction: PG
When, one day of 1929, writer Thomas Wolfe (Jude Law), decided to keep the appointment made by Max Perkins (Colin Firth), editor at Scribner's, he had no illusions: his manuscript would be turned down as had invariably been the case. But, to his happy amazement, his novel, which was to become "Look Homeward, Angel", was accepted for publication. The only trouble was that it was overlong (5,000 pages) and had to be reduced. Although reluctant to see his poetic prose trimmed, Wolfe agreed and helped by Perkins, who had become a true friend, managed to cut 90,000 words from the book, with the result that it instantly became a favorite with the critics and best seller.
Genius features serious power players behind and before the camera. Nicole Kidman, Laura Linney, Guy Pearce and Dominic West are all in the cast, playing pioneering figures of 20th Century American literature. However, all the talent can't save the movie from feeling like inconsistent and ham-fisted awards bait.
Rotten Tomatoes: 51%
Metacritic: 56
Last Updated: February 7, 2017