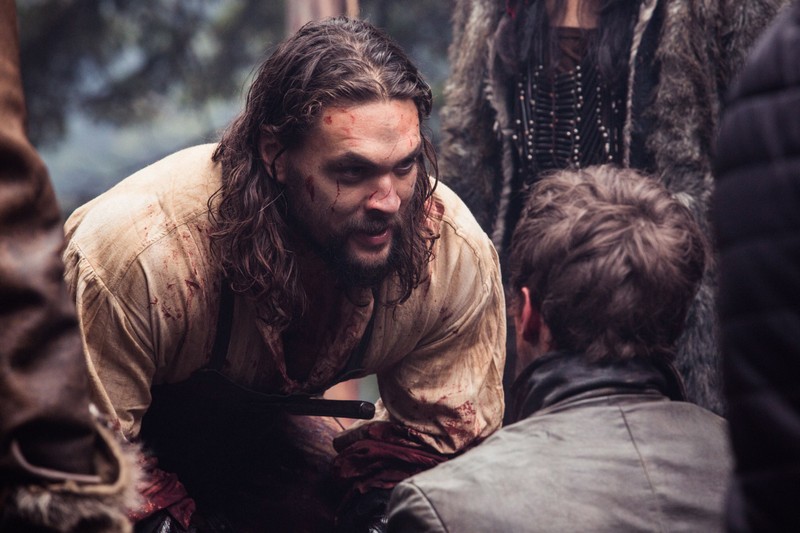 I don't mean to go all hipster on you guys, but I totally thought Jason Momoa was a badass long before he was a mainstream badass. Okay maybe not in his Baywatch days, but I'm talking about his time as wild man Ronan Dex in Stargate Atlantis. As smooth as he can be, Momoa has always had a feral streak to him, a characteristic that saw to him blowing up as the throat-ripping Khal Drogo in Game of Thrones, and soon to be seen as the most badass Aquaman ever in Justice League (somewhere in the middle there he was even a new Conan and got into a fireman's axe fight with Sylvester Stallone).
So I guess it is a bit of typecasting to see Momoa playing Declan Harp, yet another wild man bucking the trend of civilization in the upcoming Netflix series Frontier. But I guess when you're this good at something… So good in fact, that not only do we know he's a brutal badass, but even the other characters in the show know it as well, as they spend most of this first trailer for Frontier telling us all about just how bad his ass really is. We don't get much idea of story or why characters are actually doing what they're doing, but you're damned well know that somebody's getting hurt real bad and it ain't Declan Harp.
Check out the trailer below.
Frontier is an action-packed adventure drama following the chaotic and violent struggle to control wealth and power in the North American fur trade in the late 18th century. Told from multiple perspectives, the series takes place in a world where business negotiations might be resolved with close-quarter hatchet fights, and where delicate relations between Native tribes and Europeans can spark bloody conflicts.
Frontier (which has already been renewed for a second season) debuts on Netflix on January 20, 2017.
Last Updated: January 10, 2017