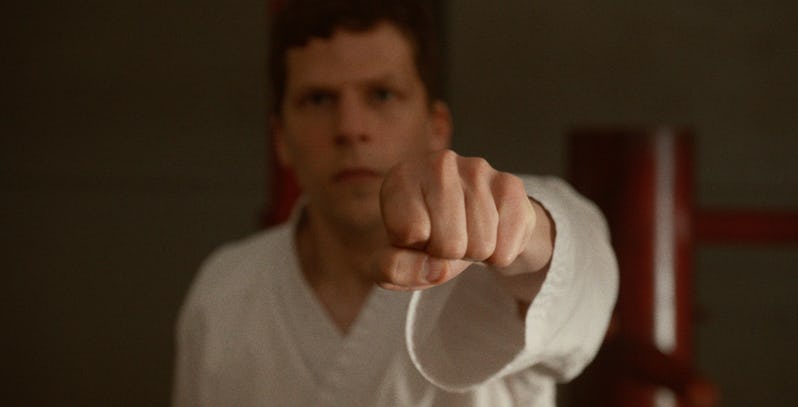 If there is one thing that karate kid taught me, its that karate makes you a better person. Not that I ever learnt karate after watching the movie as I was too lazy and preferred non-contact sports instead, but the idea still stands. Something which Jesse Eisenberg's character Casey, a timid bookkeeper, believes in this new dark-comedy The Art of Self-Defense (yes, I stuck with the painful American spelling for the movie) as he tries to overcome his fears and toughen up after being attacked one night by a motorcycle gang.
Self-confidence ends up having some dangerous consequences as his willingness to copy every aspect of his charismatic sensei (Alessandro Nivola) and determined brown belt Anna's (Imogen Poots) lives, leads him towards toxic masculinity. It's a film, that according to attendees at least months SXSW film festival (where it made its premiere) is both equally insightful and funny at the same time:
It's not always clear exactly what is going on in this trailer, but it certainly does give off an air of some form of light-hearted Fight Club. It looks like it could be equally as violent, features something dark and sinister going on in the background that you are not immediately aware of and has a main character with two contrasting lives. Whether the film can pull all of that off though, and still be funny, is something that we will have to wait and see. The role of Casey though does appear to be a perfect fit for Eisenberg who plays the emotionally fragile character with obvious comfort and makes for some awkward tough guy attempts as well.
The Art of Self-Defense is written and directed by Riley Stearns and is expected to get a limited release in the US on July 12th. There are no plans for local release dates just yet, though, given its small budget nature, this may be one that we see heading to streaming service rather than the cinema screens.
Last Updated: May 27, 2019