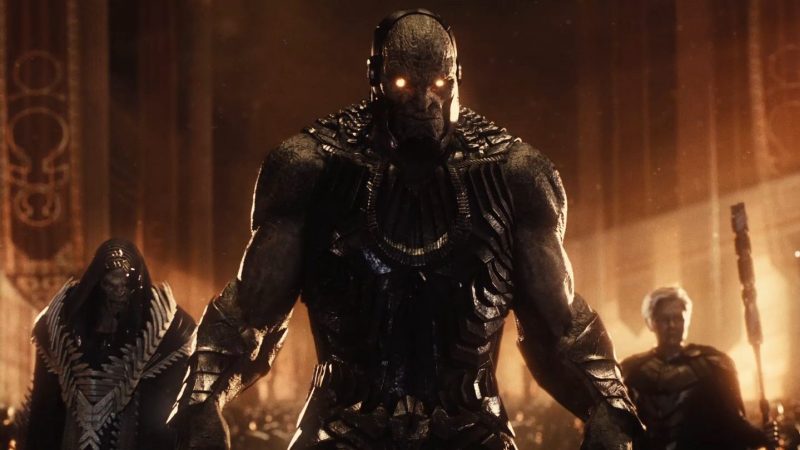 With its four-hour running time doubling that of its 2017 theatrical release, clearly Zack Snyder's Justice League re-release will have a ton of new stuff to see. And following a series of short teasers last week, we now get to see a whole bunch of these additional scenes in a newly released trailer.
We get to see how the death of Henry Cavill's Superman in Batman v Superman was the sign that Ciaran Hinds' Steppenwolf – rocking his spiky new CGI makeover – needed to try this whole invasion thing. We also get a full-colour version of Jared Leto's new look Joker, and finally get the introduction of Kiersey Clemons' Iris West that had been left out completely before. There are some extra sequences with the Amazons, the debut of Darkseid's court, additional action beats, and more. For me though, the kicker is our first proper look at the biggest baddest god of evil the DC universe has ever seen with Darkseid (portrayed by Ray Porter) stepping on the scene. And damn, he really is a big bad dude!
Check it out below!
Fueled by his restored faith in humanity and inspired by Superman's selfless act, Bruce Wayne enlists newfound ally Diana Prince to face an even greater threat. Together, Batman and Wonder Woman work quickly to recruit a team to stand against this newly awakened enemy. Despite the formation of an unprecedented league of heroes — Batman, Wonder Woman, Aquaman, Cyborg and the Flash — it may be too late to save the planet from an assault of catastrophic proportions.
Oh and in case you watched the trailer above full screen and was wondering about the black bars on the side, it's been confirmed that Snyder shot this film with a 4:3 aspect ratio. This isn't some throwback to the 1990s or anything, but rather Snyder intended to utilize the full IMAX screen which is actually square. Usually film shot in the more modern widescreen ratios play with black bars on the top and bottom of the screen. Snyder wanted it the other way around, I guess.
Zack Snyder's Justice League also stars Ben Affleck, Gal Gadot, Ezra Miller, Jason Momoa, Amy Adams, Willem Dafoe, Jesse Eisenberg, Jeremy Irons, Diane Lane, Connie Nielsen, and J. K. Simmons. It will debut on HBO Max in the US on 18 March 2021. International regions will be getting the film released on either HBO (if available locally) or regional broadcast partners. Unfortunately, there's still no word yet on an official South African release, but we're still holding out hope that Showmax can bring it in after you spoke to them.
Last Updated: February 14, 2021