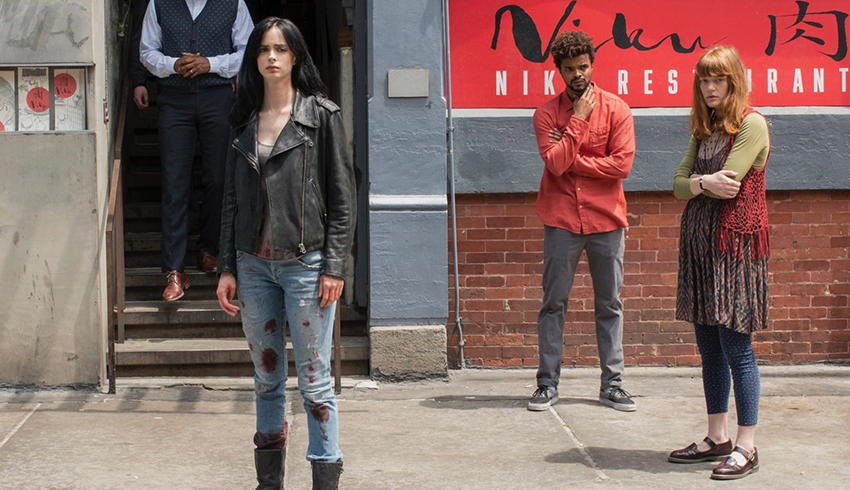 I absolutely loved the first season of Marvel's Jessica Jones on Netflix. Krysten Ritter's snarky and surly, permanently semi-drunk private eye with super strength was the just right amount of bristling to be endearing, and in David Tennant's Killgrave aka The Purple Man we had one of the best villains to ever exist in the MCU. On top of that, the show had some serious depth as not just a superhero drama, but also an examination of issues of rape and female disenfranchisement. And since the last trailer for the upcoming season two of the show basically only showed on out of three of those aspects, I wasn't too chuffed about it.
Now we have a new trailer and it… Well, it's pretty much doing the same thing. At least this time around the one thing it does show – Ritter at her surly best – it shows really damn well. I'm still not quite feeling this origin story angle (hopefully, there's more depth to it than just what we've seen) and three trailers in now and I still have no clue who the actual baddie is here (is it random headshot dude at the tail end of this trailer?).
So yes, I have some reservations, but that still doesn't mean that I'm not stoked to see this. Marvel's Netflix shows in which there's nobody named Iron Fist have all ranged from reasonably good to great, so I have some faith.
New York City private investigator Jessica Jones (Krysten Ritter) is beginning to put her life back together after murdering her tormenter, Kilgrave. Now known throughout the city as a super-powered killer, a new case makes her reluctantly confront who she really is while digging deeper into her past to explore the reasons why.
Jessica Jones' second season also sees the return of Rachael Taylor as Patricia "Trish" Walker, Carrie-Anne Moss as Jeri Hogarth, and Eka Darville as Malcolm Ducass, while new cast members include Janet McTeer and J.R. Ramirez. The 13-episode second season of Jessica Jones will premiere on Netflix on 8 March.
Last Updated: February 22, 2018