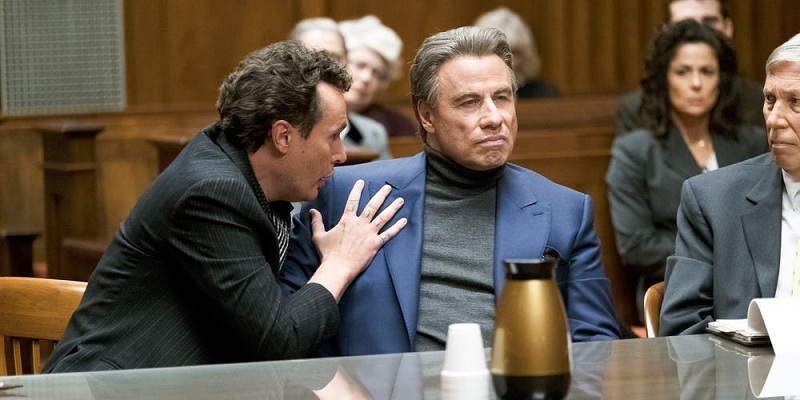 John Travolta was once the biggest star in Hollywood. Admittedly that was a long time ago, but the extent to which his career has fallen is still nonetheless tragic. Much like Nicholas Cage, it just seems that almost every movie he stars in is a farce and you almost wonder if the actor has any bright future in Hollywood anymore. Things were looking promising when his new upcoming film, Gotti, which sees Travolta play the powerful John Gotti looked like a solid return to form for the actor who appeared to put in a strong performance playing the charismatic and flamboyant mobster. Except, it appears as it wasn't that good after all as the studio, Lionsgate has dropped it from their release slate completely m – only a few weeks away from the films actual planned release date.
According to a report by The Tracking Board Lionsgate has sold the ownership of the film back to its producers who are now going to look for a new distribution partner for 2018. The report does not indicate exactly why the film was dropped, but it is likely because it is probably not as good as the studio as hoped or that, especially considering the current pressure around Hollywood at the moment, some allegations have come up which the studio felt they couldn't support. Or they forgot he was into Scientology and quickly backed out of it all. It's all pure speculation though as there has been no official news on anything related to the matter, though if there is, we will likely hear so soon.
The film, directed by Kevin Connelly, was supposed to be the most in-depth view of the life of Gotti that we have yet seen in a movie and also stars Travolta's wife Kelly Preston as Victoria Gotti, the wife of the mob boss who turned into a reality TV star, alongside William DeMeo as Sammy "Bull" Gravano, the mob underboss who ultimately turned on Gotti and eventually brought about his conviction.
Mafia stories are normally a huge winner for both critics and cinema-goers, but it seems even this genre can't resurrect Travolta's career. Hopefully if the film is any good, we may eventually get a chance to see it sometime in the future.
Last Updated: December 6, 2017