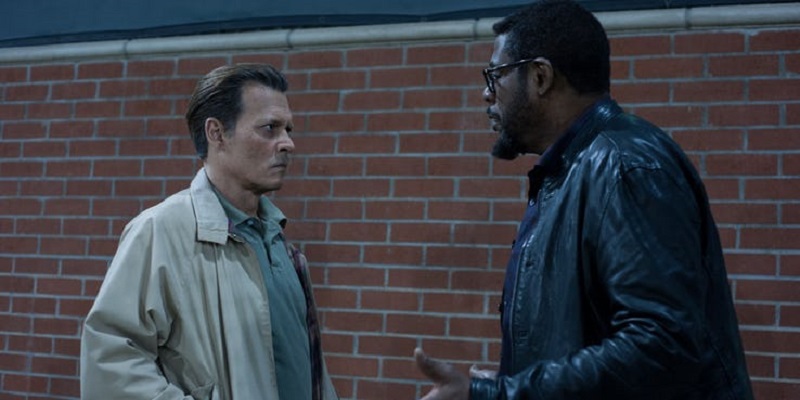 When a movie gets pulled from release, there are normally only so many reasons for a studio to do so. Either the studio is eyeing another release date, have some age classification challenges, there are some legal issues around the film or one of its stars or the movie is really, really bad. Unfortunately, it's normally the latter, as we saw in John Travolta's recent flop Gotti which was pulled from a wide release as a result of sucking as badly as it did.
It appears another big star's film is in the firing line as Entertainment Weekly is reporting that Johnny Depp's upcoming movie about the murder of iconic rapper Christopher Wallace, a.k.a. Notorious B.I.G, City of Lies has been pulled from release about a month before it was supposed to hit theatres. No official reason has been given from distributor Global Road for this Brad Furman directed film. It makes the news perhaps even more suspicious and likely that they are trying to avoid some form of PR backlash over the film.
Normally if there are good reasons for a studio moving a movie out, like finding a more suitable release date they would follow it up immediately with a press release. To drop a movie and stay silent is normally a sign that things are not going so well. Granted Jonny Depp is no angel and has been in a couple of legal battles over the years for his bad behaviour, most recently against a location manager on the set of this movie, but it is unlikely that this would hold up the release of a movie, especially considering the other Johnny Depp vehicle Fantastic Beasts: The Crimes of Grindelwald is unaffected (at least that we know of).
Until there are any official announcements by the distributor itself, we can only speculate at this point, though the decision to pull the movie from release is a disappointing one for all those involved in the film (including Forest Whitaker). Considering this movie was set to deal with the controversy around Notorious B.I.G's murder investigation, it's one which many fans would've probably wanted to see as well. If it really is that bad, it'll likely eventually get a straight to home release in the near future or perhaps just descend into infamy of a movie that never was. Or become a massive cult movie/drinking game and live on for eternity. It will be interesting to see what happens to City of Lies next.
Last Updated: August 7, 2018