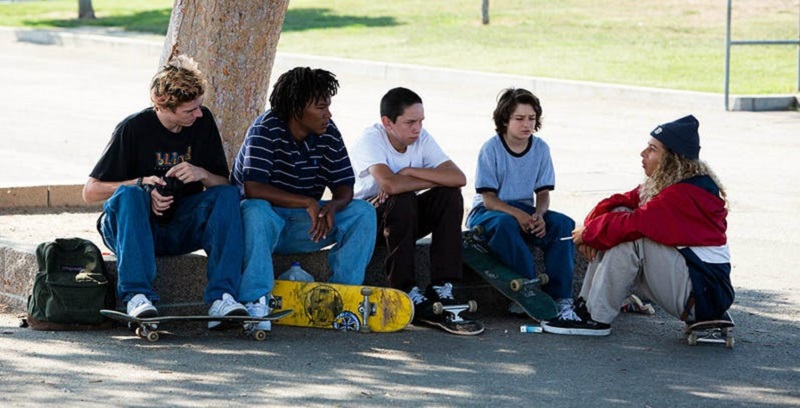 As someone who experienced their teenage years in the 90s, I can relate to aimless, wasted days spent listening to music, talking trash and doing nothing other than riding on your skateboard. Hang on. Scrap that. This wasn't my childhood. I sucked at skateboarding and had things like homework, chores, video games, books and sports to keep me company instead. Why do the movies always try and make you feel bad about your life?
I guess, still for many this was what their childhood years were all about and this is the melancholy that writer and director Jonah Hill is trying to create in his movie Mid90s. Yes, that Jonah Hill. The man who started his career in horrible comedies before finding success and two Oscar nominations playing serious roles is making his debut behind the camera in this coming of age drama.
It's a move that couldn't be further from what we have come to know from Hill in his movie career. The previous writing credits from Hill include both the Jump Street movies, Sausage party and Why Him? Which were all wild and raunchy comedies, making this movie a remarkable change in tone. Still, based on the reviews which are littered all over this trailer, it appears he is more than comfortable in making something with a bit of gravitas and telling a powerfully dramatic story too.
Mid90s follows the story of Stevie (Sunny Suljic) a thirteen-year-old boy who spends his summer holiday hanging out with a group of older skateboarders, who for the most part, appears to be up to no good. The film also stars Lucas Hedges as Stevie's older brother Ian and Katherine Waterston as the pair's mother with Stevie's skateboarding buddies set to be played by newcomers Ryder McLaughlin (as "Fourth Grade"), Na-kel Smith (as "Ray") and Ola Prenatt (as – and yes, this is his character's actual nickname – "F***s**t").
To be honest, this is not my kind of movie. It looks like one of those aimless stories that doesn't really achieve anything and just tells its character's stories while meandering along. It will probably have a strong coming of age angle that will see Stevie's character grow and learn new things, but probably not have much else there to keep me interested. Still, Jonah Hill's career continues to surprise, so it would be interesting to see how the final product eventually turns out.
Mid90s is due out in the US on October 19th in the US, with no set South African release date yet.
Last Updated: September 27, 2018