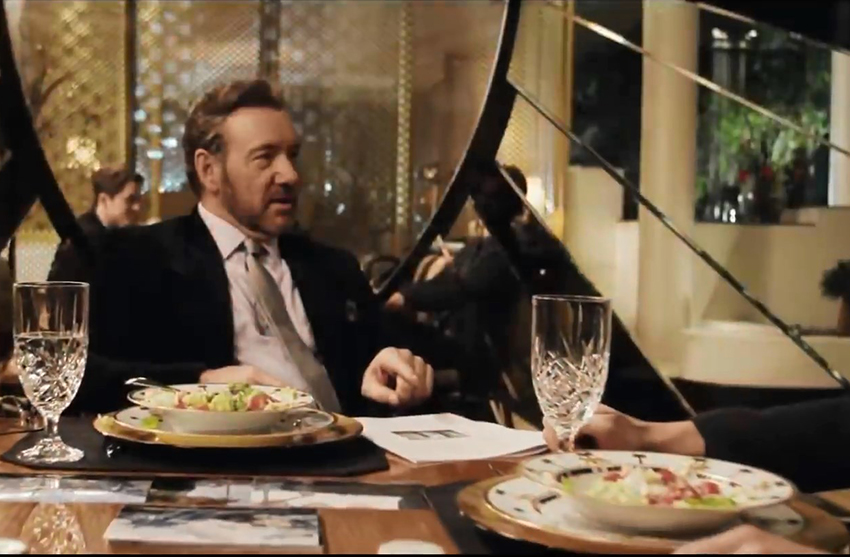 When Kevin Spacey was accused of sexual assault by a number of men during the early days of the #MeToo movement, filmmaker Ridley Scott decided to pull off the unthinkable by removing the Oscar-winning actor from his upcoming film All the Money in the World despite there being just a little over a month until the film's release. Recasting the role with Christopher Plummer and having actors reshoot scenes without Spacey, Scott worked at a furious pace and somehow managed to pull off what many thought impossible, but which the filmmaker felt necessary. Similar, Netflix axed Spacey from their long-running multiple award-winning House of Cards, despite the actor being the lead and promoted co-star Robin Wright to the head of the show. Somehow I get the feeling that right now the makers of Billionaire Boys Club wish they had made the same type of radical decisions.
Already premiering on VOD last month, Billionaire's Club received a very limited release in the US this weekend past. The true-story crime-drama, which sees Spacey co-star as real-life Beverley Hills high-roller Ron Levin, opened in just 10 cinemas across America, and as such it was never expected to make a lot money. That may have become understatement of the century though as the film opened on Friday with just $126. No, I'm not missing some zeroes or maybe even a "million" there. The film, which reportedly cost around $15 million to make, earned just one hundred and twenty six dollars on Friday. As THR breaks it down, that equates to a per theatre average of just $12.60, which is not even enough for two tickets.
Directed by James Cox (Wonderland), Billionaire Boys Club is an autobiographical drama about the titular social group of wealthy young men in the 1980s who concocted a get-rich-quick Ponzi scheme that ended in disaster. The film is led by young stars Ansel Elgort (Baby Driver) and Taron Egerton (Kingsman), but also receiving top billing is Spacey. Even though the film has an incredibly stacked supporting cast that includes Emma Roberts, Cary Elwes, Rosanna Arquette and Judd Nelson on top of its duo of hot young leads, it would appear that Spacey's name was quite the albatross.
Distributor Vertical Entertainment had issued a statement earlier this year expressly indicating that they had hoped that this would not happen, but their worst fears have now been realized.
We hope these distressing allegations pertaining to one person's behavior — that were not publicly known when the film was made almost two-and-a-half years ago and from someone who has a small, supporting role in Billionaire Boys Club — does not tarnish the release of the film. In the end, we hope audiences make up their own minds as to the reprehensible allegations of one person's past, but not at the expense of the entire cast and crew present on this film.
At the time of writing this article, the final box office numbers were not in yet, but at this point it looked unlikely that Billionaire Boys Club would even reach $1000 for the weekend. This is undoubtedly the lowest opening of Spacey's career and will probably be the same for everybody else involved in it as well.
Last Updated: August 20, 2018