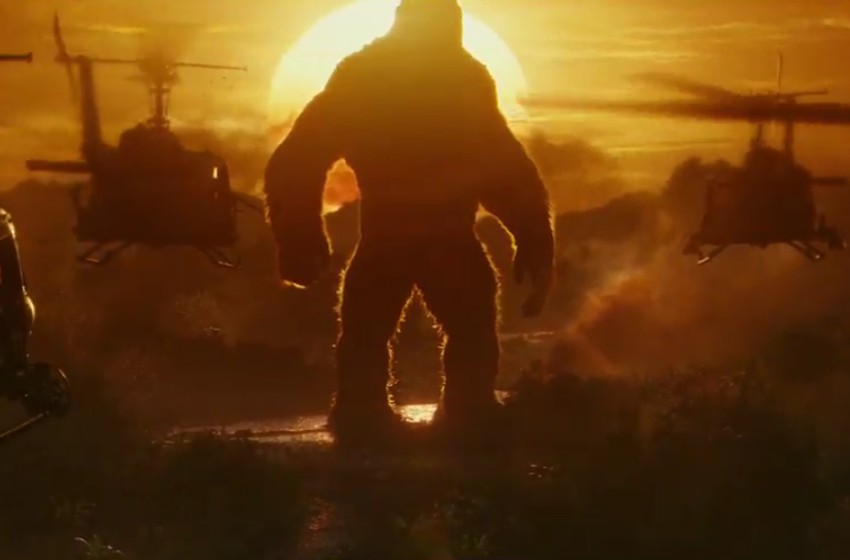 The biggest simian since we shaved Darryn's back and taught him to climb trees will come stomping back onto the silver screen this year. Kong: Skull Island is the latest incarnation of Hollywood's most famous giant ape and it's been looking fantastic. As the name implies, this new version will also feature a reimagining of King Kong's island home that's deadlier than its ever been before.
We've already seen a couple of previews of the movie, showing us some the dangers that await Kong and the puny humans that come looking for him, but Legendary have now also released four new TV spots that provide some further insight into the history of this infamous island and its monstrous inhabitants. We also get to know more about Tom Hiddleston's character and see Samuel L. Jackson being a badass. Obviously.
Check out the new TV spots below.
If John Goodman's line about how nuclear bomb tests in the 1950's weren't tests but actually attempts to kill something sounds like an echo of the same opinions expressed by Ken Watanabe in Gareth Edwards' 2014 Godzilla reboot, that's because it's supposed to be. While not originally planned that way, Kong: Skull Island has been repositioned to expand on Godzilla and help establish a shared cinematic universe. Once it does that, it passes the baton back to Godzilla 2, before we eventually get to the long-awaited Godzilla vs King Kong crossover movie.
And speaking of Godzilla 2, we now also have the confirmed news Krampus director Michael Dougherty will officially direct. This may seem like deja vu, but the "officially" part is the clincher here. News broke last year that Dougherty and his Krampus writing partner Zach Shields had been brought on to pen the sequel and be part of the writing room brain trust that will shepherd this franchise, and some publications automatically assumed Dougherty would be getting the directing gig as well. That was not the case at the time, but Variety reports now that "after months of work in the writers room, Legendary eventually extended an offer for him to direct as well". Nice.
And finally, thanks to a new toy release (which seems to be where a lot of big breaking news is coming from lately), BleedingCool can now confirm that this new shared cinematic universe for these two classic monsters will be called… the Monsterverse. Huh. That's very imaginative.
Kong: Skull Island is directed by Jordan Vogt-Roberts and also stars Brie Larson, John C. Reilly and Jason Mitchell. It is scheduled for release on 10 March. Godzilla 2 is scheduled for 22 March 2019, with Godzilla vs. Kong then landing on 29 May 2020.
Last Updated: January 26, 2017