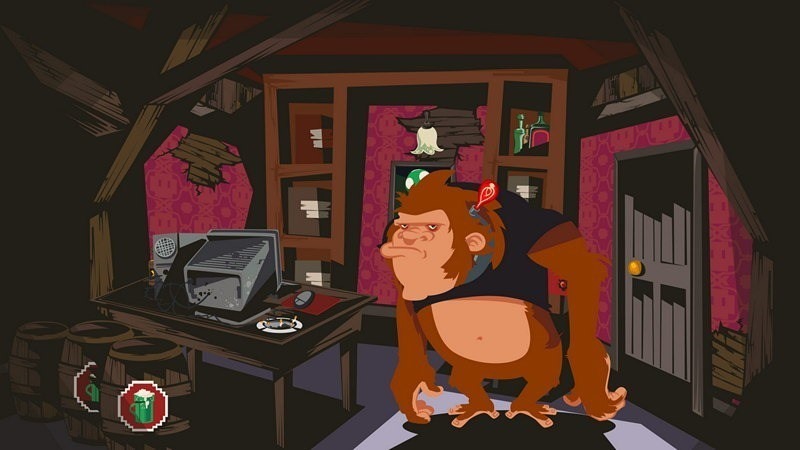 Last year we told you about Jengo, the locally-made adventure game that invokes the spirit of Lucasarts and other adventures games from an era past. Since then, the team's been a little quiet. They released the odd devblog, and news that they've secured a writer in NAG's Michael James – but little else.
Today that changes, as the team at Robot Wizard have announced that they've been signed by a publisher. In a press release, Robot Wizard says they've signed with French publisher Playdius Entertainment to publish the game.
That means that there's quite a change in the game's scope. It'll no longer be released episodically, with the game coming as a single, complete package.
We spoke to Graeme Selvan, to ask what having a publisher meant for the team.
"It's an incredible time for us as a team, Robot Wizard was born over 2 years ago. It's been a long journey for the team holding up day jobs, family and the development of Jengo. We are incredibly proud of what we have created thus far and we look forward to people across the world getting their hands the game. We would like to thank all the local media and community for their support so far, we are proud to say that Jengo will be crafted by a proudly South African cast of artists (music and voice)."
If you recall, Jengo is about a chap named Jeff, who gets etangled up with forgotten game characters.
"Jengo is a point and click adventure about (real world gamer) Jeff who finds himself lost in the Pixelverse, a land of forgotten game characters," says the game's synopsis. The universe is falling apart, and it's up to our unlikely hero Jeff to save it."
And while the game certainly looks like it could have come from LucasArts, Robot Wizard's Louis Du Pisani says that while those classics serve as a source of inspiration, it'll be different.
"Tone wise this game is quite different to Monkey Island and its LucasArts peers purely based on the protagonist Jeff and the world we're creating. Art wise I have a massive respect for guys like Peter Chan and Bill Tiller but besides the artwork being 2D I think it's all quite different. The quirkiness of 2D art however is the visual charm of these kind of games and the LucasArts people were the masters of it. So in short, we pay homage to the Adventure game genre and not any individual titles."
Jengo is set for release in late 2018.
Last Updated: May 30, 2017