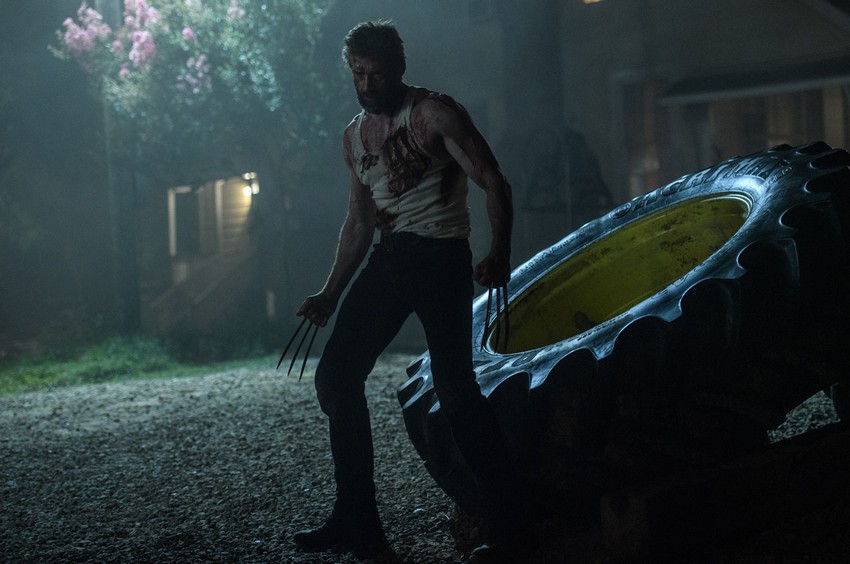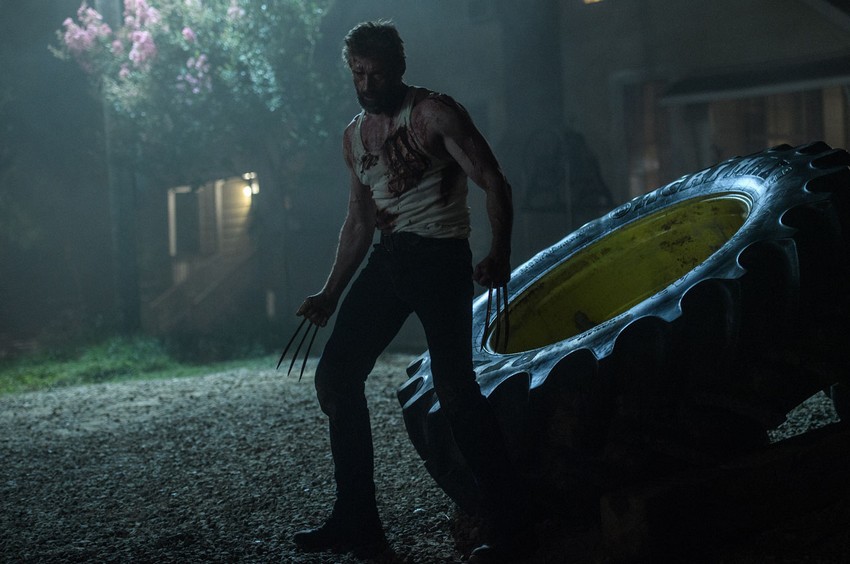 We're still a couple of weeks away from checking out Hugh Jackman's last hurrah as everybody's favourite Canadian mutant (excluding Justin Bieber) in Logan. The latest film in the X-Men series and the third standalone feature for Jackman's Wolverine, appears to be a grim departure from all previous entries in the comic book movie franchise. And that appears to be a bloody good thing. Literally on the "bloody".
That's according to the first reviews that popped up online after Logan made its debut at the Berlin Film Festival over the weekend. And the general consensus is that director James Mangold has bested his previous effort – 2013's The Wolverine – with an incredibly violent film that actually addresses the physical and mental toll of said violence. By all accounts, Logan shirks off genre conventions and gives Jackman his very best showing in his 17 year tenure as the character, while plenty of additional praise is lobbed on newcomer Dafne Keen as the young X-23, and Sir Patrick Stewart as a grizzled, surprisingly potty-mouthed Charles Xavier.
Here are a few excerpts from some of the reviews, including a score where applicable.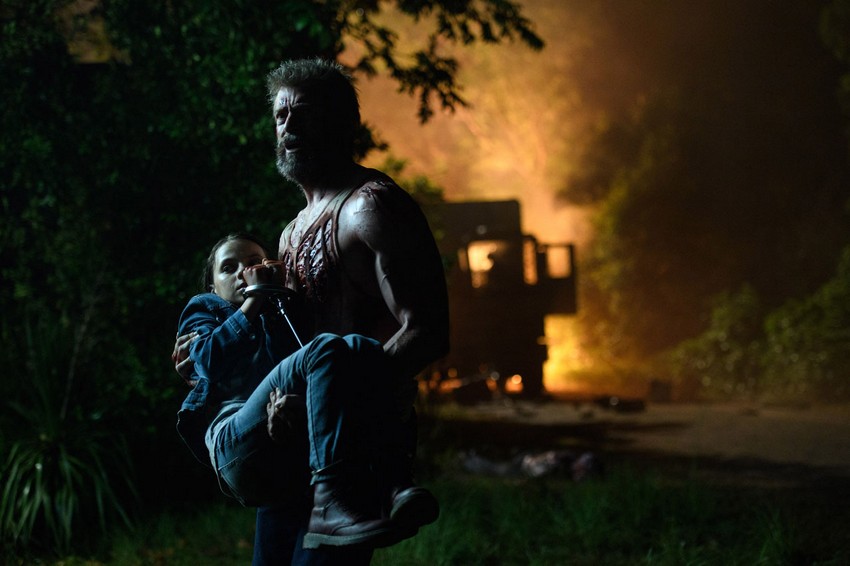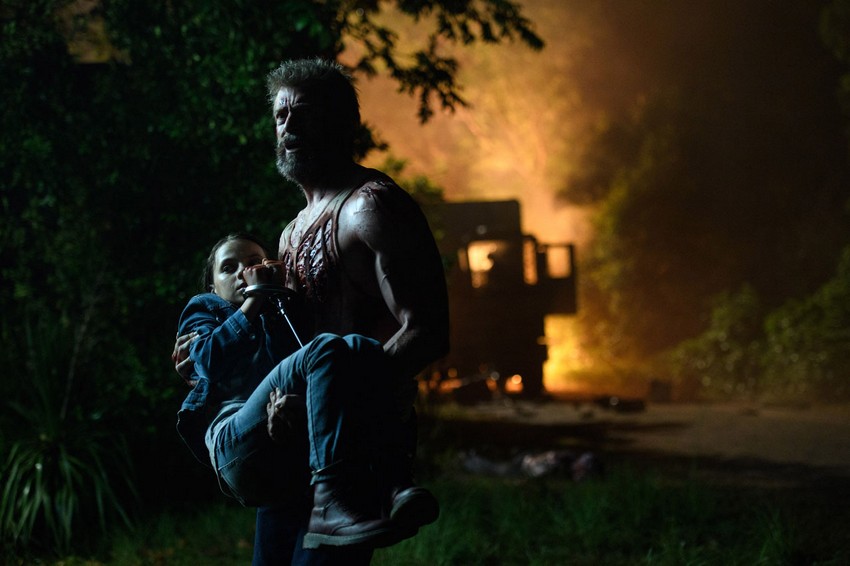 Why do so many superhero films sold as 'for mature audiences' feel like they're meant for exactly the opposite? Whatever the reason, this emphatically isn't the case with Logan, the third – and by a significant margin, best – lone outing for Hugh Jackman's well-knit and whiskery mutant…

Crucially, Logan puts Jackman to better use than any other entry in the X-Men franchise, during which he's often seemed tamped down by the constrictions of an ensemble cast or feeble script (and sometimes both). Though his character is visibly older, facial hair grown out and flecked with grey, Jackman's charisma and bulk are both strappingly undiminished…

How much fans of the series will take to all this isn't immediately obvious: Logan is a film for people, like me, who thought the only good bit of X-Men: Apocalypse was Michael Fassbender crying in the woods, and left the cinema wishing that had been the whole thing. It's something no-one could have expected: a creatively risky superhero movie. And it deserves to pay off.
Making her big-screen bow, the ultra-limber Keen is glorious as the brooding Laura, who is trying to head for Eden, a place of safety across the border. How some will react to the sight of this young actress slicing, dicing, severing and goring her opponents remains to be seen, though; her actions are startlingly violent at times, right up there with Chloë Grace Moretz's gun-toting turn as Hit-Girl in Kick-Ass…

As for Logan, after the previous lacklustre solo Wolverine outings, not to mention the middling Apocalypse, it's heartening to see Jackman play up the character's vulnerabilities. "Bad shit happens to people I care about," he tells Laura, showing a side of him we've rarely glimpsed – world-weary, worn-out and "fucked up", as he put it. Meanwhile, a hunched-over Merchant is an excellent foil as Caliban, a tracker mutant with skin that blisters painfully in daylight…

From a brilliant casino-set Professor X 'paralysis' sequence to a surreal battle of the self (in what feels like a nod to the Terminator franchise), not to mention a secret weapon that alarms even Wolverine, Logan is full of juicy surprises. But what impresses most is how, for once, this is a comic-book film that has the guts to wrap things up. "What a disappointment"? Uh-uh. This is a fine, fitting finale for the movies' greatest mutant.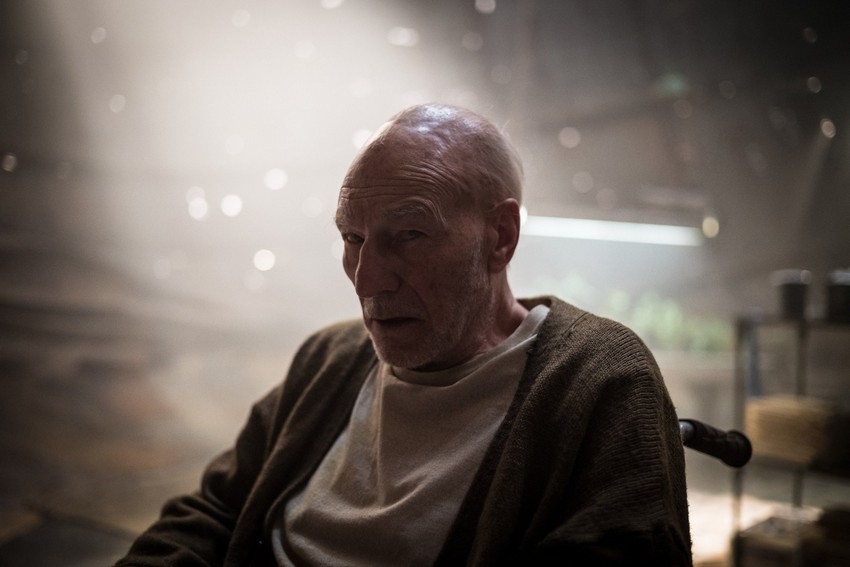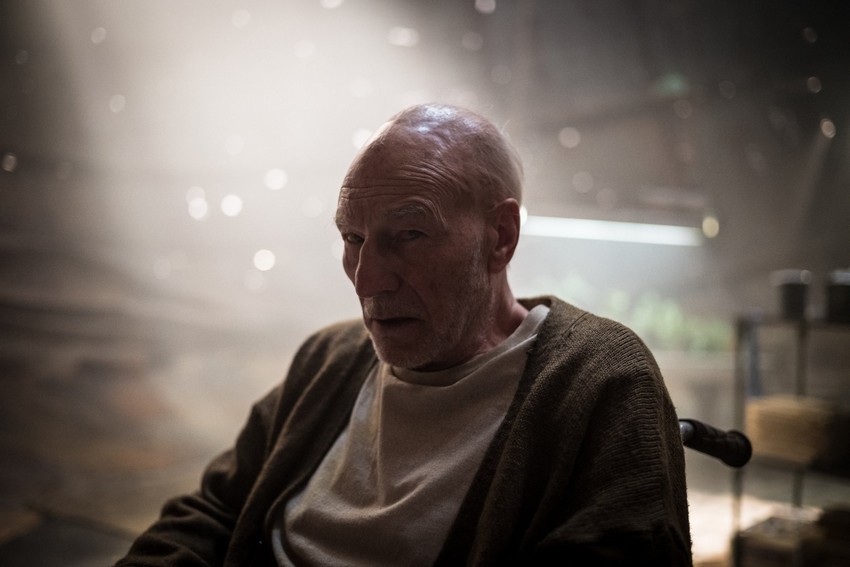 Vox (4.5/5):
Unlike many superhero movies, this is a film where the deaths of random individuals, including villains, have meaning. As the bodies start to pile up, and as Logan is responsible for more and more of those deaths, the film genuinely digs into the moral exhaustion inherent in being a killing machine, as well as [Logan's hope that Laura] not follow in his footsteps, even though she's perfectly equipped to do so…

What sets Logan apart and makes it so impressively moving in the end is the way it suggests that everyone — from its hero down to characters with only a handful of lines — is fumbling through existence like the rest of us. The ultimate goal by film's end isn't to beat the bad guys or even to connect with a long-lost child; it's to find ultimate meaning in life, to figure out how to define oneself as both a person and a good person. It's, unexpectedly, resonant, bittersweet, and maybe even profound.
Embracing R-rated violence for the first time allows Jackman's Logan to unleash more brutality than in any of his previous films. (Fun fact: He and Xavier use some seriously saucy language.) It's not gratuitous, though, and puts an interesting perspective on the former Wolverine's older, desperate side. His body is failing him and every unleashing of his animalistic self underscores his growing weakness, alongside a primal nature that continues to want to help people…

Logan is about 20 minutes too long, and a subplot about processed foods, while relevant, feels a smidge heavy-handed. But mostly the movie is brilliantly on point in its influences — the 1953 Western classic Shane plays a key role — and how it ties in to the previous movies without being beholden to them. The film even cleverly brings in actual X-Men comics, which Logan amusingly disdains…

Jackman has never been short on machismo, muscles or charisma in this role, and he brings all those to bear, plus a lot of heart, giving the surly icon a sendoff fans won't soon forget.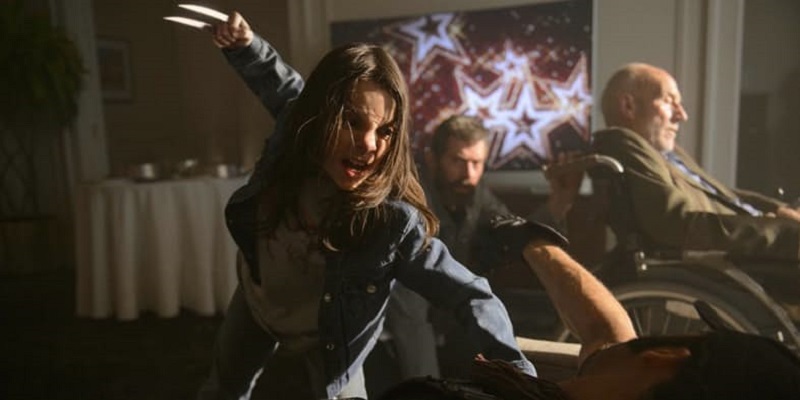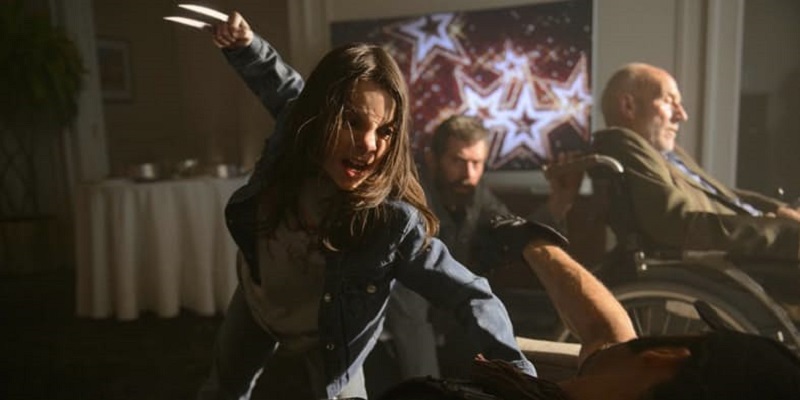 As its title suggests, Logan strips away the superhero bells and whistles, cast-of-thousands spectacle and labyrinthine twists of the X-Men franchise to focus on its most tormented mutant, aka Wolverine. Seamlessly melding Marvel mythology with Western mythology, James Mangold has crafted an affectingly stripped-down stand-alone feature, one that draws its strength from Hugh Jackman's nuanced turn as a reluctant, all but dissipated hero. That he rises to the occasion when a child is placed in his care is the stuff of a well-worn narrative template, yet it finds a fair level of urgency in this telling…

For fans who are intimately versed in the franchise's playbook (and the comic-book source material), this chapter should prove emotionally satisfying. For those who can't recite the plotlines of all nine of the preceding X-Men films, the new feature's noirish, end-of-an-era vibe is an involving hook…

Even as the film's energy drains in the later going, much like Logan's healing powers, and long after the fight scenes have lapsed into overkill, Jackman makes his superhero the real deal. The actor, who reportedly conceived the basic thrust of the story, takes the ever-conflicted Logan/Wolverine to full-blooded depths, and the result is a far more cohesive and gripping film than his previous collaboration with Mangold, 2013's The Wolverine.
EW (B-):
James Mangold's Logan, the third and latest stand-alone Wolverine movie, is a strange contradiction: It's both the most violent film in the series and the most sentimental one. When it's not showering you in blood, it's trying to make you spill tears. It's much more comfortable with the former than the latter…

Logan is essentially a road movie, but it's a dark one (and a very long one). More than ever, Jackman's Logan seems like he's at an existential dead-end, and he's never exactly been a barrel of laughs to begin with. Mangold shoots the film in a grungy, south-of-the-border Peckinpah palette. There isn't a lot of hope in the movie. The stakes aren't grandiose, no one's saving the world. They're saving this one special—and very, very violent child. Since Laura's mutant physical gifts are so identical to Logan's, there's a melancholy to their relationship. She's the daughter he never slowed down enough to allow himself to have. The loner has to learn to put someone else first. It's both as manipulative and hokey as that sounds, but occasionally it works well enough that you might find yourself getting choked up against your better judgment.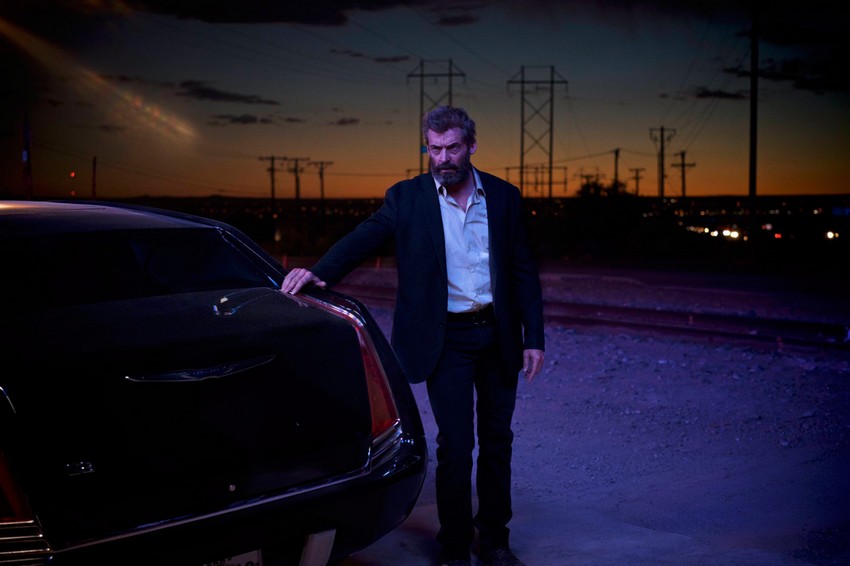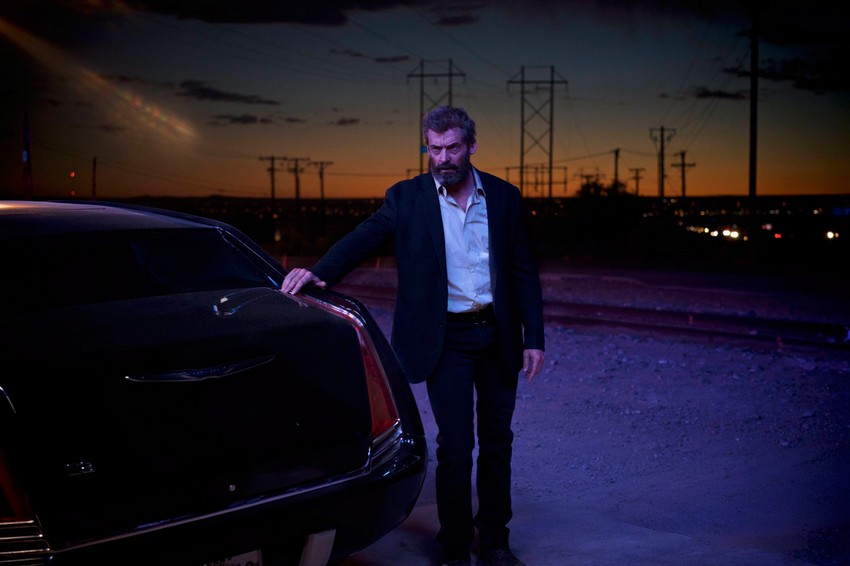 "Logan" doesn't get lost in CGI overkill or annoyingly messy Tinker-Toy franchise plotting. It's a wholehearted drama made with a shot language that looks nearly classical. It must be said, however, that the story often feels stitched together from other films, a quality made explicit when the characters watch an extended scene from "Shane" on TV. "Logan" isn't as darkly exciting as "The Wolverine" was. With its hero suggesting a broken-down cousin to Mad Max, it's like "The Road Warrior" meets "Shane" meets "Terminator 2: Judgment Day" (yes, there's a "bad" Wolverine). But that turns out to be a recipe that brings the saga to a satisfying close. Just about every fan of the "Wolverine" series is likely to feel well-served, and you can do the box office math from there…

It's Jackman who holds "Logan" together and gives the film its glimmer of soul. He has been playing this role, more or less nonstop, for 18 years, but he seems startlingly not bored by it. Better still, he's a more refined actor now than when he started, and in "Logan," he gets to play something rare in comic-book cinema: a powerhouse of animal rage who is slowly, agonizingly slipping away.
As you might guess, then, "Logan" becomes a road movie, with an aging hero doing one last good deed while perpetually rejecting the notion of trust or family. It's a journey we've been on before, but Mangold makes it an entertaining (if slightly overlong) one. Perhaps it's just the novelty, but that explicit violence and salty language (Professor X turns out to be quite the potty-mouth as well) adds a bit of much-needed fizz to the "Wolverine" sub-franchise…

Jackman and Stewart have established a bristling rapport by this point, and they both relish the opportunity to play the older versions of these well-established characters for what might be the last time. As the young girl whose abilities aren't immediately revealed by the film, Keen has the haunted, thousand-yard stare of a young Lukas Haas (circa "Witness" and "The Lady in White"). Eriq La Salle provides some warmth and kindness as a helpful rancher, while Richard E. Grant squeezes out some fun villainous moments as the chief evil scientist…

The real scene-stealer here is the menacing Holbrook, who's been a consistently interesting actor while always remaining chameleonic enough to avoid being a movie star — and that's a compliment. I always like him in movies, but I always forget where I've seen him before; after "Logan," however, there'll be no mistaking him.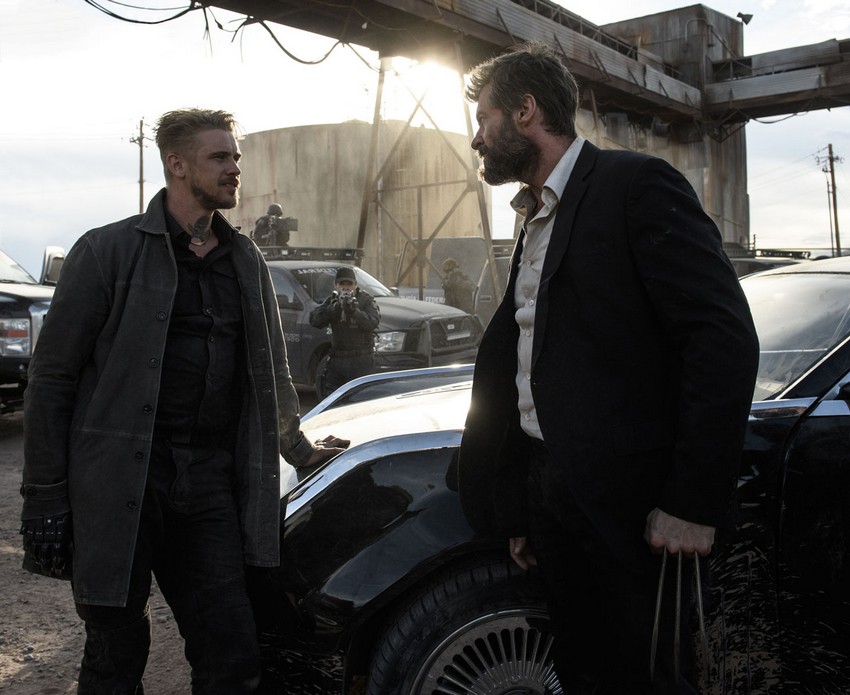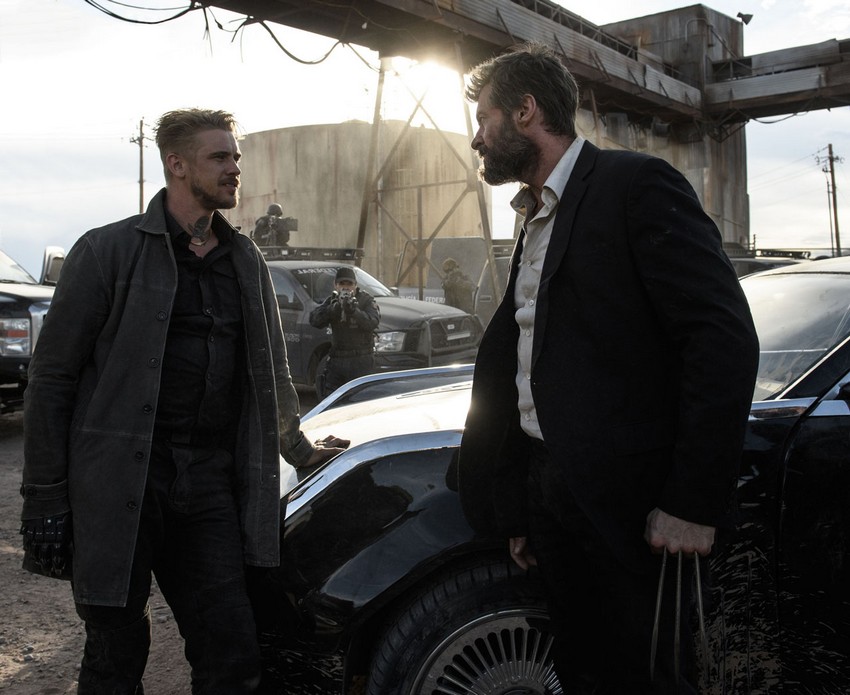 Better as an agitated Western than as a fading superhero movie (or a listless cross-country chase), the most cantankerous X-Man's final outing is a scaled-back affair that nevertheless knows how to swing for the fences. Only marginally more expansive than last year's "Deadpool" (and just as eager to celebrate its "R" rating), "Logan" strips its namesake down to his metal skeleton, cutting through the layers of precious world-building and plastic CG bullshit that have made too many of his previous big screen adventures feel like emotionally neutered toy commercials…

2013's "The Wolverine" proved — in its finer, earlier moments — that Mangold knew how to tap into the title character's feral rage. Transplanting the superhero to Japan without losing anything in translation, the director used one genre to clarify Logan's role in another, re-conceiving him as a wandering ronin who served at the pleasure of his inner demons. Here, Mangold repeats that trick with similar success, dropping Jackman's iconic nomad into the middle of a hard-edged oater and giving him a chance to ride off into the sunset. Will Logan have a triumphant ending, like "Shane?" Or will he slump over in his saddle as he disappears over the horizon, like "Shane?"…

"Logan" isn't always a satisfying movie, but there's a very satisfying answer to those questions waiting for viewers at the end of it. Satisfying not only because Mangold resolves things with some brilliantly expressive imagery, or because he endows this story with a no-shits-left-to-give honesty that defies its origins and justifies its spectacular violence and salty vocabulary, but because it proves how iconic Jackman has made this character over the last 17 years.
There's more graphic violence in Logan's first scene — severed limbs, gruesome disembowlings — than in all of the other of the Wolverine and X-Men movies combined. The savagery is not simply gore for gore's sake; it's a crucial part of Logan's themes about the mental and emotional toll all that violence takes on the man who inflicts it. If killing people was clean and easy, it wouldn't leave such a stain on this broken hero's soul…

Logan's momentum definitely flags towards the end, but there are some nice touches in the finale as well (including a final shot that is absolutely perfect). There have been some R-rated superhero movies over the years, but Logan might be the first that doesn't simply use an adult rating to drown the viewer in "adult content"; it's a mature consideration of the ideas underpinning its comic-book motifs. It's also easily the best Wolverine movie of the three, and an impressive sendoff for Jackman's version of the character. Don't be surprised if fans begin quoting the end of Shane too, crying "Come back Hugh!" as he rides off into the sunset. It's hard to blame them. For 17 years, he was the best there was at what he did.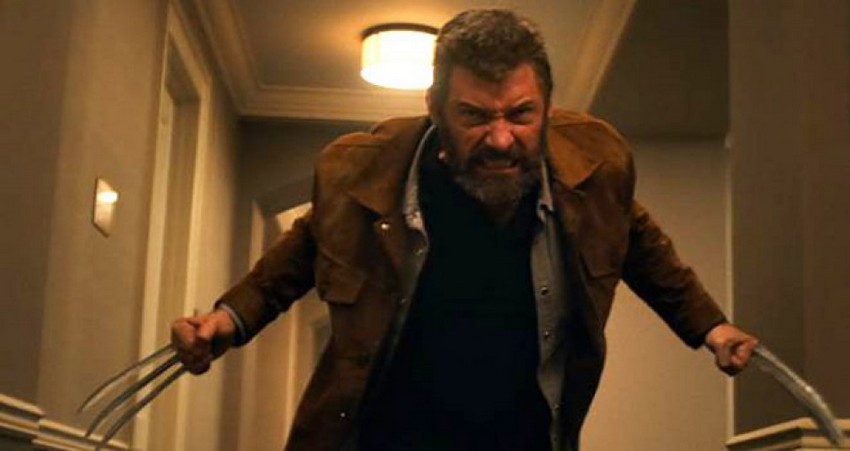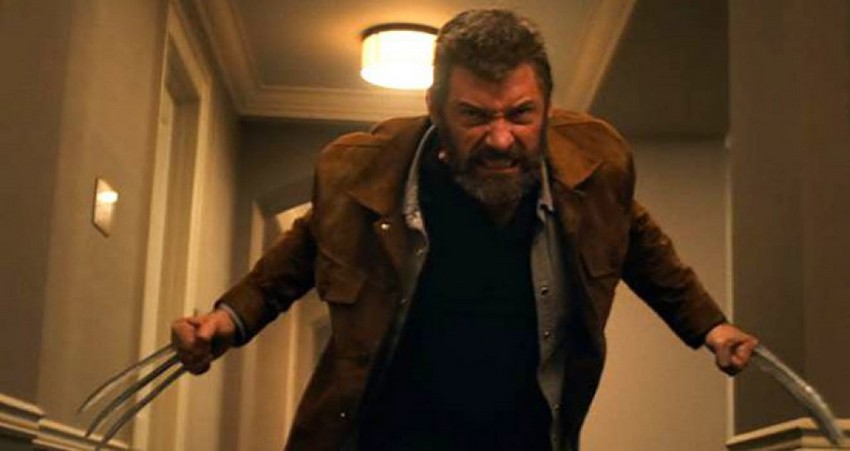 Logan is the movie that finally satisfies the wish fulfillment of those superhero movie conversations that that speculate on what a hard R-rated superhero movie would look like with a major established character…

You'll probably see a lot of internet posts where people rank their favorite superhero movies and they'll now try to fit Logan into that list somewhere – most likely pretty high. But for the life of me, I have trouble even calling this a superhero movie. It reminds me more of a movie like First Blood than it does, say, Ant-Man. If Logan has a fault, it's that it's lays on the dourness maybe too much – but, then again, that's kind of the point. If nothing else, Logan does try to be the most "realistic" superhero movie. And it does capture a level of realism I haven't really seen before in this genre.
Logan also stars Hugh Jackman, Patrick Stewart, Boyd Holbrook, Richard E. Grant, Stephen Merchant, Eriq La Salle, Elise Neal and Elizabeth Rodriguez, and is scheduled for release on 3 March. Here's the full synopsis:
In the near future, a weary Logan cares for an ailing Professor X in a hide out on the Mexican border. But Logan's attempts to hide from the world and his legacy are up-ended when a young mutant arrives, being pursued by dark forces.
Read more at http://www.comingsoon.net/movie/logan-2017#W6PArYX0FmXrqowo.99
Last Updated: February 20, 2017