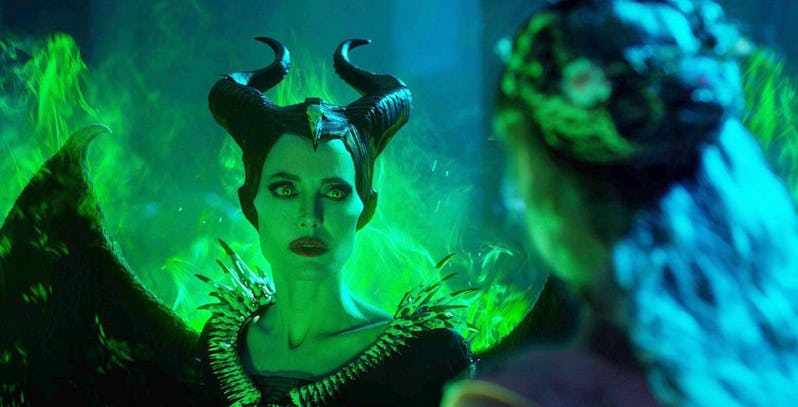 If you want a battle more epic than the storming of Normandy beach, just put two warring mothers-in-law against each other. The first Maleficent film showed how Maleficent, the evil witch from the Sleeping Beauty story, had a positive stream in her that desired to do good. This second film puts her back on the path of evil after she meets her match. And by match, I'm not referring to someone who is as powerful as her, but rather someone who is now going to have a bigger influence on Aurora's life: a mother in law. Yes, it appears the fear of Mothers-in-Law stretch beyond the real world and exists in fantasy too.
In Maleficent: Mistress of Evil, we see Angelina Jolie's Maleficent face-off against Queen Ingrith (Michelle Pfeiffer) who seems to be at odds over the love of Princess Aurora (Elle Fanning) and Prince Phillip (Harris Dickinson, replacing Brenton Thwaites from the original film) who decide they want to get married. Normally you would expect the two mother figures to be ecstatic about the pending nuptials but given Maleficent's hurt and mistrust in love from the first movie, she doesn't take too well to the idea and the two women land up in an epic battle against one another.
As much as this trailer highlights some of the epic battles we are likely to see in the movie and the tension between the two warring mothers, at the end we also get the glimpse of another horned fairy (Chiwetel Ejiofor), showing that she is not the only one of the kind and could likely be a bigger plot for conflict in the movie and something which could allow director Joachim Rønning to plot even bigger battles as Maleficent finally meets her equal in terms of magical powers.
As sequels go, this one looks to live up to the mantra of bigger is better. Hopefully, the story does these massive scenes from the trailer justice when Maleficent: Mistress of Evil release on October 18th of this year.  
Last Updated: July 9, 2019