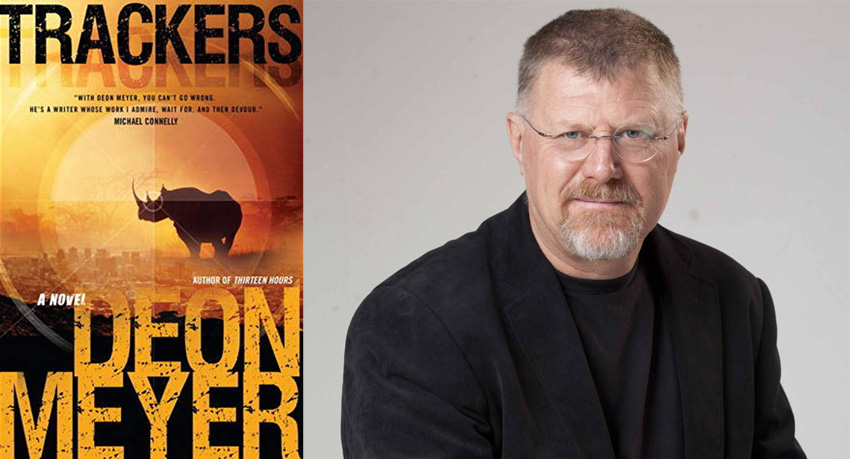 Critically acclaimed South African author Deon Meyer has had his thriller novels translated from his native Afrikaans to over 20 languages as they sold millions of copies around the world. Well, it appears that all that international appeal has paid off big time as it was announced this weekend past that his novel Trackers is being adapted for global TV release.
According to the press release, M-Net has signed a groundbreaking co-production agreement with US cable network Cinemax to adapt Trackers for the small screen. This collaboration with HBO's sister network is a follow-on from the Producers Apprenticeship launched jointly by the three broadcasters last year when Cinemax's fantastic martial arts drama series Warrior (which debuts on M-Net next month) was filmed in Cape Town.
For Trackers' worldwide release, M-Net and Cinemax will also be teaming up with German national broadcaster ZDF to bring Meyer's 2010 novel to life in a six-part miniseries. Here's the official synopsis for Trackers from Meyer's official website:
Lemmer's First Law: Don't get involved.

But when Emma le Roux looks at him with pleading eyes, when the roof of his Karoo house needs big repairs, when the cause is good and just, laws can be broken. So he sighs, and says, yes, he'll ride shotgun for the two rare black rhino's.

Bad call.

Because on a dark and dusty road in Limpopo, they stick a Smith and Wesson Model 500 against his head. They kick him and beat him, they lie, they deceive him, and they steal his Glock, the one with his fingerprints all over it. He wants it back. And he wants revenge.

So he tracks them, leaving a trail of violence that will run the length and breadth of a country, and touch the lives of:

Former cop Mat Joubert, working on his first dossier as a private investigator. It's a 'fifty-five', police slang for a missing persons case. Danie Flint, easy-going, life of the party, route planner at the Atlantic Bus Company, disappeared three months ago. The SAPS bungled the case, and Flint's wife is at the end of her tether. Joubert must track him down before her money runs out. But it's been years since he did the grunt work, he no longer has the might of the State behind him, and the trail has gone icy cold.

And Milla Strachan, the former housewife, who walked out on her rich, cheating husband and abusive teenage son to start a new life. Milla, who had only seen South Africa from behind the high walls and alarm systems of her plush northern suburbs home, and through the rose-tinted glasses of the privileged. Struggling with being suddenly single at forty, trying to rebuild her relationship with her son, lost in a job market favouring the young and the wired, she has to settle for a lowly 'journalism' job at a secretive government agency. A whole new world opens up for her – including the murky realm of organised crime, Muslim extremism and terrorism, right on her doorstep. And then this world reaches out and touches her, draws her in.

A trail of death, stretching from the Chizarira to the Cape Waterfront. And at the end of it, nobody will be untouched.
Trackers will boast a talented local and international cast which includes Ed Stoppard, Rolanda Marais, James Alexander, and Thapelo Mokoena. The multiple award-winning Meyer himself will serve as supervising screenwriter and co-producer while British writer Robert Thorogood (Death in Paradise) will be the showrunner. They are joined by a writing team that includes acclaimed Mitchell's Plain playwright, screenwriter and director Amy Jephta (Die Ellen Pakkies Story) as well as local writer/directors Kelsey Egen and Jozua Malherbe.
The mini-series is currently in production for an October 2019 release on M-Net as well as local streaming service Showmax. The latter is already host to other Cinemax productions like Banshee, The Knick, and Strike Back.
Last Updated: June 19, 2019