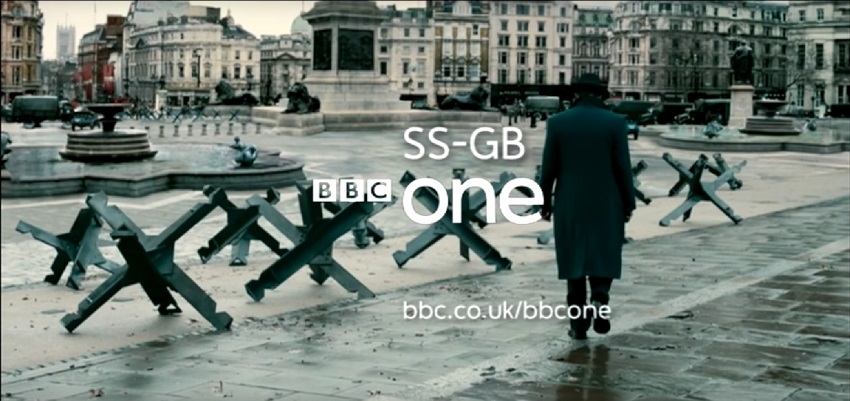 If you've a hankering for seeing more Nazis punched on TV then you're in luck: SS-GB is an alternate-history WW2 mini-series that's coming soon to BBC One. Similar to Amazon's alternate-history series The Man in The High Castle which is set in a Nazi and Japanese-occupied US (you can watch the first episode for free here), SS-GB takes place in Nazi-occupied Britain.
A few short months after the occupation, Scotland Yard detective Douglas Archer (Sam Riley) is assigned to a murder investigation that puts him squarely between his new SS commanders and the British resistance. It's based on the 1978 novel of the same name by author Len Deighton, a contemporary of James Bond creator Ian Fleming and John le Carré – whose The Night Manager adaption recently won  its fair share of Golden Globes. Regular James Bond writers Neal Purvis and Robert Wade adapted the novel for the mini-series.
The novel's official synopsis is as follows:
In February 1941 British Command surrendered to the Nazis. Churchill has been executed, the King is in the Tower and the SS are in Whitehall. For nine months Britain has been occupied – a blitzed, depressed and dingy country.

However, it's 'business as usual' at Scotland Yard run by the SS when Detective Inspector Archer is assigned to a routine murder case. Life must go on. But when SS Standartenfuhrer Huth arrives from Berlin with orders from the great Himmler himself to supervise the investigation, the resourceful Archer finds himself caught up in a high level, all action, espionage battle.

This is a spy story quite different from any other. Only Deighton, with his flair for historical research and his narrative genius, could have written it.
Let's take a look at what they've got for us:
Well, I'm intrigued. This looks like a series that'll constantly have us twisting and turning along with Archer as he digs deeper into the murder, who himself looks to be twisting and turning as he struggles to reconcile working for the Nazis with wanting to help the resistance. It also looks a very well shot period piece, notably with the red Nazi iconography contrasting disturbingly well with the dreary London scenery.
What do you think?
SS-GB is expected to being airing its five-episode-long season on BBC One on 19 February. It stars Sam Riley, Kate Bosworth, Lars Eidinger, Rainer Bock, James Cosmo, Maeve Dermody, Jason Flemyng, Aneurin Barnard and James Northcote.
Last Updated: February 8, 2017