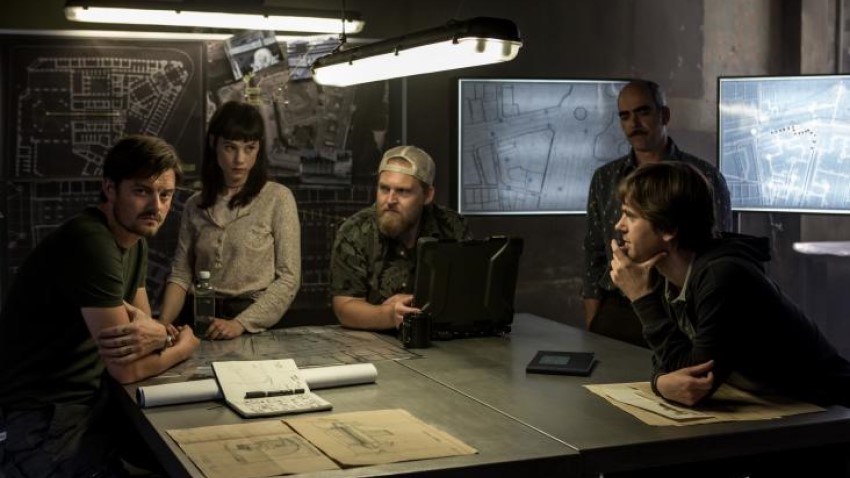 I can't remember offhand the last time I watched a good old-fashioned heist movie, but that's about to change soon enough. The Vault, formerly known as Way Down, is the upcoming R-rated crime thriller starring Freddie Highmore (The Good Doctor) and Liam Cunningham (Game of Thrones), and is directed by Spanish director Jaume Balagueró (REC franchise).
The official plot synopsis is as follows:
The Bank of Spain is like no other. An absolutely impenetrable bank. A bank that nobody could ever rob. There are no blueprints. No maps. No data on the vault's engineering system. It is an absolute mystery. Plus, the head of security ferociously guards the bank as if his life depended on it.

This thrilling challenge ignites the curiosity of Thom, a genius determined to learn the vault's secrets and make it into the depths of the bank. The target is a long-lost treasure that will be held inside the bank for only ten days. Led by charismatic art expert Walter, the team has only ten days to prepare the heist and pull off a once-in-a-lifetime escape. Ten days to plan, but only ninety minutes to carry out that plan: the ninety minutes of the World Cup final that will draw hundreds of thousands of fans to the door of the Bank of Spain.

The countdown begins.
Let's take a look:
The Vault has all the elements of a cool heist thriller – some legendary loot (albeit gold and not orange) to steal, a fascinating puzzle to solve in order to get to it, unexpected twists and turns along the way, and all the while the added tension of the clock ticking down. The cast, their performances, and the direction all look good as well, so this should be a fun way to spend two hours.
There's just something incredibly satisfying about watching a daring plan come together like clockwork, all the while the aware that a few wrenches will invariably be thrown into the works and that our protagonists will have to think quickly to overcome the latest obstacle on their path of glory (and if you get that reference you've earned a tip of the hat, choom).
What do you think?
The Vault is due for release in limited US theatres and via digital and on-demand services on 26 March. It also stars Astrid Bergès-Frisbey, Sam Riley, Luis Tosar, Jose Coronado, Alex Stein, Famke Janssen, Emilio Gutiérrez Caba, and Daniel Holguin.
Last Updated: February 12, 2021