Just in time for the Easter holidays, eleven new movies are hitting home release from Ster Kinekor. As expected, there's pretty much something for the whole family, although everything in this month's selection does seem to slot into one of four categories: action, crime comedy, family and faith-centred. Expect our reviews for some of these in the coming days.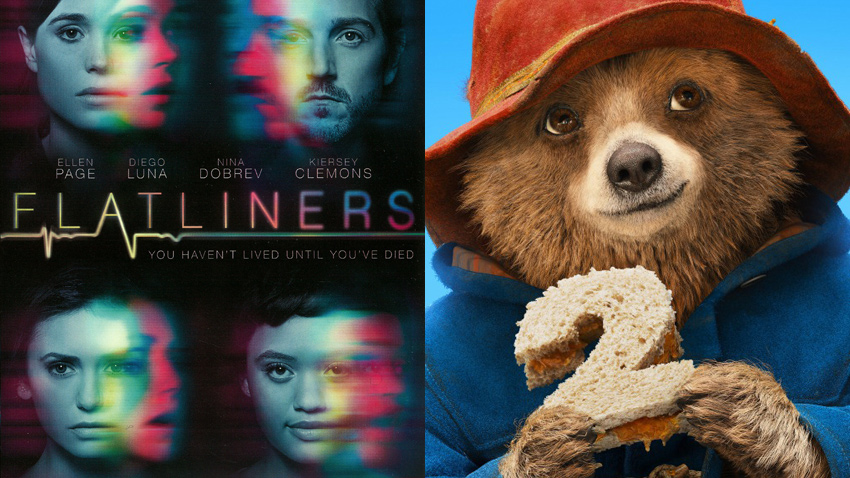 Flatliners
Genre: Horror
In Flatliners, five medical students, hoping to gain insight into the mystery of what lies beyond the confines of life, embark on a daring and dangerous experiment. By stopping their hearts for short periods of time, each triggers a near-death experience. As the investigation becomes more and more perilous, they are forced to confront the sins of their pasts, as well as contend with the paranormal consequences of trespassing to the other side.
Remake Flatliners isn't so much a bad movie as a wasted opportunity that doesn't know what it wants to be. The end result is a mediocre, frequently dull take on a fascinating premise. Good cast though, led by Ellen Page.
Rotten Tomatoes: 5%
Metacritic: 27
Paddington 2
Genre: Family / Adventure
Paddington 2 finds Paddington happily settled with the Brown family in Windsor Gardens, where he has become a popular member of the community, spreading joy and marmalade wherever he goes. While searching for the perfect present for his beloved Aunt Lucy's hundredth birthday, Paddington spots a unique pop-up book in Mr. Gruber's antique shop, and embarks upon a series of odd jobs to buy it. But when the book is stolen, it's up to Paddington and the Browns to unmask the thief.
You probably wouldn't believe it to be a comedy with a CGI bear, but Paddington 2 is a multi-BAFTA Award nominee, and a record holder on Rotten Tomatoes. This heart-warming sequel is as good as family entertainment gets.
Rotten Tomatoes: 100%
Metacritic: 88
Free Fire
Genre: Action / Comedy
Justine (Brie Larson) has brokered a meeting in a deserted warehouse between two Irishmen and a gang led by Vernon (Sharlto Copley) and Ord (Armie Hammer), who are selling them a stash of guns. But when shots are fired during the handover, complete pandemonium ensues, with everyone at the scene suddenly thrust into a heart-stopping game of survival.
Little-known Free Fire is a delight – or perhaps that should be guilty pleasure? It's far from a sophisticated piece of cinema, but fans of Richie and vintage Tarantino should lap up this smart-mouthed, savage shoot 'em up.
Rotten Tomatoes: 68%
Metacritic: 63
Marshall
Genre: Crime / Drama
Long before he sat on the United States Supreme Court or claimed victory in Brown v. Board of Education, Thurgood Marshall (Chadwick Boseman) was a young rabble-rousing attorney for the NAACP. The new motion picture, Marshall, is the true story of his greatest challenge in those early days – a fight he fought alongside attorney Sam Friedman (Josh Gad), a young lawyer with no experience in criminal law: the case of black chauffeur Joseph Spell (Sterling K. Brown), accused by his white employer, Eleanor Strubing (Kate Hudson), of sexual assault and attempted murder.
Marshall will certainly satisfy your craving for more of Black Panther star Chadwick Boseman. It's also a highly compelling courtroom drama. This said, the film definitely skews more towards glossy Hollywood entertainment as opposed to meaty biopic.
Rotten Tomatoes: 83%
Metacritic: 66
War on Everyone
Genre: Action / Comedy
Terry (Alexander Skarsgård) and Bob (Michael Peña)are two crooked cops who frame and blackmail criminals all over town. Looking for the ultimate pay-off, they try to extort a strip-club manager (Caleb Landry Jones) and his eccentric, junkie boss, (Theo James), but get more than they bargained for when their hair-brained scheme uncovers a bigger, darker secret.
War on Everyone is apparently one for viewers who love irreverent, ultra-violent black comedy. Very funny but also kind of pointless and story-weak beneath all the cynical, throwback-style shenanigans.
Rotten Tomatoes: 58%
Metacritic: 50
Vuil Wasgoed
Genre: Crime / Comedy
Wim and Kevin (Bouwer Bosch, Bennie Fourie) have been dreaming of their own coffee shop for years, but while they wait for the dream to come true, they temporarily work in a laundromat. The problem is 'temporarily' has become seven years and the highlight of their existence is still borrowing their clients' clothes to gate-crash parties at night. The system works well. Kevin is even close to kissing the love of his life until a crooked jewel merchant is betrayed, his finger is chopped off and the finger ends up in a jacket pocket at the laundromat. Against their will, Wim and Kevin are dragged into the dangerous criminal world. Close on their heels are two brothers with a rash, a blind henchman, two top detectives and a ruthless traitor. And somewhere, there's a shipping container with a valuable treasure waiting to be pounced on by everyone.
A local crime caper in the mould of Lock, Stock and Two Smoking Barrels, Vuil Wasgoed is the rare Afrikaans movie to feature legitimate laugh-out loud moments in the trailer. Consensus is a solid 7/10 from South African critics and audiences.
The Nut Job 2: Nutty By Nature
Genre: Action
Surly Squirrel (Will Arnett) and the gang are back. We are once again in Oakton where the evil mayor has decided to bulldoze Liberty Park and build a dangerous amusement park in its place. Surly and his ragtag group of animal friends band together to save their home, defeat the mayor, and take back the park. The Nut Job 2 also features the voice talent of Katherine Heigl (The Nut Job), Jackie Chan (Kung Fu Panda 3), Peter Stormare (Penguins of Madagascar), Bobby Cannavale (Ant-Man), Isabela Moner (Middle School: The Worst Years of My Life), and Maya Rudolph (The Angry Birds Movie).
Moderate box office hit The Nut Job got its inevitable sequel three years after the indie animated original released. Nutty By Nature is manic, crass, tired and unmemorable, although some reviewers insist it's a tiny step up from its predecessor.
Rotten Tomatoes: 13%
Metacritic: 36
Sniper: Ultimate Kill
Genre: Action
When a brutal Colombian drug cartel begins waging all-out war on the local authorities, elite Special Ops sniper Brandon Beckett (Chad Michael Collins) is recruited to assist a top Colombian Federal Agent (Danay Garcia). Calling the shots for the U.S. squad is none other than Brandon's dad, Sgt. Thomas Beckett (Tom Berenger), and his boss, Richard Miller (Billy Zane). The team comes into the deadly crosshairs of a notorious cartel sniper, with an array of high-tech weaponry at his command, in this intense, military action-thriller.
Ultimate Kill is the seventh film in the Sniper series, and notable for being the first to feature all three sniper leads from the franchise. Released straight to download/DVD, it's your standard low-budget, no-brain-required action flick. Fans seem satisfied though.
The Journey
Genre: Drama
In 2006, amidst the ongoing, decades-long conflict in Northern Ireland, representatives from the two warring factions meet for negotiations. In one corner is Ian Paisley (Timothy Spall), the deeply conservative British loyalist; in the other is Martin McGuinness (Colm Meaney), a former Irish Republican Army leader who has devoted his life to the cause of Irish reunification. Opposites in every way, the two men at first seem to have little chance of ever finding common ground. But over the course of an impromptu, detour-filled car ride through the Scottish countryside, each begins to see the other less as an enemy, and more as an individual—a breakthrough that promises to at last bring peace to the troubled region.
Dialogue-centric, and a clearly inauthentic look at real-life political events, The Journey won't be for everyone. However, if you love utterly convincing performances and verbal sparring, the movie is worth seeking out.
Rotten Tomatoes: 68%
Metacritic: 53
All Saints
Genre: Drama
All Saints is based on the inspiring true story of salesman-turned-pastor Michael Spurlock (John Corbett), the tiny church he was ordered to shut down, and a group of refugees from Southeast Asia. Together, they risked everything to plant seeds for a future that might just save them all.
Well, who'd have thought it? Here's a true story with religious themes that is touching, thought-provoking and side-steps the expected heavy-handedness and sugar overdose. All Saints is apparently well-acted too.
Rotten Tomatoes: 94%
Metacritic: 63
The Star
Genre: Animation / Adventure
A small but brave donkey named Bo yearns for a life beyond his daily grind at the village mill. One day he finds the courage to break free, and finally goes on the adventure of his dreams. On his journey, he teams up with Ruth, a lovable sheep who has lost her flock and Dave, a dove with lofty aspirations. Along with three wisecracking camels and some eccentric stable animals, Bo and his new friends follow the Star and become accidental heroes in the greatest story ever told – the first Christmas.
Faith-themed The Star comes with a lot more pedigree behind it than you'd expect, including an all-star voice cast. It all helps. The film's mix of sincerity and slapstick won't gel for everyone, but it's safe, non-insulting family viewing nonetheless.
Rotten Tomatoes: 45%
Metacritic: 42
Last Updated: March 19, 2018