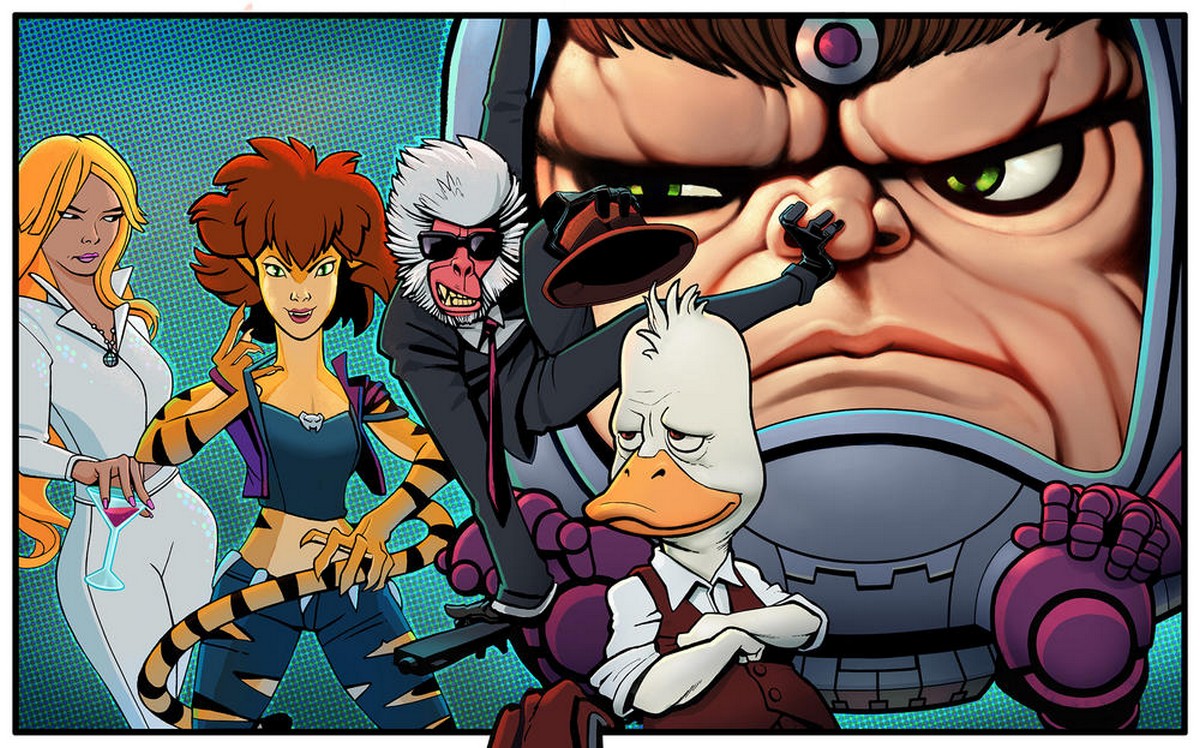 Just the other day I mentioned how Disney could move their more mature Marvel Defenders TV series from Netflix to Hulu after the streaming service cancelled them all, and now it looks like it will happen as Daredevil, Jessica Jo— Wait a minute. That's not the Defenders. That's the Offenders. Well, this is unexpected!
Revealed in a press release last night, Marvel and Hulu (both Disney owned) are teaming up to produce four new adult-oriented animated shows in M.O.D.O.K., Hit-Monkey, Tigra & Dazzler, and Howard the Duck. And just like with the Defenders, these four individual series will be followed by a mini-series crossover titled The Offenders that brings all the characters together. Here are the official descriptions from Marvel.com:
In "Marvel's M.O.D.O.K.," M.O.D.O.K, an egomaniacal Super Villain with a really big head and a really little body, struggles to maintain control of his evil organization and his demanding family. "Marvel's M.O.D.O.K." comes from writers Jordan Blum and Patton Oswalt, with Blum, Oswalt and Jeph Loeb serving as Executive Producers.

"Marvel's Hit Monkey" tells the tale of a wronged Japanese snow monkey, mentored by the ghost of an American assassin, as he cuts a wide swath through the Tokyo underworld in this darkly cinematic and brutally funny revenge saga. "Marvel's Hit Monkey" comes from writers Josh Gordon and Will Speck, with Gordon, Speck and Jeph Loeb serving as Executive Producers.

In "Marvel's Tigra & Dazzler Show," two woke Super Heroes and best friends, Tigra and Dazzler, fight for recognition among powered people who make up the eight million stories in Los Angeles. "Marvel's Tigra & Dazzler Show" comes from writers Erica Rivinoja and Chelsea Handler, with Rivinoja, Handler, and Jeph Loeb serving as Executive Producers.

Trapped in a world he never made, America's favorite fighting fowl Howard the Duck hopes to return home with the help of his unstoppable gal pal Beverly before the evil Dr. Bong can turn him the crispiest dish on the menu, in "Marvel's Howard the Duck." "Marvel's Howard the Duck" comes from writers Kevin Smith and Dave Willis, with Smith, Willis, and Jeph Loeb serving as Executive Producers.

Finally, nobody asked them to, and we'd be better off if they didn't, but M.O.D.O.K., Dazzler, Tigra, Hit Monkey and Howard the Duck are all forced to team up in order to save the world and certain parts of the Universe in "Marvel's The Offenders." Jeph Loeb serves as Executive Producer, while writers and additional Executive Producers for the project will be announced at a later point.
Patton Oswalt on M.O.D.O.K. sounds like the perfect match and I can't wait to see how absurd this gets. The same goes for Kevin Smith bringing us Howard the Duck, while I'm hoping Chelsea Handler's comedic bite transfers through to Tigra & Dazzler as well.
There's actually another very interesting aspect to be pointed out about Tigra & Dazzler. And no, it's not that they're "woke" which made me groan so damn hard. Rather, Dazzler is a mutant and more specifically, a member of the X-Men. With Disney's takeover of Fox and all their cinematic rights, could this just be the very first time we see mutants in the MCU? Or will they change up Dazzler's abilities or even set these shows in a separate cinematic universe.
Howard the Duck has actually been popping up in the Marvel Cinematic Universe in the two Guardians of the Galaxy films. If these shows actually do take place in the MCU as well, then he would probably be the best character to link it all together.
Either way, I'm pretty stoked for these shows. Mainly because I'm sending out prayers to every deity that I know of that this will lay the groundwork to get an animated adaptation of Warren Ellis' Nextwave. MAKE IT HAPPEN, MARVEL!
Last Updated: February 12, 2019