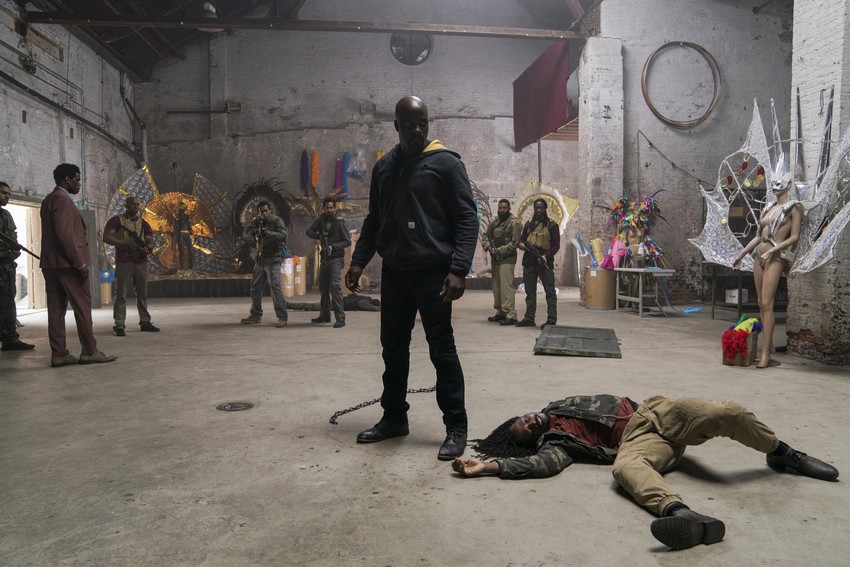 I really enjoyed the first season of Marvel's Luke Cage on Netflix. Well, right up until about two-thirds through when the show decided to kill off its best character – which, surprisingly, was not Mike Coulter's titular ex-con with the unbreakable skin – and instead replace him with somebody so cartoonish that I wouldn't have been surprised if he shot into a scene on rocket-powered roller skates he got on mail order from ACME. That one silly mistake aside though, I totally dug the blaxploitation vibe – complete with that sweet retro music – and how it addressed social issues affecting African Americans today through the lens of a superhero (putting Luke Cage in a hoodie to face down the cops being the most obvious point).
Well, it appears that creator/showrunner Cheo Hodari Cokeris not letting any of that slide for the upcoming second season which is premiering on 22 June, as revealed in the first teaser trailer. Whereas Cage was intentionally laying low the first time around, and basically got pushed into becoming the hero his community needed, now he's embracing it. As Coulter declares in the trailer below, "You want to test me? Step up. I'm right here!"
After clearing his name, Luke Cage has become a celebrity on the streets of Harlem with a reputation as bulletproof as his skin. But being so visible has only increased his need to protect the community and find the limits of who he can and can't save. With the rise of a formidable new foe, Luke is forced to confront the fine line that separates a hero from a villain.
That synopsis above talks about a formidable new foe, who we assume to be Mustafa Shakir's John McIver, "a natural leader, brimming with charisma, whose mission is focused on Harlem and vengeance". In the comics, McIver went by the supervillain identity Bushmaster and boasted similar powers to Cage like enhanced strength and durability on top of a super healing factor. It's unknown whether his TV series counterpart will hew more realistically though like they did with Diamondback in season 1.
What we do know is that Alfre Woodard's "Black" Mariah Dillard and Theo Rossi's Shades will still be around to be some additional thorns in Cage's impenetrable side. Cage will get some friendly help though in the form of Netflix Marvel staple Rosario Dawson as Claire Temple, Simone Missick's Misty Knight (complete with the new comics-accurate robotic arm she acquired at the end of The Defenders), and (Sigh) Finn Jones as Danny Rand aka Iron Fist aka He better not ruin one of my favourite Marvel characters even more this time around! They will also be joined by another newcomer in the form of Gabrielle Dennis as Tilda Johnson, "a brilliant, holistic doctor with a complicated history in Harlem where, as much as she tries to stay far from trouble, it seems to always find her."
Along with the trailer, Netflix has also revealed some new high-res images which give a further look at the series, which you can check out below. Click to enlarge!
PS: And if watching this trailer leaves you with a hankering for some Marvel TV series goodness, the second season Jessica Jones is out today on Netflix!
Last Updated: March 8, 2018