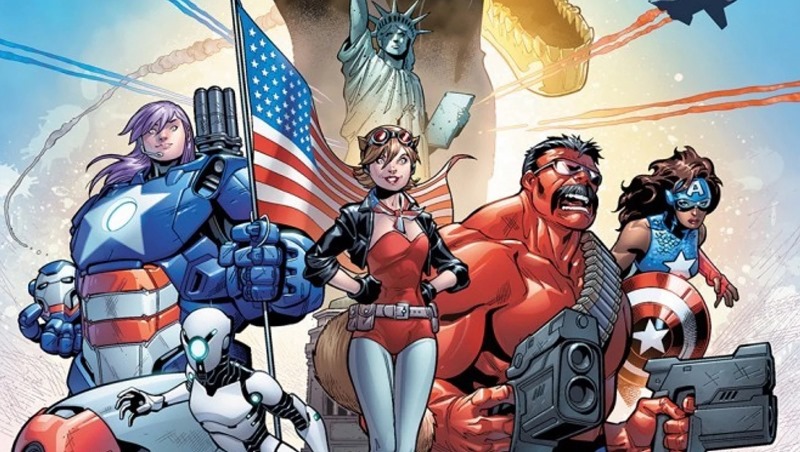 America, F*** YEAH! It's not easy keeping the world safe, and it's even more difficult doing so when your massive Strategic Homeland Intervention, Enforcement and Logistics Division happens to have been caught up in various scandals that might have included a sly amount of reality-tampering on the side. That's why the US of A needs a new team to keep the peace. A smaller group of individuals of mass destruction who can be trusted to get the job done and keep America safe.
If you can find them and you can afford them, then maybe you can hire the USA-team of heroes known as the U.S.Avengers.
That's the idea behind the upcoming series which features a patriotic as f*** new squad of Avengers, led by Brazilian mutant and super-rich mastermind behind A.I.M. Formerly known as as the Advanced Idea Mechanics, the techno-terrorist cult was bought out by former X-Men Roberto Da Costa several years ago and rebranded as American Intelligence Mechanics. Because comic books.
"Here's the thing about Roberto — he came to America in his teens, and, as both an actual and fictional minority, a South American mutant, he's experienced the ugly side of it," U.S.Avengers writer Al Ewing said to the Washington Post.
But he's seen the best of America, too. He has an absolute love for his adopted country, and he'll fight to the end to save lives and help people.
Ewing himself is British, but he's bringing in a more rational side to handling patriotism in U.S.Avengers. "I'm interested in America, in exploring the reasons I like your country and love your citizens," Ewing said.
I don't think patriotism should be uncritical or unthinking — we're seeing in Britain where that leads, and it's horrible. I'm afraid for us. But that urge to love and care for the home you've made, whether you were born to it or chose it or fled to it, that's worth something. People use it as a weapon, but it's also an engine that drives great positive change in our communities.
So who's in the team of new, new Avengers? Plenty of big guns, as this team isn't pulling any punches:
Squirrel Girl
Red Hulk
Iron Patriot
POD
Future Captain America Danielle Cage
Cannonball
"We wanted a couple of members that'd speak to the U.S. in the title — hence super-scientist and supporting player Dr. Toni Ho stepping up to the main team as the new Iron Patriot, and General Ross waiting in the wings as the Red Hulk," Ewing explained.

And, of course, Danielle Cage, the Captain America of about thirty years in the future, who'll be joining us for at least the first arc, as an enemy from her time comes to ours to stir up trouble.
U.S.Avengers launches once the dust from Civil War II has cleared up. And it's a series that I'll be amped to read, as Ewing has worked some absolute magic lately in the Marvel Universe. Combined with Paco Medina's reliable and kinetic art, and I think we might have a gem on our hands here in the months to come.
Seriously, go pick up some of his work in Mighty Avengers, New Avengers or The Ultimates to see how some high-concept ideas get perfectly grounded by a very likeable and relatable cast of characters in the new Marvel Universe.
Last Updated: July 4, 2016