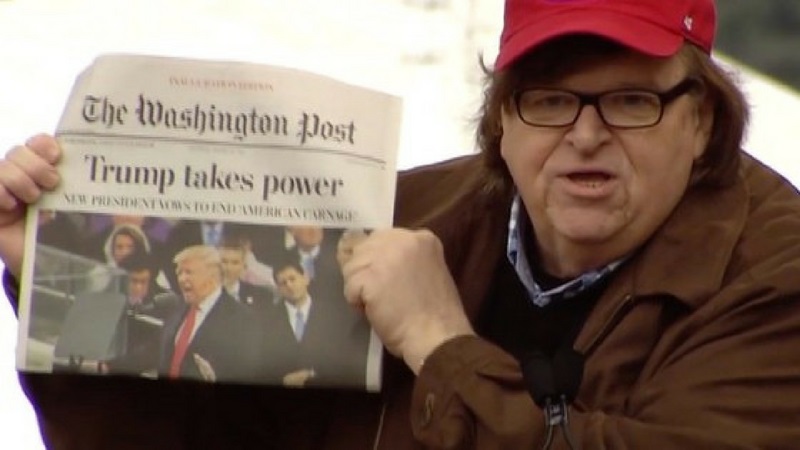 There are some things in life that are just not worth trying to figure out. Like Quantum Physics, David Lynch Movies, Algebra or people's love of the Kardashians – certain things just require way too much brain matter or lack of common sense to make sense of it all. Throw in world politics into that mix as well, because you have to wonder how in a country that is supposedly as advanced and educated as it is and has some of the world's best Universities like Harvard and M.I.T, the United States somehow still managed to elect Donald Trump as its president.
And it's not just foreigners that are trying to figure this one out, as even American seemingly struggle to understand it. Michael Moore though is trying to see if he can figure out this puzzle though has he unlocks some of the horrific madness that has currently enveloped the world's most powerful country. We have a new trailer for this new movie, Fahrenheit 11/9, though it is worth a word of caution that watching this is not for the faint-hearted because what you are about to see below, is from a country which actually has most of the world's nuclear weapons. Yes, very scary indeed:
Much like Moore's previous documentaries like Bowling for Columbine and Fahrenheit 9/11 showcased some of the madness of America's political system, this movie delves deeper into much of the thoughts and feelings of people in the land of stars and stripes in a hope of uncovering some of the truth as to why people voted for someone like Trump. Only this time, it seems things are getting only worse for the country. On the plus side, it at least makes our own county's politics look better right? Right?
Fahrenheit 11/9 releases on September 21st. Probably about the same time as a collective depression sets in for many people who end up watching the movie.
Last Updated: August 10, 2018