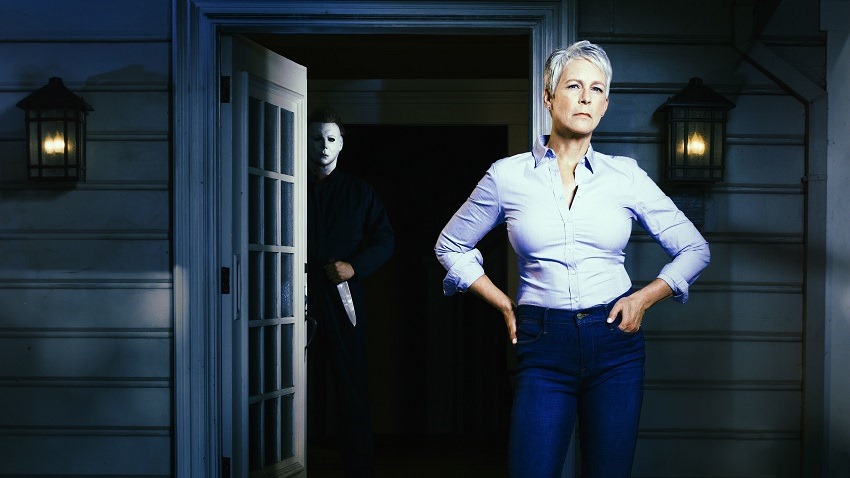 Much like it's mute antagonist, the Halloween franchise refuses to stay dead for long and is headed back to Hollywood for yet another reboot. Having managed to escape development hell, the latest iteration of Halloween has not only a release date, but also the return of an icon: Jamie Lee Curtis, back in the saddle as Laurie Strode as she confronts Michael Myers yet again.
That's one hell of a message, as the latest Halloween film blurs the line between reboot and remake. So how does co-writer Danny "Yes that Danny" McBride plan to address the small issue of Myer's sister dying in Halloween: Resurrection. Simple really. Just like my parents do when I'm around, McBride and fellow writer David Gordon Green's script won't acknowledge the existence of Resurrection or the preceding film Hallowee: H20.
Which mercifully also saves the audience from a continuity in which Busta Rhymes engages Michael in a Kung-Fu fight. As McBride said to CinemaBlend a couple of months ago:
You know, it's not a remake. It's actually, it's gonna continue the story of Michael Myers in a really grounded way. And for our mythology, we're focusing mainly in the first two movies and what that sets up and then where the story can go from there.
As for the plot of this new alternative continuity Halloween movie? According to the official press release via io9, the plot synopsis reads:
Jamie Lee Curtis returns to her iconic role as Laurie Strode in HALLOWEEN, released by Universal Pictures October 19, 2018. #HalloweenMovie pic.twitter.com/6tbbz2W1ZV

— Blumhouse (@blumhouse) September 15, 2017
Jamie Lee Curtis returns to her iconic role as Laurie Strode, who comes to her final confrontation with Michael Myers, the masked figure who has haunted her since she narrowly escaped his killing spree on Halloween night four decades ago. Inspired by Carpenter's classic, filmmakers David Gordon Green and Danny McBride crafted a story that carves a new path from the events in the landmark 1978 film.
You look at the slashers who dominated the horror movies of the 1980s, and there's something entirely unsettling about Michael Myers. Freddy Krueger and Jason Voorhees are supernatural serial killers, whereas Michael is a human embodiment of pure evil driven by obsession. Sometimes, such a monster can be far scarier than a hydrophobic machete enthusiast.
Hopefully that Michael returns minus the supernatural curse of the Thorn nonsense when Halloween reboots on October 19, 2018.
Last Updated: September 18, 2017