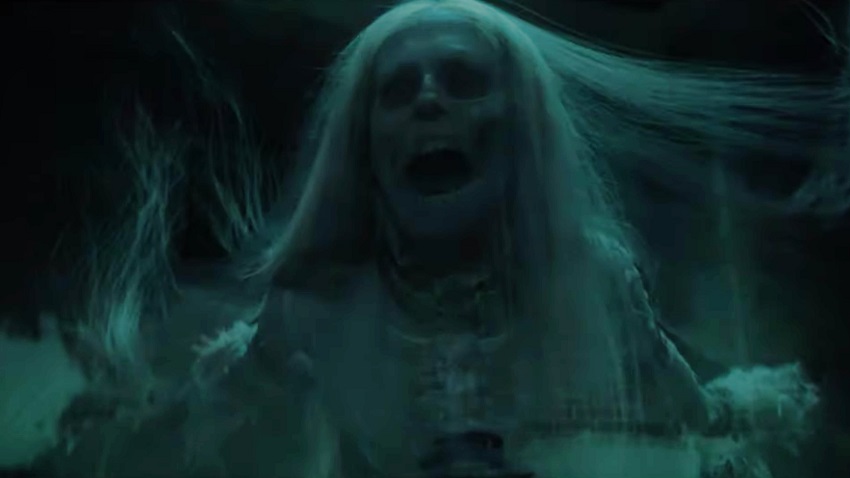 Scary Stories to Tell in the Dark is the upcoming horror movie from Norwegian director André Øvredal (Trollhunter, The Autopsy of Jane Doe) with a little bit of Guillermo del Toro thrown in( he's one of the producers) and also helped along with a screenplay written by Dan and Kevin Hageman, the writing pair behind The Lego Movie and Trollhunters: Tales of Arcadia).
It's based on the best-selling series of children's books by Alvin Schwartz – 1981's 'Scary Stories to Tell in the Dark', 1984's 'More Scary Stories to Tell in the Dark', and 'Scary Stories 3: More Tales to Chill Your Bones' which was published in 1991 – and contained illustrations from Stephen Gammell. Each volume contained a number of short stories all heavily influenced by folklore and modern urban legends. They've also drawn their fair share of controversy over the years, and have made the American Library Association's list of most frequently challenged books for two decades due to the violence and graphic illustrations the books contained.
The official plot synopsis is as follows:
It's 1968 in America. Change is blowing in the wind…but seemingly far removed from the unrest in the cities is the small town of Mill Valley where for generations, the shadow of the Bellows family has loomed large. It is in their mansion on the edge of town that Sarah, a young girl with horrible secrets, turned her tortured life into a series of scary stories, written in a book that has transcended time—stories that have a way of becoming all too real for a group of teenagers who discover Sarah's terrifying home.
Let's take a look:
Based on a children's book they said. Then how scary can it really be I said. That scary.
This looks creepy as all hell, and don't even get me started on that freaky body-horror (my nemesis) at the end of the trailer. The monsters look both superb and disturbingly faithful to the original illustrations, the locations are haunting (hah), there's excellent direction and use of lighting and the teenage cannon fodder are delivering pretty good performances. There's sure to be plenty of jumps, scares, and screams – what more do you want as a horror fan?
What really made this trailer stand out for me though was that eerie piano rendition of 'Somewhere over the Rainbow' playing throughout – it struck just the right tone of innocence lost. What do you think?
Scary Stories to Tell in the Dark is set to premiere in the US on 9 August. It stars Zoe Colletti, Michael Garza, Austin Abrams, Gabriel Rush, Austin Zajur, Natalie Ganzhom, Dean Norris, Gil Bellows, Lorraine Toussaint, and Javier Botet.
Last Updated: March 29, 2019